It was quite a surprise to me that I didn't hear of a restaurant in Velachery for more than a year! For someone who visits a restaurant once in a while, it is still understandable, but for someone closely watching a food group and eating out quite frequently, it felt it was quite a miss!
They're located in the lane between McDonalds and Grand Mall, where quite a few restaurants and a resto-bar is located too. I stay quite close by, it wasn't difficult to spot it. The place had parking for 2 cars, managed to park there.
We entered into a nice brightly-lit place, tables spaced out quite well, the décor seemed nice, deemed fit to be called an upscale restaurant without a doubt. They had two floors of dining space, and we decided to take the floor upstairs. It was just me out for a dinner with kids.
The menu was quite elaborate with Indian, pan-Asian, Mexican, and Italian cuisines across sections. We just randomly picked what we wanted., didn't have a specific cuisine in mind.
Veg Manchow Soup, to be served one by two. I normally go for this, because unlike many other soups, this is a bit more spicy and I love the crispy noodles that comes with it. Firstly here the soup wasn't brown, perhaps Soya sauce wasn't added, I thought! Soup tasted okay, though it lacked the punch that normally a Manchow soup would have. After I added the crispy noodles, the first sip I could make out that the crispy noodles didn't taste fresh. Had to ask them to replace it. The replaced one was better, and this time I made sure to taste the crispy noodles before adding it to the soup.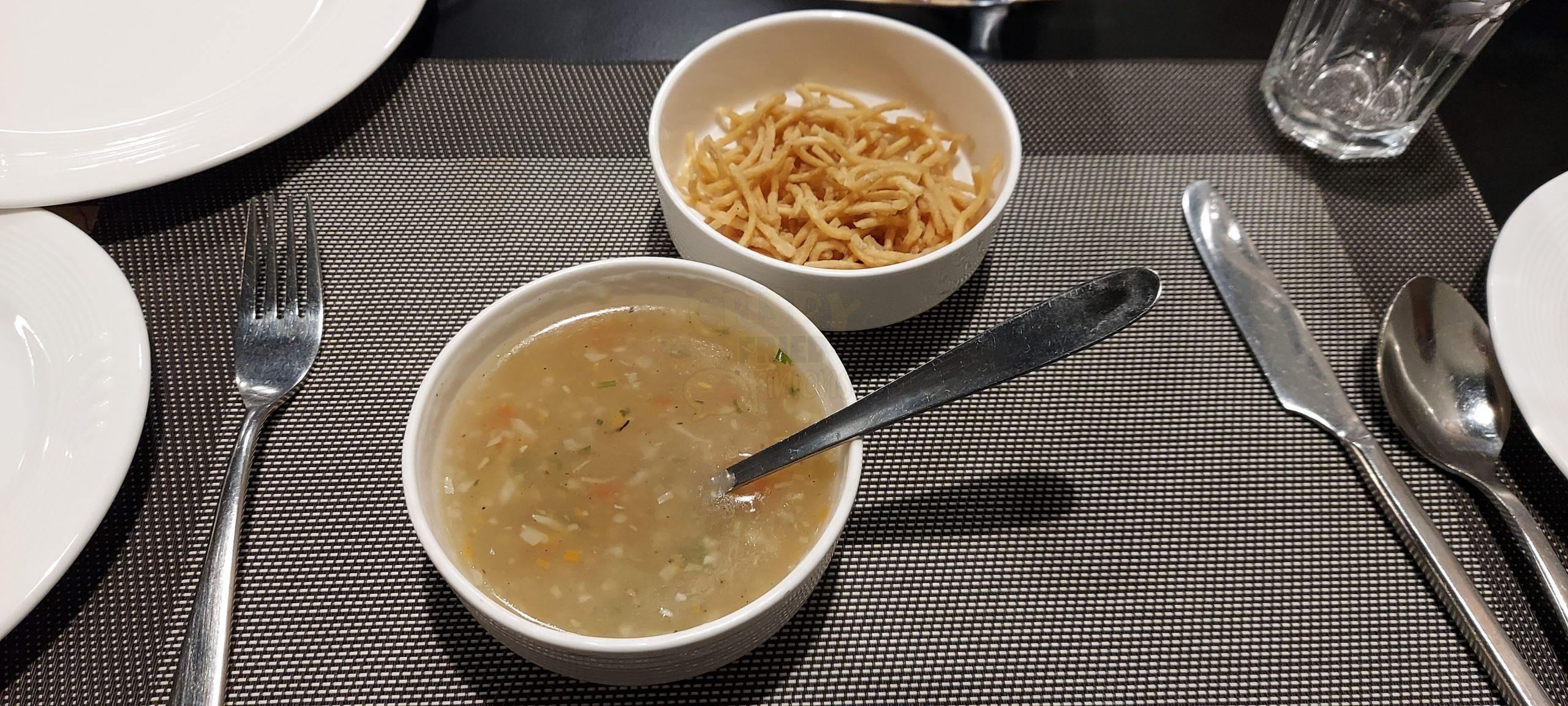 Barbecue Paneer caught my eye in the starters section, and decided to order that. It was fantastic! Very soft, well marinated, rightly grilled, and very tasty though a bit hot. It was served on a small stainless steel grill, on skewers. Quite catchy and tasty.
Tex Mex Nachos and Jalapeno Fries with Cheese. Later on realized that there's nothing much to review dishes like these. Both these dishes had cheese on the top which wasn't really melted nicely. It was okay, no complaints but the creamy cheesy feel was missing. Jalapenos in the fries neither stuck to the cheese nor the fries, it didn't quite add any value, I felt. The sour cream and Baked beans were wonderful as accompaniments to the Nachos.
Decided to order one Barcelona Pizza, which had tomato sauce, topped with black olives, green chili, red chili, cracked black pepper, topped with Mozzarella Cheese. The Pizza was good, I wouldn't complain though it felt a little too greasy, according to my son. It was fairly big and was quite filling.
Finally, Fried Ice cream for dessert. Unlike places where it is served in a plate and you pop one in your mouth, this was served in a dessert cup. It was big in size that you couldn't eat in one mouthful, and at the same time the outer cover was a bit too brittle that it broke on the slightest touch. Since it was served in a cup, it didn't matter. It tasted good though!
Overall, food was a mixed bag. I wouldn't call another out of the world ! Barbecue Paneer was perhaps the best of all we ate, and Pizza was good. I'd give the other two starters a miss next time and perhaps another dessert would have been more fulfilling ! Service was good, nothing to complain at the very end of the day. Paid about 1.6K in all, just a decent experience!