One of the few places in Puducherry that has an excellent seafront. Quite aptly named 'Ajantha Sea View', the view of the promenade, the beach, the sound of the never-ending waves is just priceless, whether it is from the Balcony or the Roof-top of the property.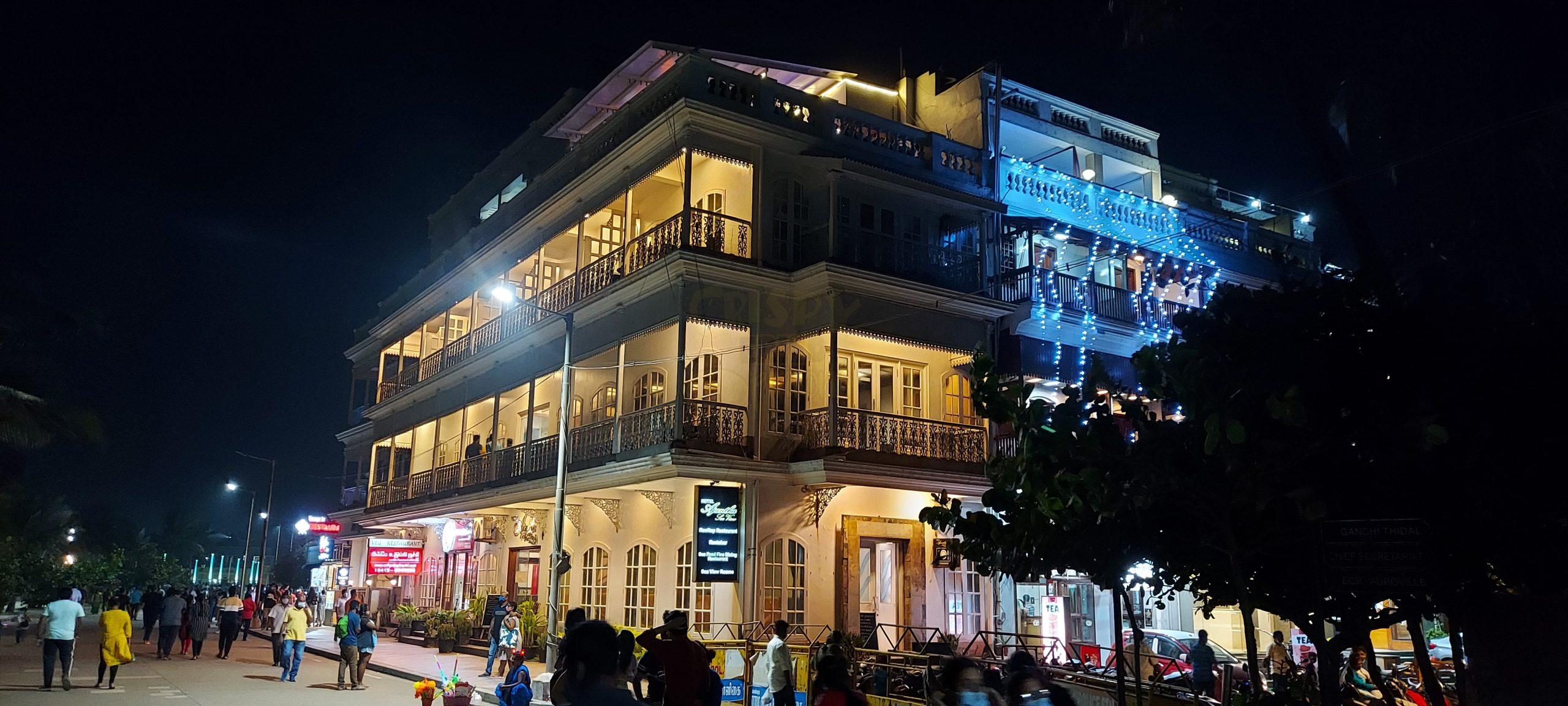 I have been here a few times earlier and have documented two visits on my blog. One was an elaborate beer outing with friends, and the next one was a dinner with family. On both the occasions, we sat on the same table on the balcony of the first floor.
This time decided to take a table on the roof-top, and thankfully, we managed to get one on a weekend. Loved the view from the top.
We started with a few side-eats to nibble, a drink for me and mocktail for others. We ordered picante nachos, beer battered onion rings, Long Island Tea for me, Pinky Colada and Virgin Mojito for kids. While the nachos was good, Onion rings was a bit too oily. I understand deep-fried stuff, but this was oozing oil. I ate most of it. 🙂
I decided to just order something different, decided to try a Red Wine Sangria. It was good.
Shifted to a more familiar territory, Budweiser Magnum beer. Ordered a portion of Jamaican Wings. The wings was good, but a tad too salty to my liking.
One Alfredo Pasta with Garlic bread and one Cheese Chilli Chicken Tikka along with another beer. Pasta was very average, the white sauce tasted too milky to my liking. Chicken Tikka was a bit too dry, and after a few mins the hard cheese made it difficult to chew. The mint chutney too runny, not sure if it was meant to be like that.
Overall, food was just above average. Nothing unpalatable, but definitely not wow! Service was good, a little casual and laid-back, but nothing worth complaining.
If the focus is on drinks with sides, I would certainly come back here for the experience and the view! If it is just for food sitting on a table without a sea view, I'd look for other places. Paid a little over 4K, an evening well spent with family, by the sea!