Lately over the years, I have made it a point to definitely have the elaborate Sadhya during Onam. Restaurants, cloud kitchens, and home chefs start their promotions at least a couple of weeks in advance, so much and so forth that it becomes a nightmare to choose between them! Such is the food scene in Chennai, during Onam.
After a long lull because of the pandemic, restaurants have finally opened up and have gone all out in curating a special Sadhya for Onam. Quite spoilt for choice, one can say.
Here's a quick recap of the places I have visited over the years. Some of them are just posts on my Facebook page and not a detailed blog.
Copper Kitchen in 2014, Kumarakom in 2015, Savoury Sea Shell in 2016, Crimson Chakra in 2017, Not sure what happened in 2018 🙂 , Kappa Chakka Kandhari in 2019, and a takeaway from Prems Graama Bhojanam in 2021.
My choice this time was pretty simple, a 'Kerala restaurant' it had to be, just for that native feel. There are other restaurants dishing out wonderful Sadhya too, like Sangeetha, and Prems Graama Bhojanam, or Gossip Bistro and Crimson Chakra for some non-vegetarian Onam Specials along with Onam Sadhya. I decided to go vegetarian though.
Some places serve Onam specials for 2-3 days, and some even for a week, but somehow the Sadhya on Thiruvonam makes it most special. Decided to go to Achayathis Restaurant, in Numgambakkam on the special day. Reserved a table in advance for the 12:15PM – 1:00PM slot, and was all set.
The place wasn't hard to locate, Google maps helped to reach perfectly. I was quite familiar with the area in general. Valet parking was available, thankfully we got a place to park. There were quite a few people who were waiting in a queue for takeaway. We reached on the dot and got a place right away.
Needless to say, in these circumstances, the focus of most of them in the restaurant seemed to be on takeaways and delivery. The people were busy coordinating that. We were attended to in about ten minutes after we sat down. The Sadhya was served with the typical items, one after another.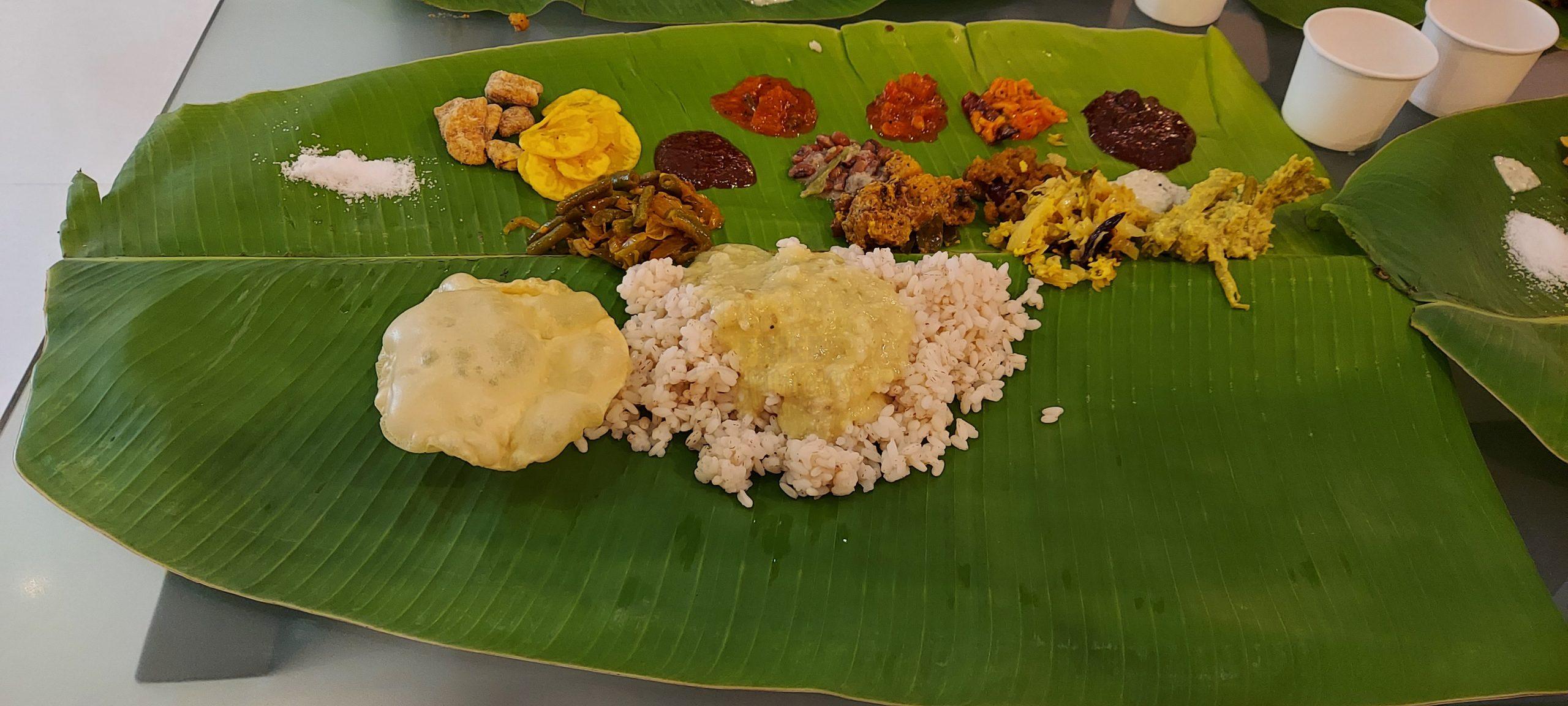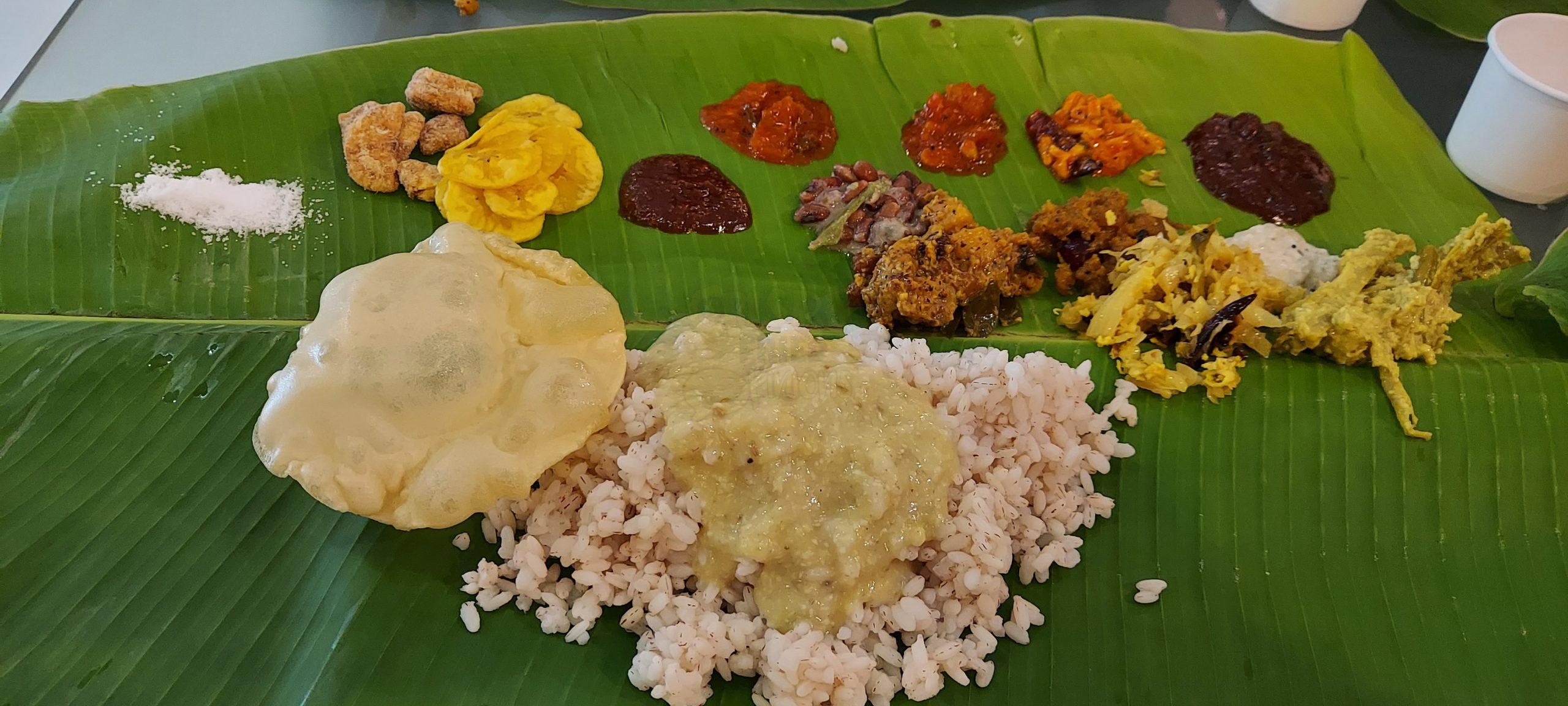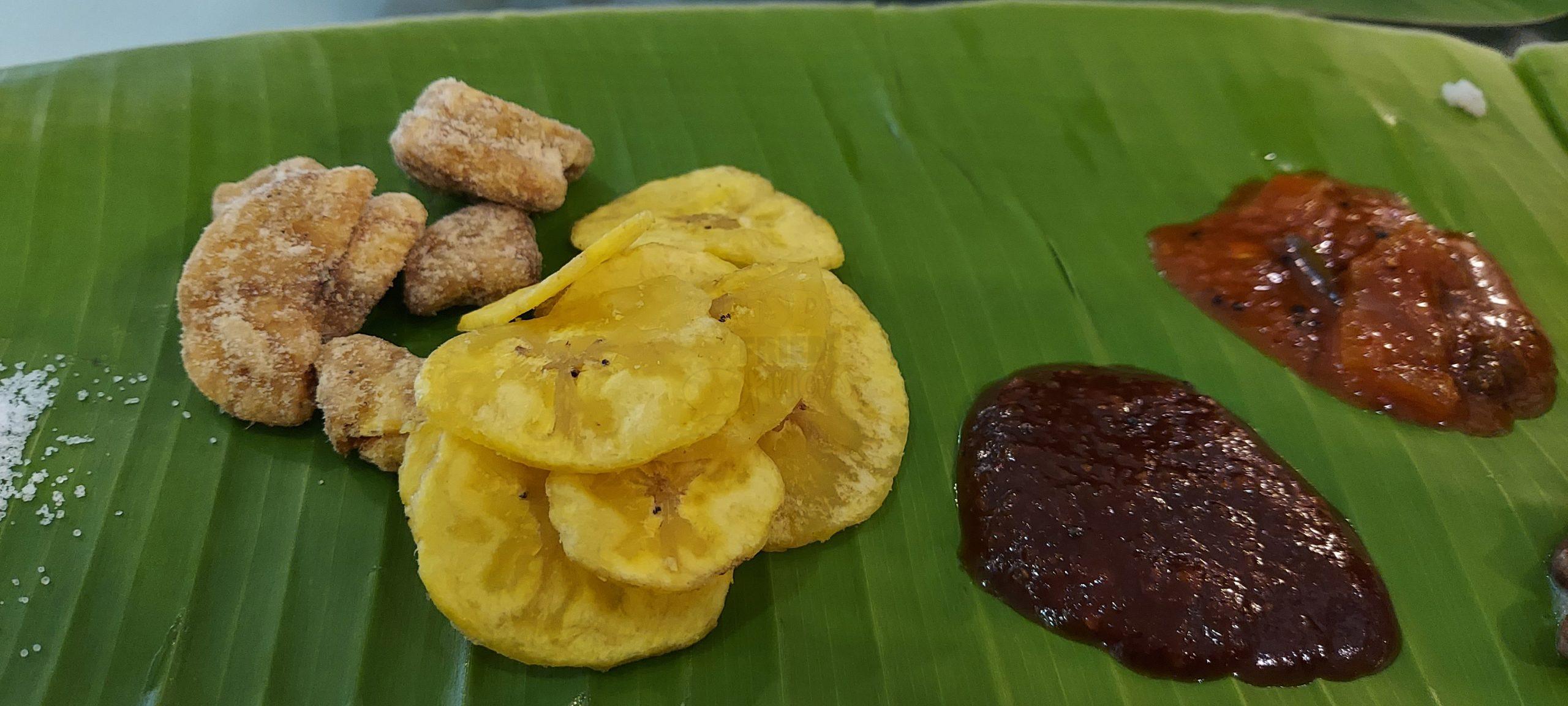 After nibbling on the upperi and sharkaraupperi, the inji puli was kickass! Cabbage thoran was good, Achinga payar (long beans) Mezhukkupuratti was stir-fried in coconut oil and yummy, Perhaps it was Kootu curry with Kadala – very tasty, Pineapple sweetish pachadi/kichadi was good, Olan and Cucumber pachadi was too miniscule to make any impression, Avial was good but too many drumsticks. By and large, food was very tasty, absolutely no complaints on any dish.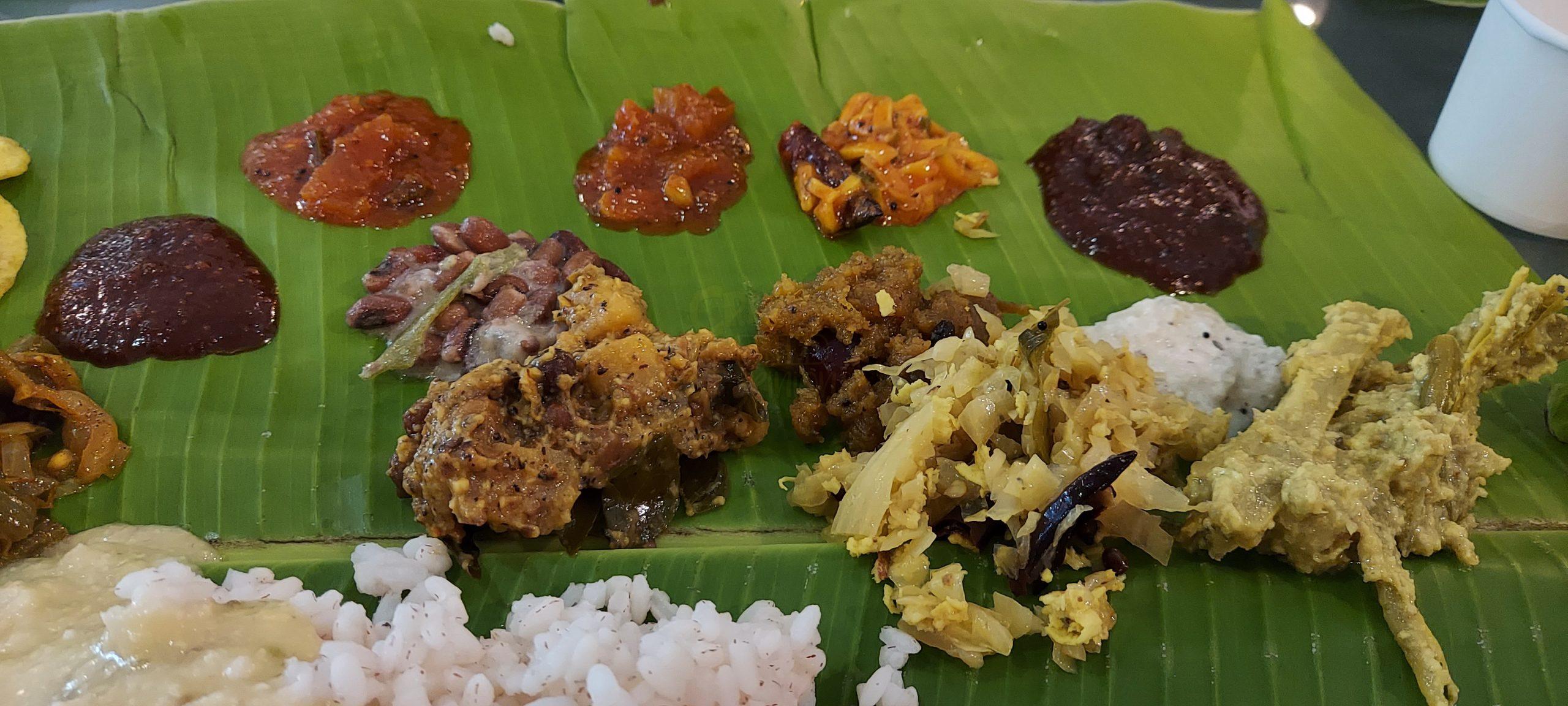 The meal proceeded with the typical fare – Kerala rice with Parippu and ghee to start with, Sambhar followed next, If I heard rite, they mentioned it as Erissery, but it was different than what I've had elsewhere. Ended with Rasam, didn't click a pic of it as the leaf was quite a mess by then 🙂 All of them tasted wonderful though!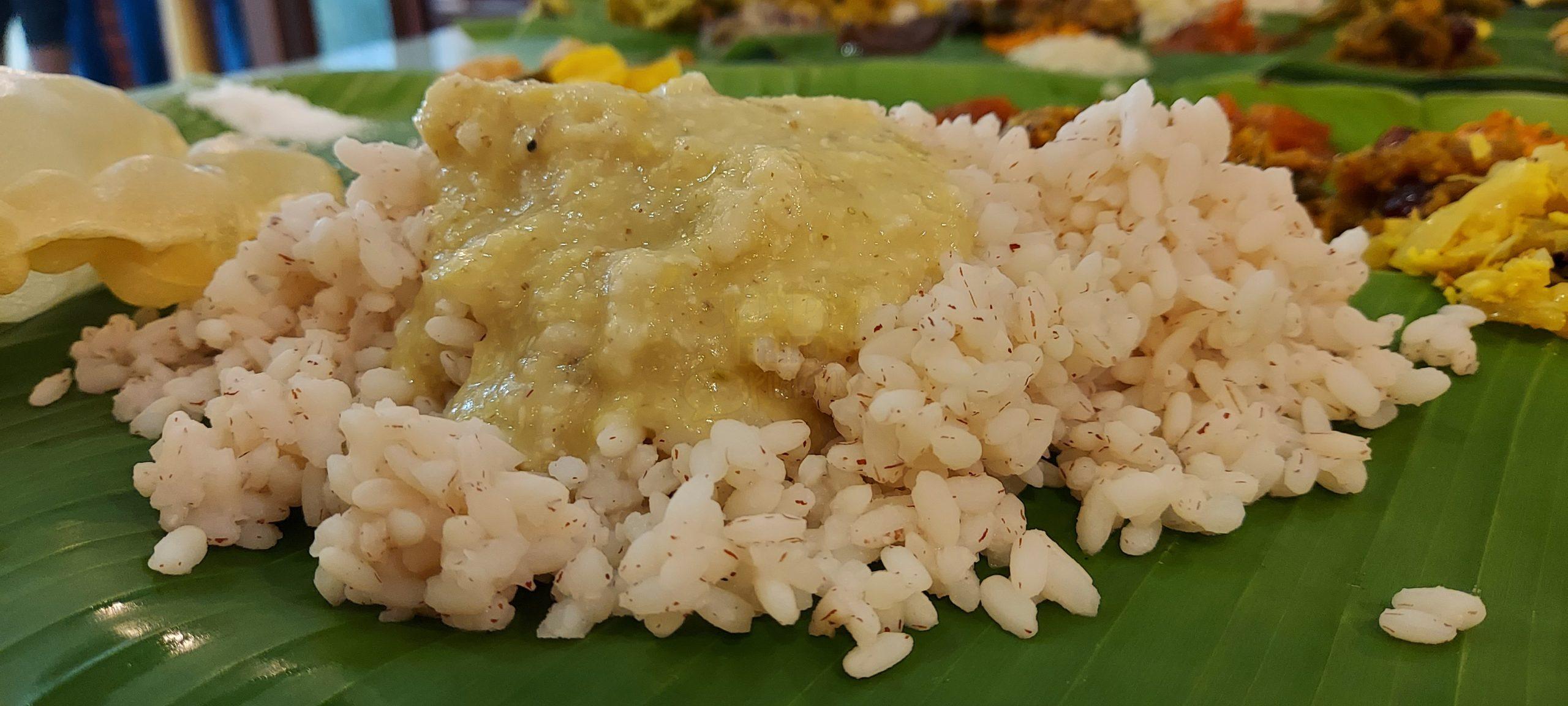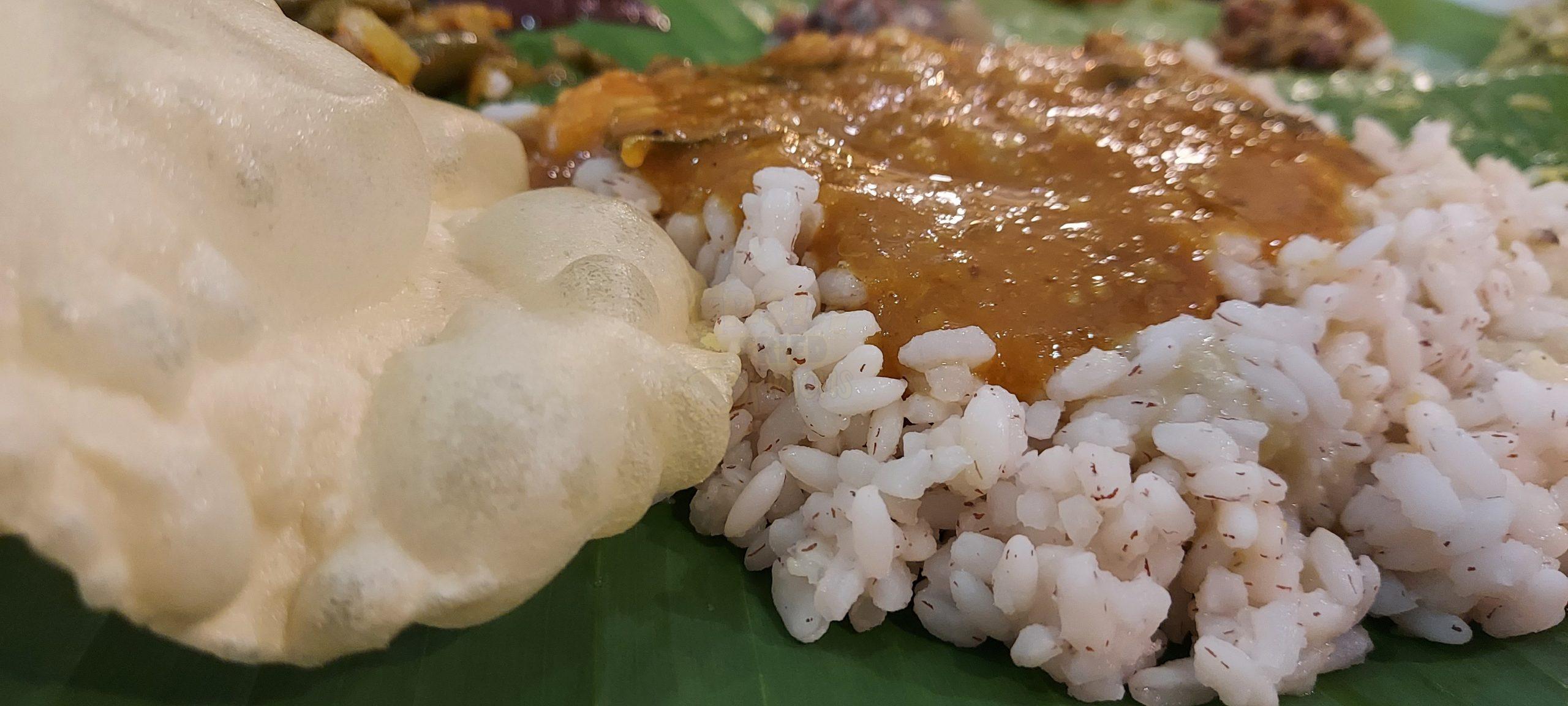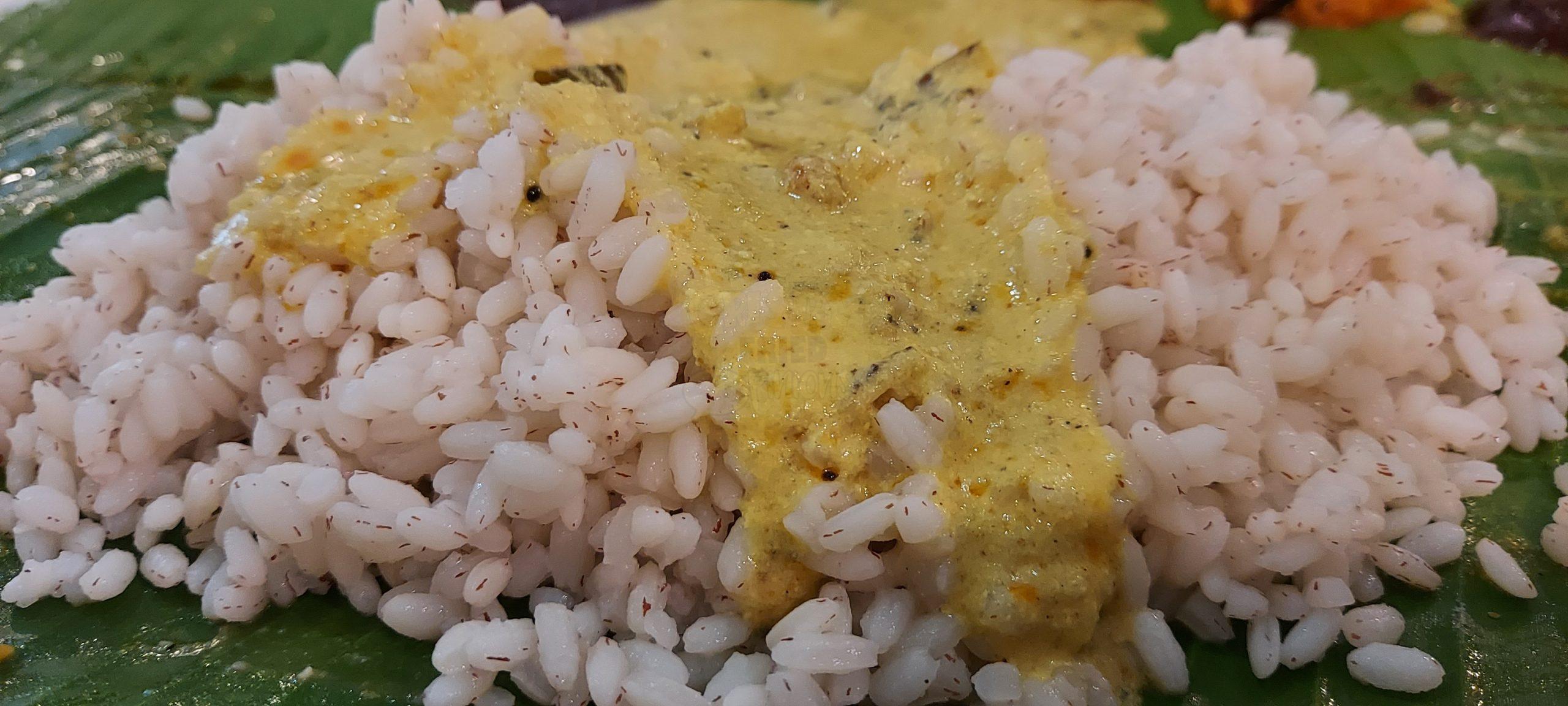 Had the pacha moru in a cup, that was good.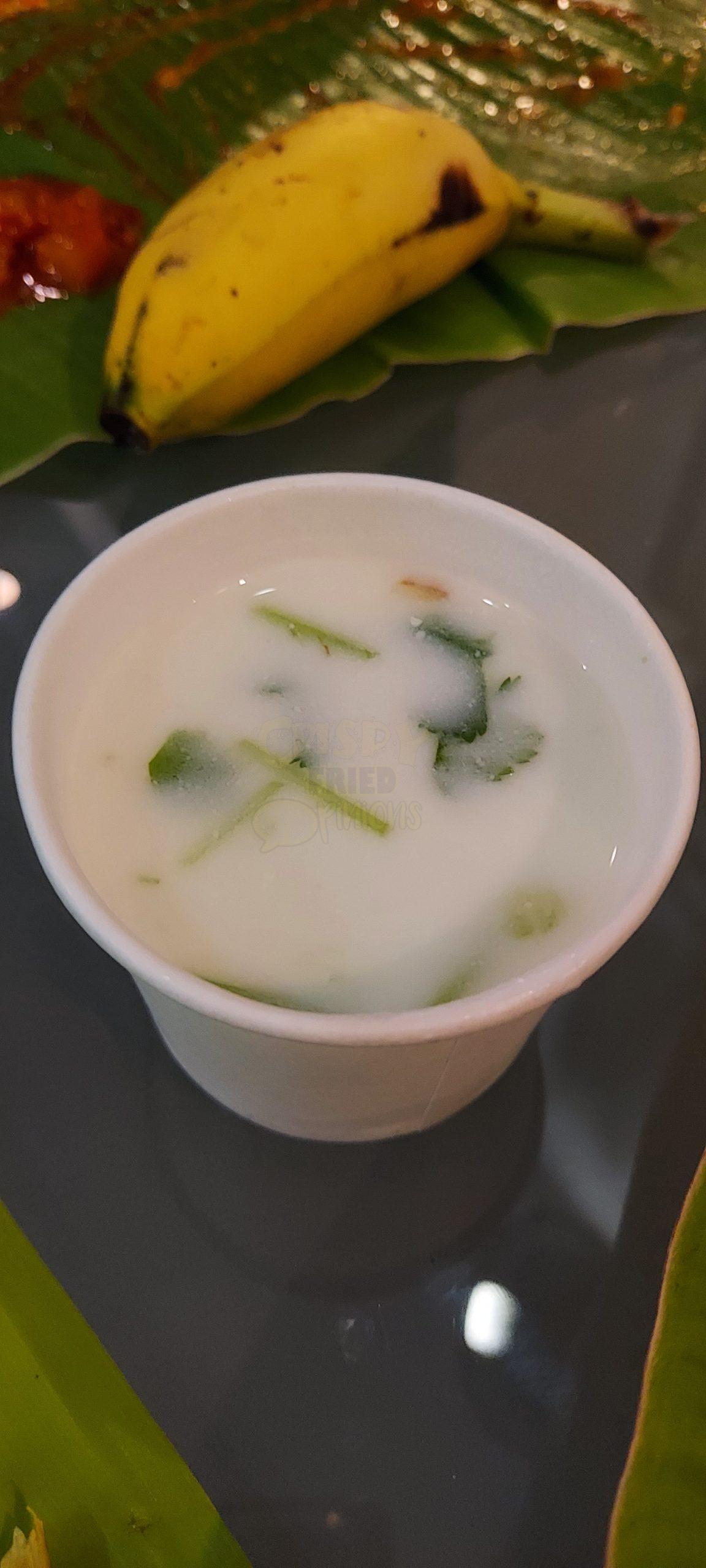 Finally ended with 3 payasams – Paalada Pradhaman, Paal Paayasam and Coconut and Pazham Pradhaman (I think I tasted nendram in the third one). All the three were finger-licking good.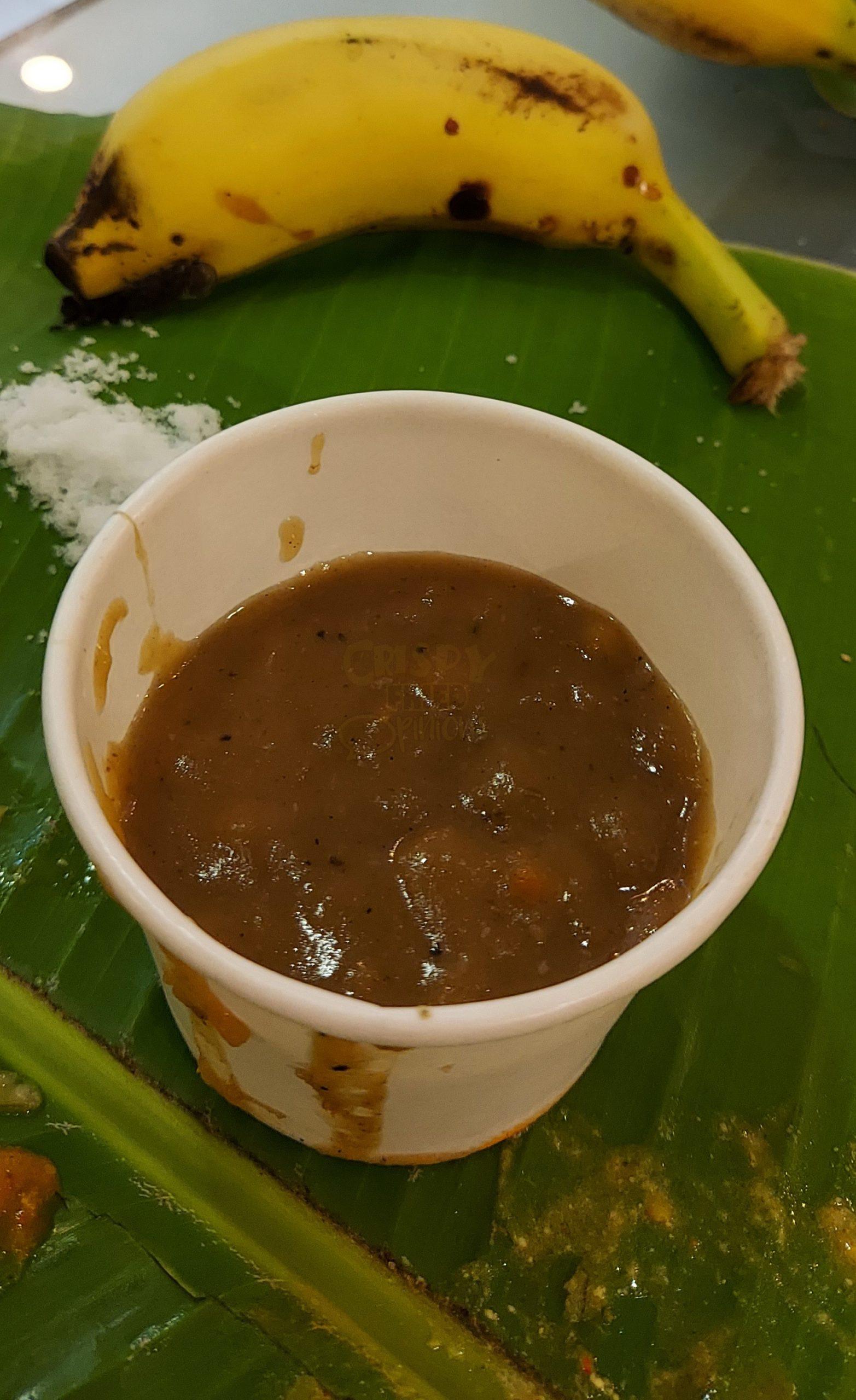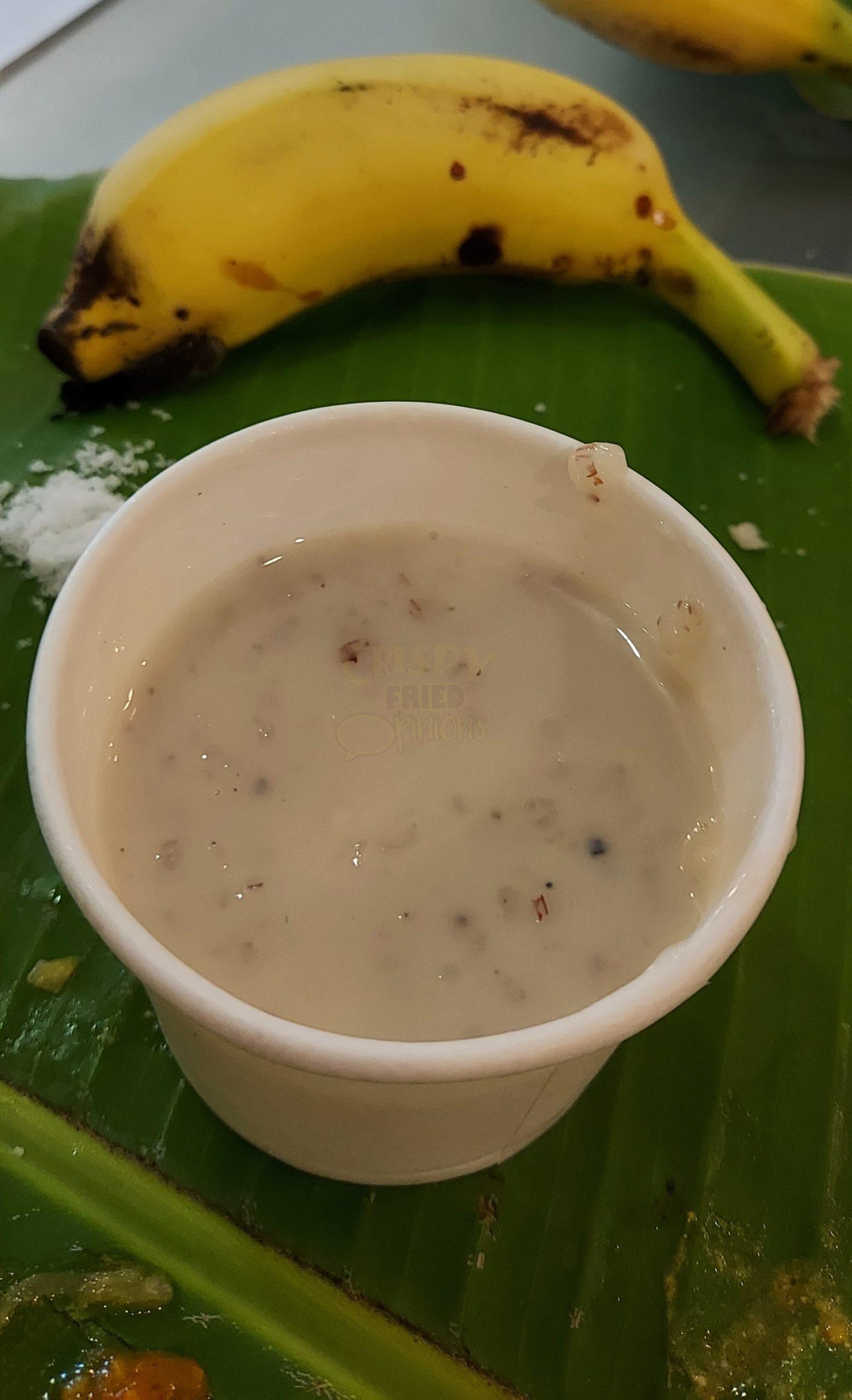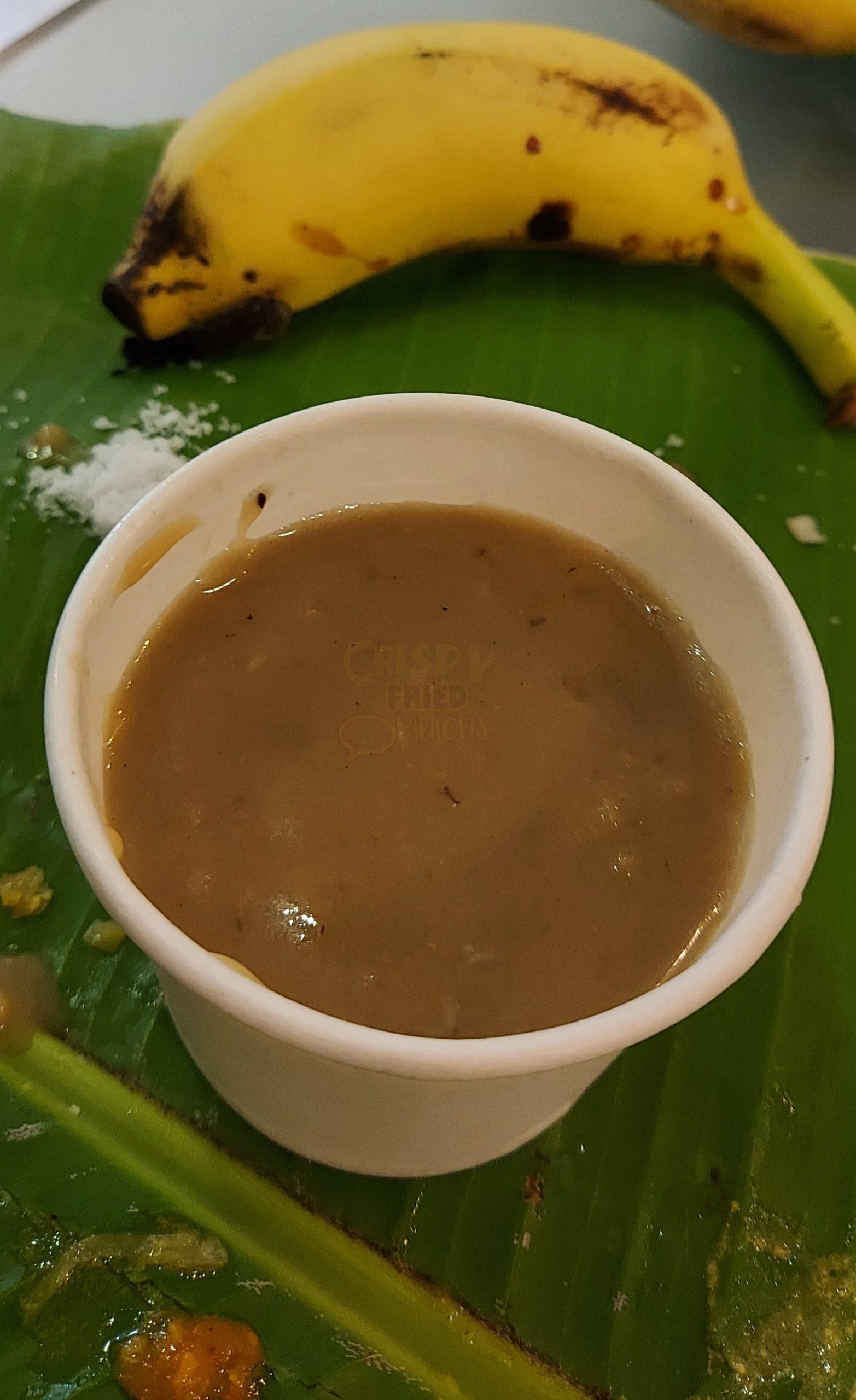 That's pretty much how the meal ended. An absolutely wonderful Sadhya without a doubt. Service could have been better with a little more focus on dine-in customers. I'm not saying they weren't warm, they did make us feel welcome. Just that the ease of approaching someone for a little more of a dish or an extra pappadom wasn't there. In fact it was one of those rare instances of having a meal with one single appalam/pappadom. 🙂 In fact, mezukkupuratti was the only dish which we got a repeat of. Took some time for every course – to get sambhar, to get rasam and mor. That part could have been better. The initial serving of dishes could have been better for a more visual appeal, purely from the picture perspective. Paayasam was served in the end and not at the start. So couldn't really click a pic of the elaborate sadhaya with all elements in it. A separate cup for each paayasam would have been good instead of same one for all payasams, one after another. These are some small observations which could have been better.
I am not even complaining or judging them on this festive day and I will most certainly visit them again to try some of their non-vegetarian dishes. We paid about 2.6K in all, a sadhya priced at 550 rupees which is relatively one of the cheaper options for dine-in, this season. Overall, Onasadhya well done!