When you have to meet someone in Khader Nawaz Khan Road ( At Cafe Coffee Day, The Square), chances of coming back home without having dinner in one of the places around are very remote, especially when the meeting lasts until 09:00PM.
Quite hungry, decided to straight go to Jakob's Kitchen. My first visit here and I would say the place is decent, nothing worth raving about. Interiors were normal and the place was clean. Since I've seen many posts in food groups, pretty much had a few items in mind. So proceeded to order.
A brief look at the menu, the name Vimalakka Kozhi Chaaru was catchy, unfortunately it wasn't available. The other choices of soup were mutton and crab, skipped them. Ordered Chicken Chinthamani and Chicken Karandi for starters. For the main course, Chicken Jawahar Jaloor Parotta wasn't available, had to opt for the vegetarian one, and Mannpaanai Chicken Biryani.
Jawahar Jaloor Parotta specified as main course came first :/ anyways, it looked like starters. It was very different and had vegetable filling which was quite spicy. It was served with Kurma and that was tasty. Chicken Chinthamani and Chicken Karandi followed. Chicken Karandi was very good. The taste of chicken was subtle, while the egg dominated. It was like eating a huge masala egg omelette. Chicken Chinthamani was decent, nothing out of the world. The waiter said it would be like pakoda and I expected some crispy stuff. But what came was like bonda and wasn't crispy. The chicken tasted good, but far from crispy. Mannpaanai Chicken Biryani came next and it was tasty! As usual, I let my friend have the chicken pieces in the Biryani and he said it was good, while I ate the egg. Raitha was made with thick curds and it was good and the brinjal gravy had more potatoes than Brinjal and was more like Kurma.
Finally almost full, just to taste, ordered an Elaneer Halwa. I have had elaneer payasam in a few places and elaneer souffle at Crimson Chakra is still on my wishlist. So wanted to check this out. We were served a cup with hot rectangle piece of elaneer halwa, which I presume was microwaved, as the bowl itself was very hot. It was way too sweet with overpowering aroma of ghee. It was good for the first two spoons and thereafter difficult to finish. Myself and my friend somehow managed to finish that.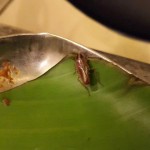 Now having reviewed my entire experience about food, here comes the dampener 🙁 Saw a cockroach on the table next to me, running on the table and it climbed into their side plate. I jumped up and clicked a picture. There were two people eating on that table and I called the waiter and asked him to clear that plate which he promptly did. This was right after main course and after we ordered the dessert. I was very hesitant to eat the dessert, though I did. I know it is not easy to maintain a place where there is a constant spillage of food, etc etc. As a restaurant, is it not their duty to ensure that their premises is pest-free? I wasn't very happy about it and had to leave the place unsatisfied. The total bill was 894 bucks for two people. The service charge was a strange 7.21%.
I am not very keen to go back to their place! If the cockroach episode wouldn't have happened, I would have tried again!