Amidst the changing food scene and emerging food trends, holding forte as one of the finest restaurants serving authentic Thai cuisine in Chennai is no mean feat! Firstly I would like to congratulate Benjarong on completing 20 years in Chennai, and wish they achieve many more milestones in the coming years!
To celebrate this special occasion, celebrity Chef Waipop Saepeung from Thailand is here with his wonderful special menu, that will be served until the end of this month. When Chef V. Ramkumar, the man behind the amazing Thai food at Benjarong for the last sixteen years, invited me to their restaurant on this occasion, I couldn't be happier! There are a few invites I'd gladly accept, and without a doubt, this is one of them!
Along with a friend, I reached around 13:30 hrs. We were escorted immediately to a nice table in an enclosure that could accommodate six people comfortably. I liked that 'extra' space to click pictures of food.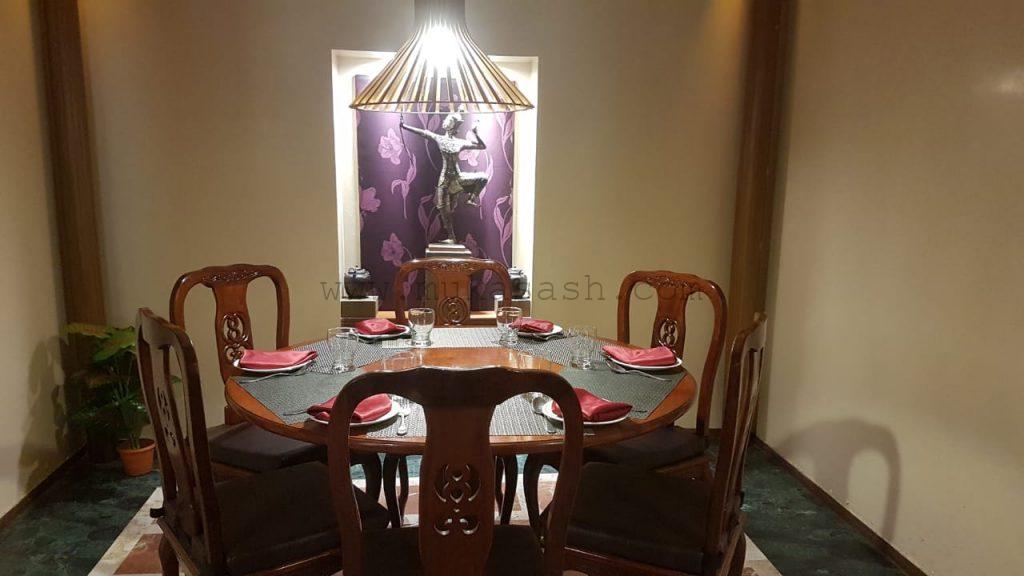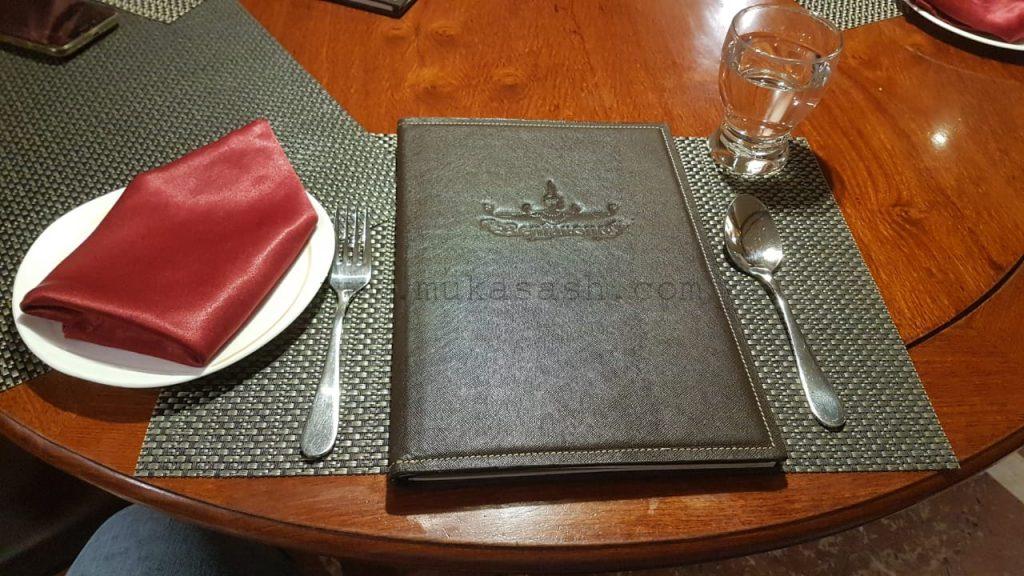 Along with Chef V. Ramkumar, Chef Waipop Saepeung came to say a hello and wished us Bon Appétit! Didn't miss a photo opportunity with him 🙂
I have not posted my pic in my blogs except on one other occasion, a Vietnamese food festival, also at Benjarong. 🙂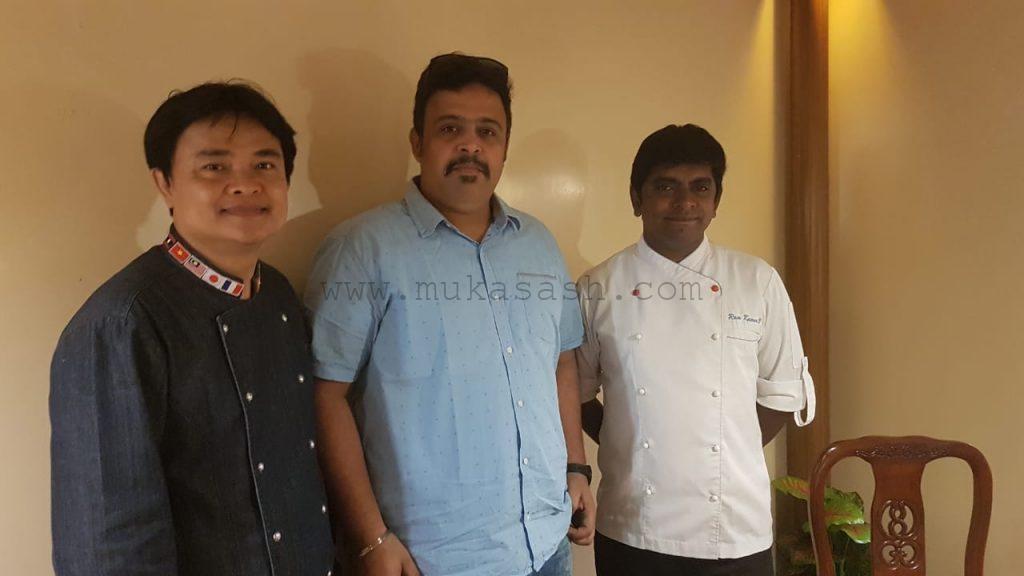 Miang Kham, the famous Thai appetizer, was served first! It literally translates into 'one bite wrap'. A variety of ingredients in small quantities came in a nice little bowls in a plate – cut onions, roasted coconut, ginger, lemon wedges with the peel, fresh bird's eye chilli peppers, unsalted peanuts and spinach leaves to hold it all. The sweet and tangy sauce is poured over it and eaten in one mouthful. Friend added Shrimps too, which was separately given on request.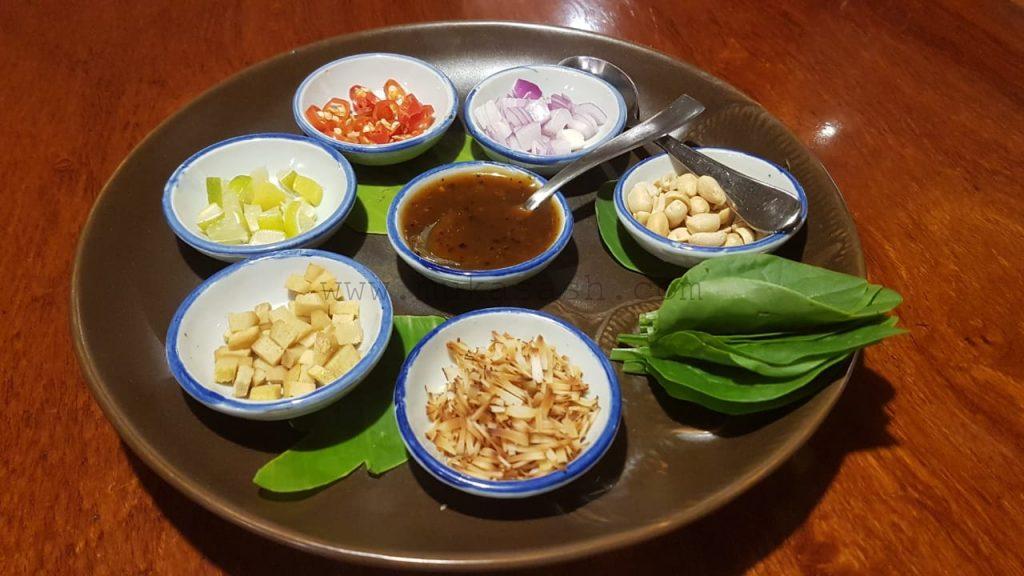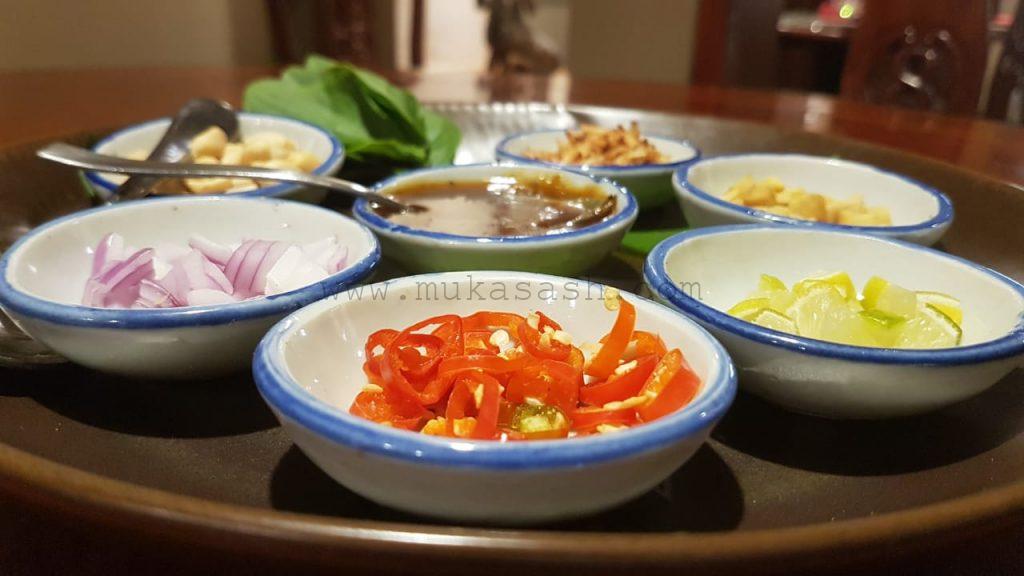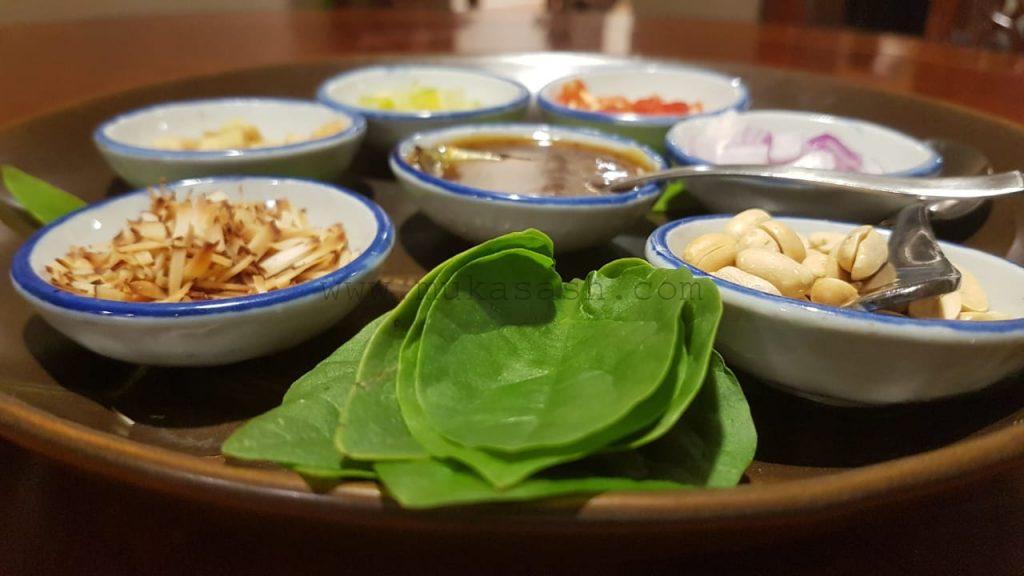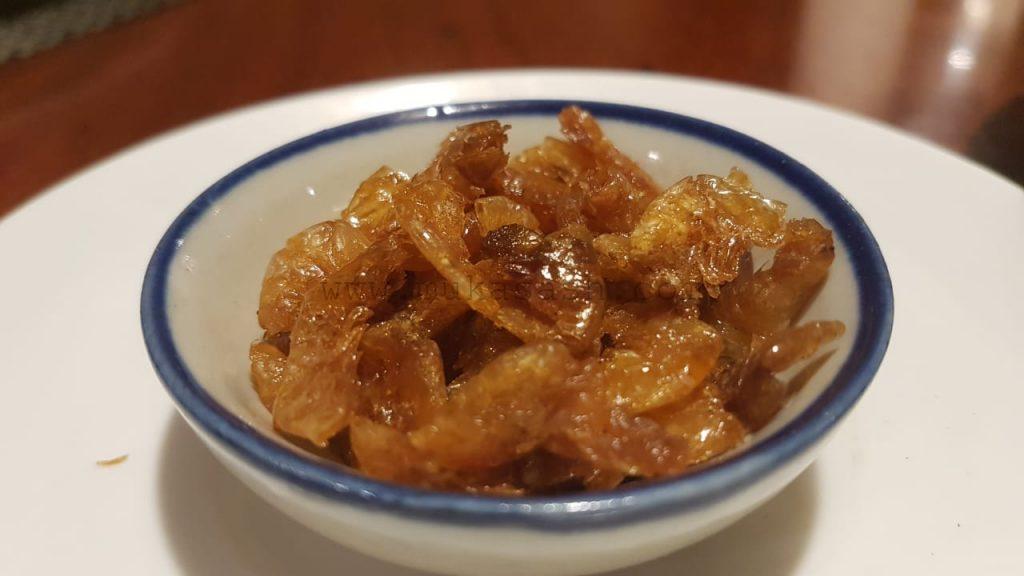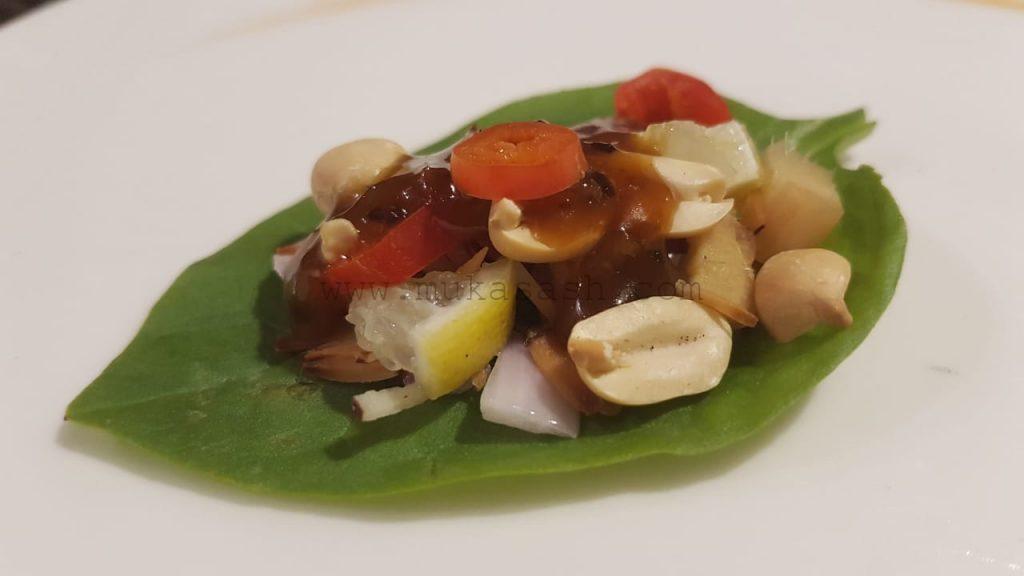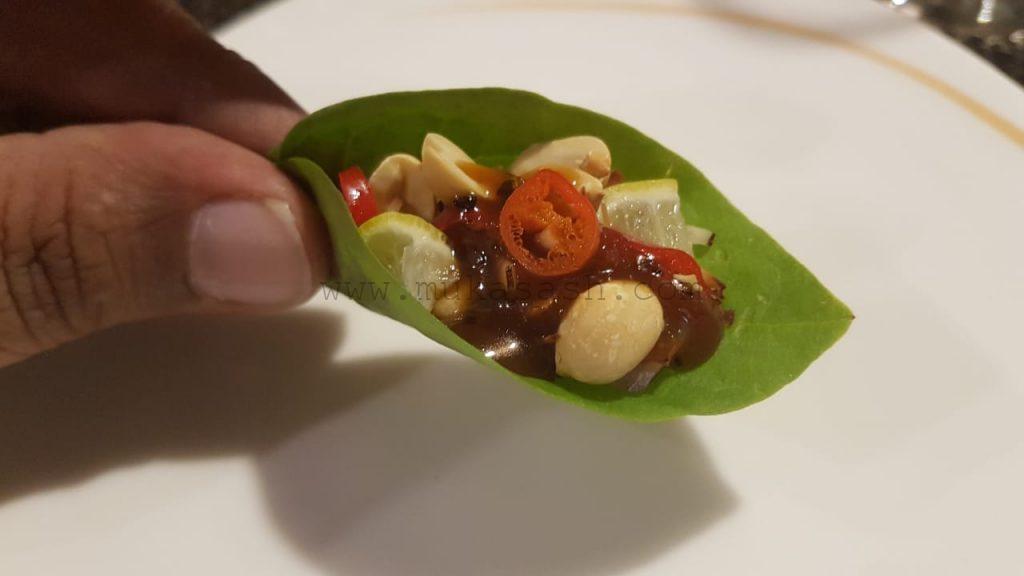 What followed was a plethora of mouth-watering dishes – starters, main course and desserts from the special Celebration Menu!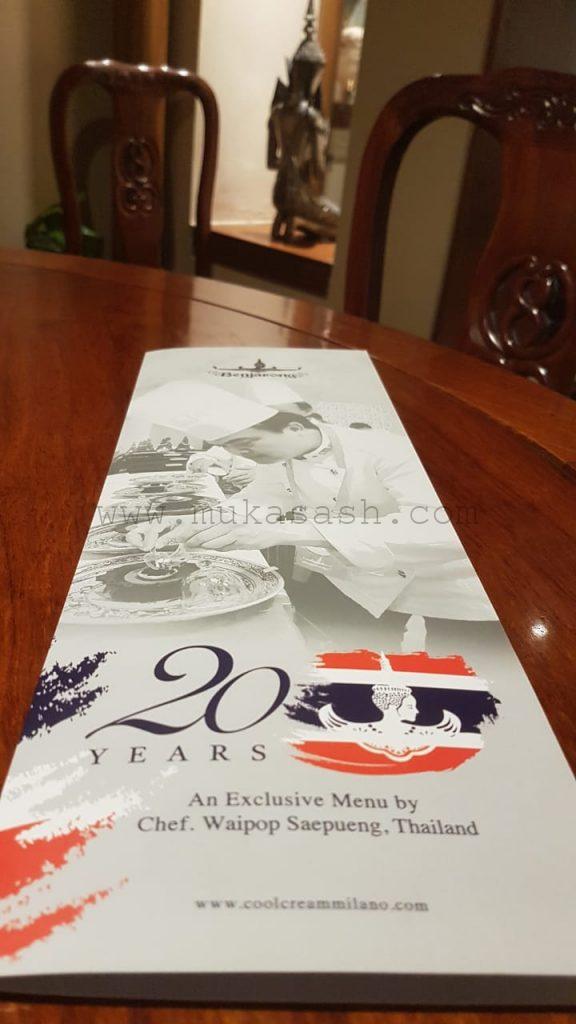 Ka Nom Pang Na Gai – Ground chicken on Toast served with Siracha and Sweet Chilli sauces.
Ma Hor -Minced chicken with peanuts on a bed of pineapple.
The slightly crispy and crunchy toast with generous amounts of ground chicken on the top tasted wonderful with the sweet chilli sauce.
The Pineapple canape with minced chicken and peanuts was sweet and very different, in a nice way.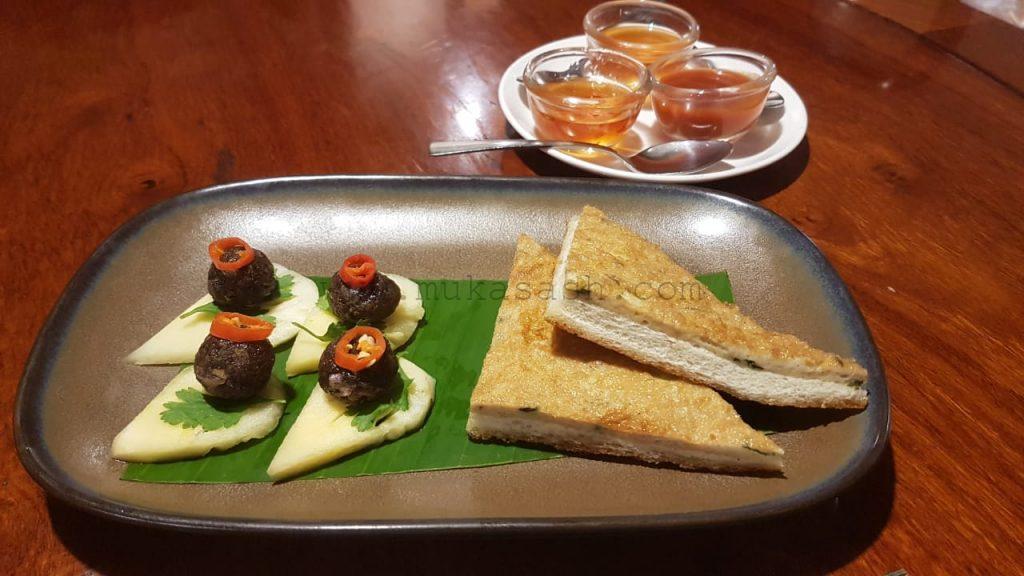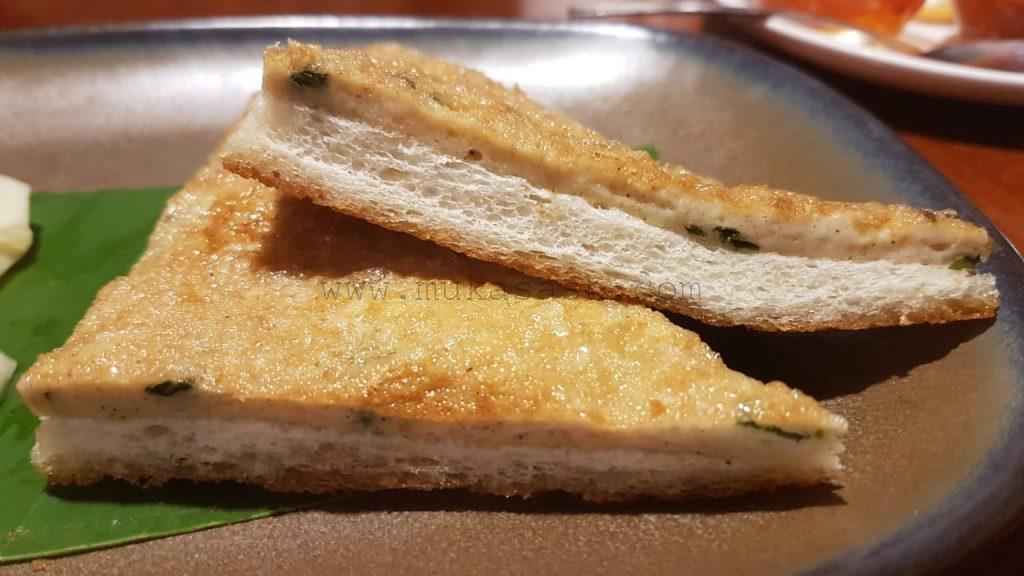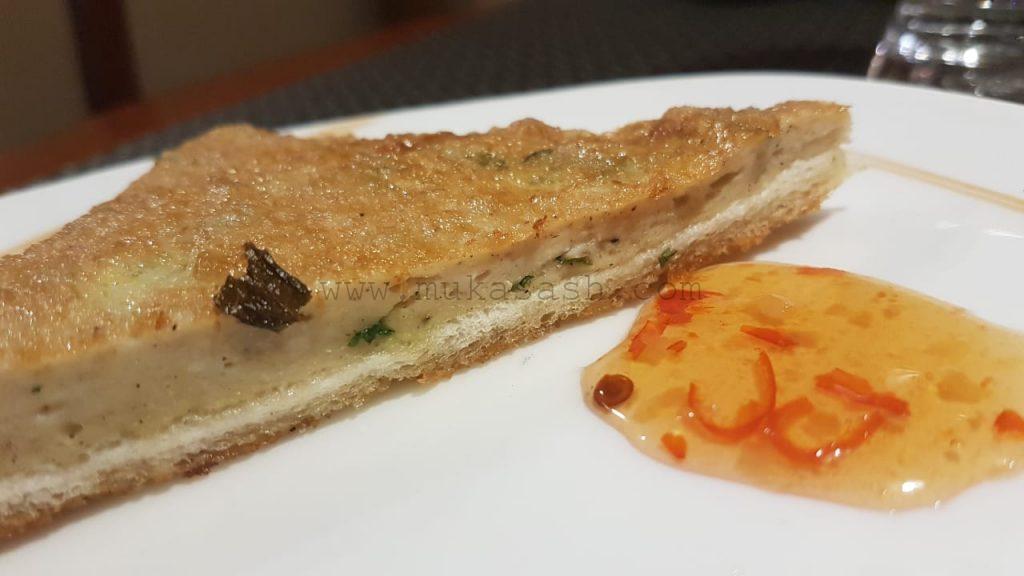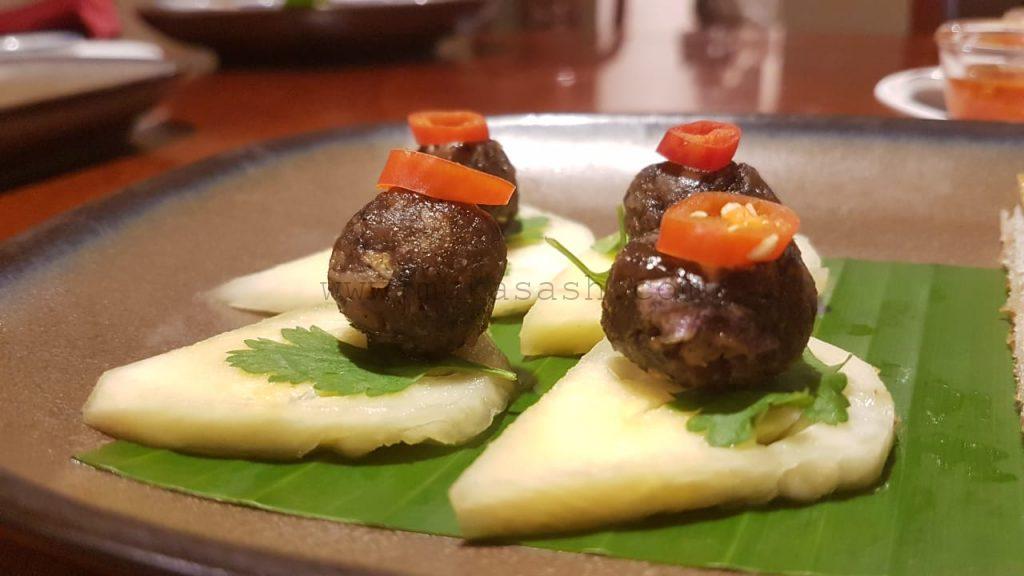 Kra Buang Talay Tod -Crispy seafood flat spring roll with plum sauce
Haven't seen a flat spring roll ever. This was quite nicely made with a thin crispy layer served with Plum sauce. My friend liked it very much.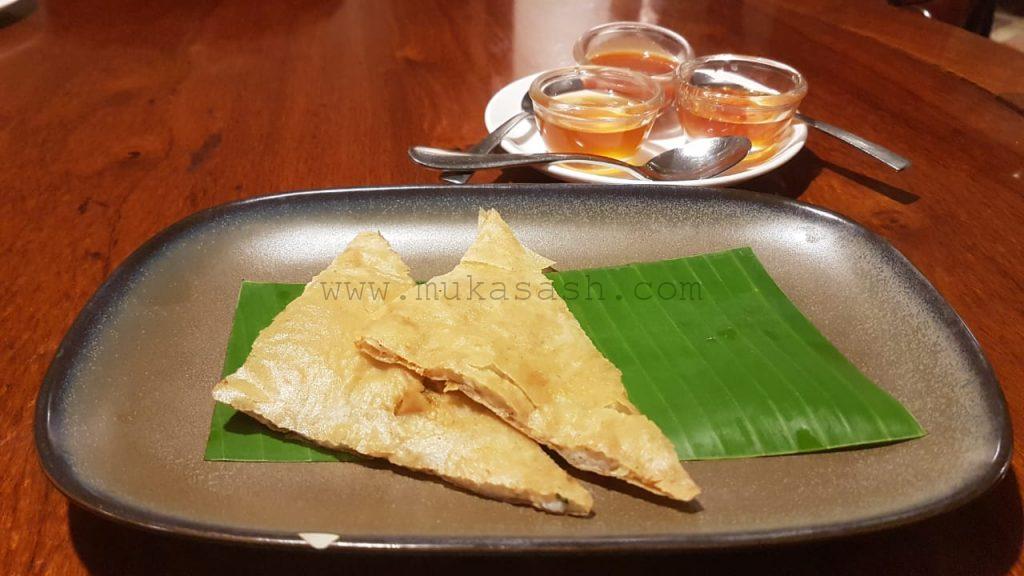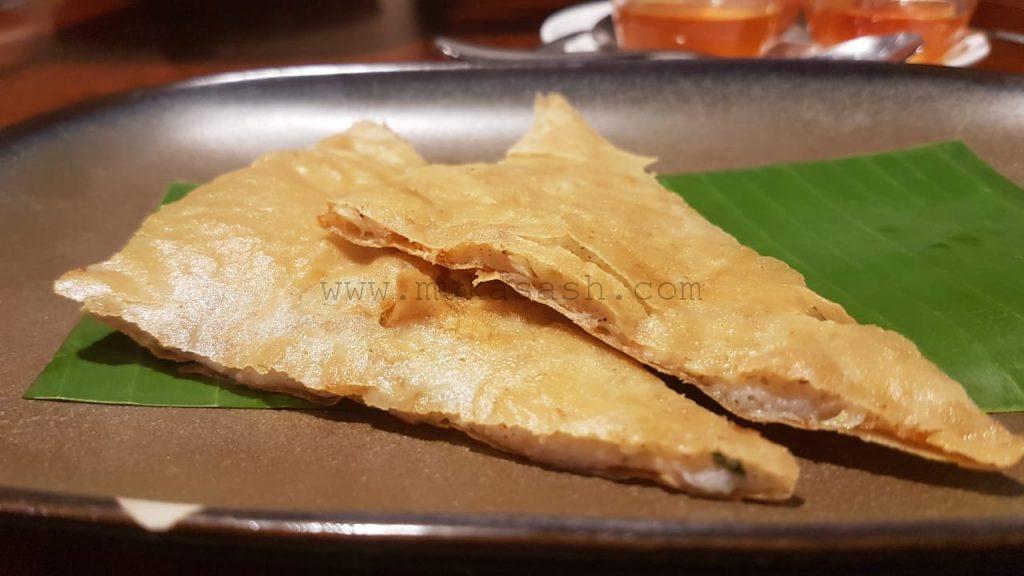 Lui Suan – Thai rice roll with herbs and chicken, served with basil sauce.
This was quite intricately made. Seemed to have chicken, herbs and glass noodles as filling. The basil sauce added a wonderful balance in taste to the roll. Not sure why, I had a slight taste of seafood, left me wondering if it was some sauce. It wasn't too overpowering, I could manage without a problem.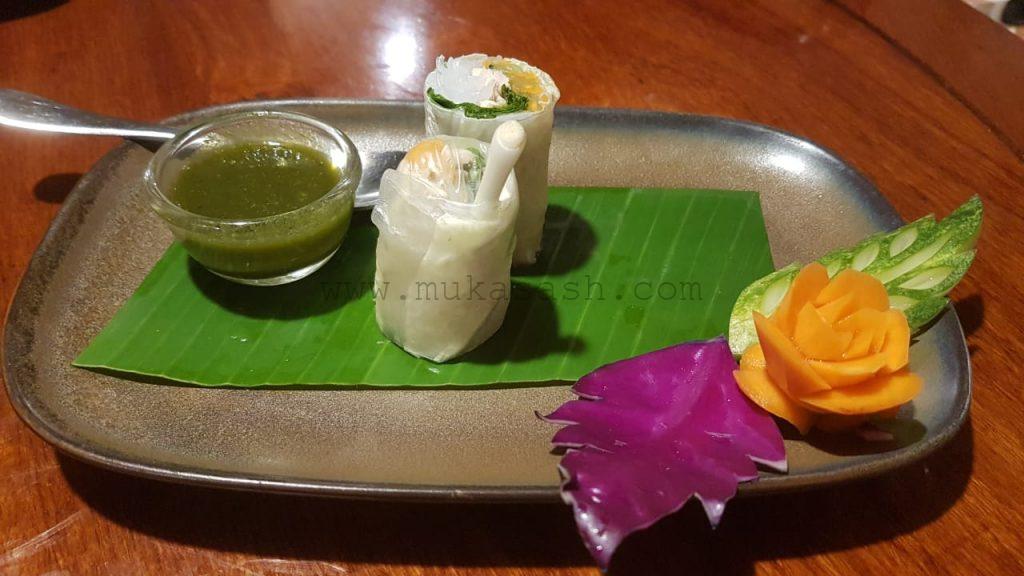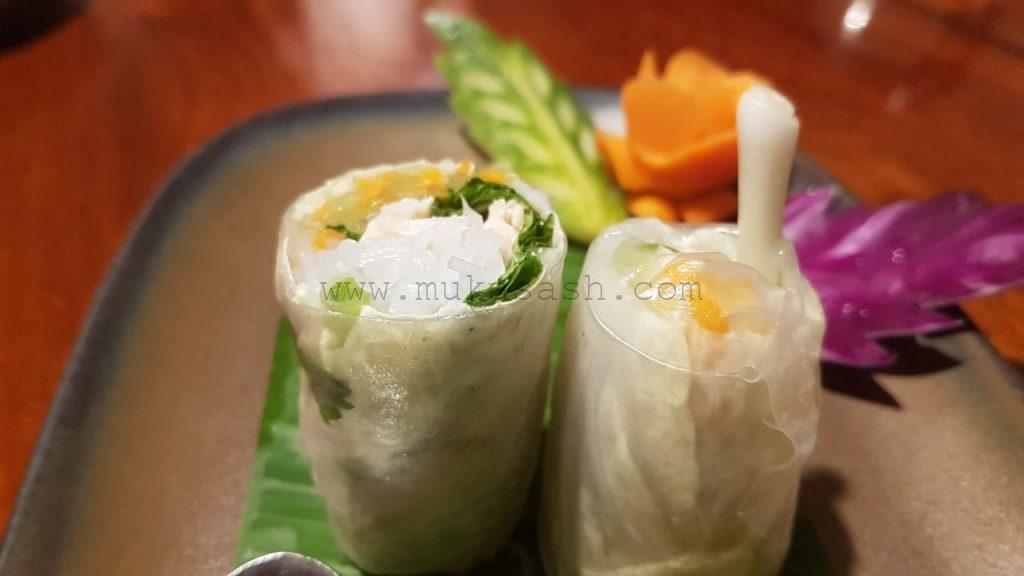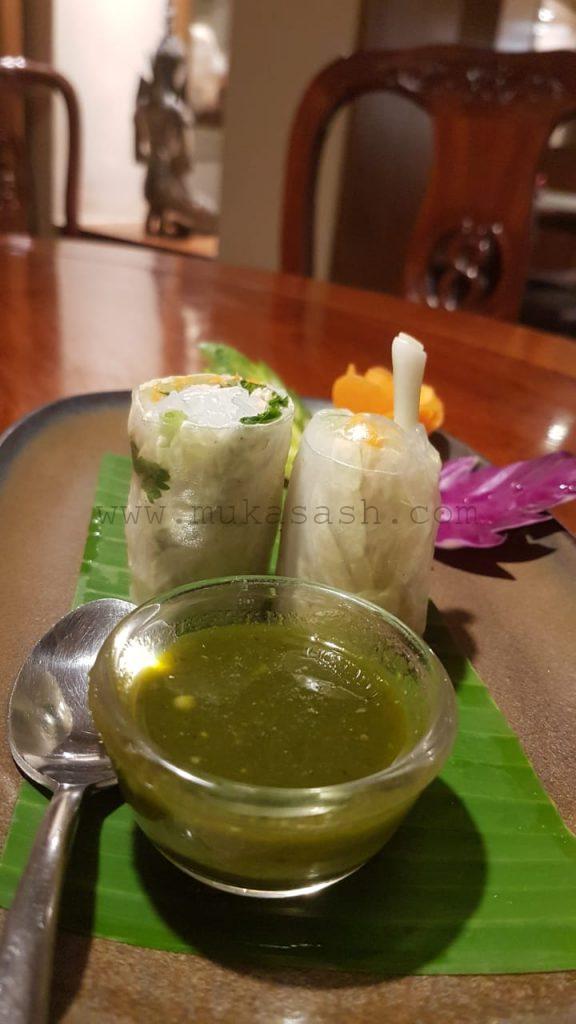 Yam Gai Yang – Grilled Chicken Salad with Thai herbs and chillies.
The grilled chicken was very yummy, but again, part of it had a flavor of some seafood-based sauce. Most part of it was wonderful! I'm saying this explicitly because of my limitation to eating seafood. My friend relished it thoroughly.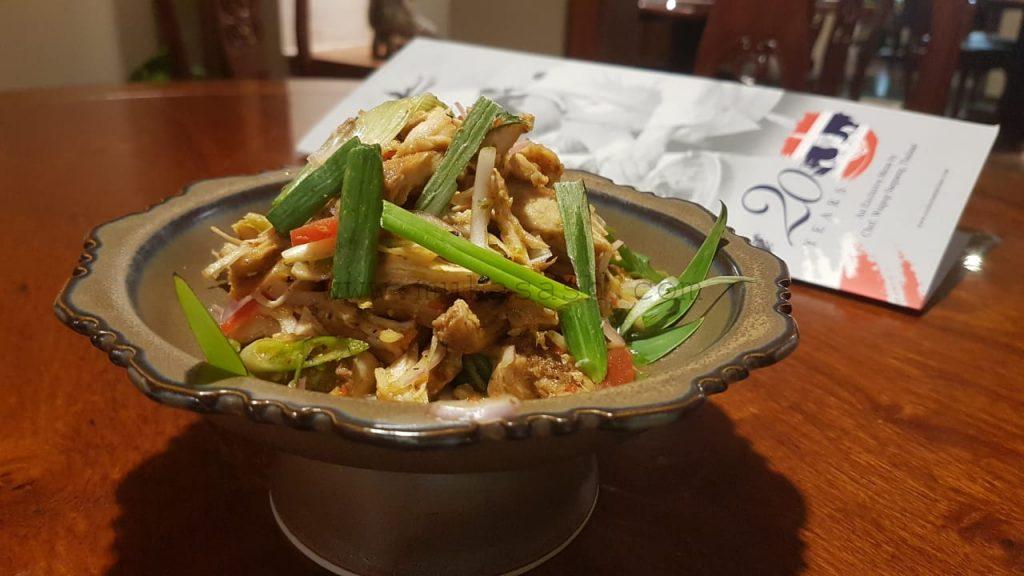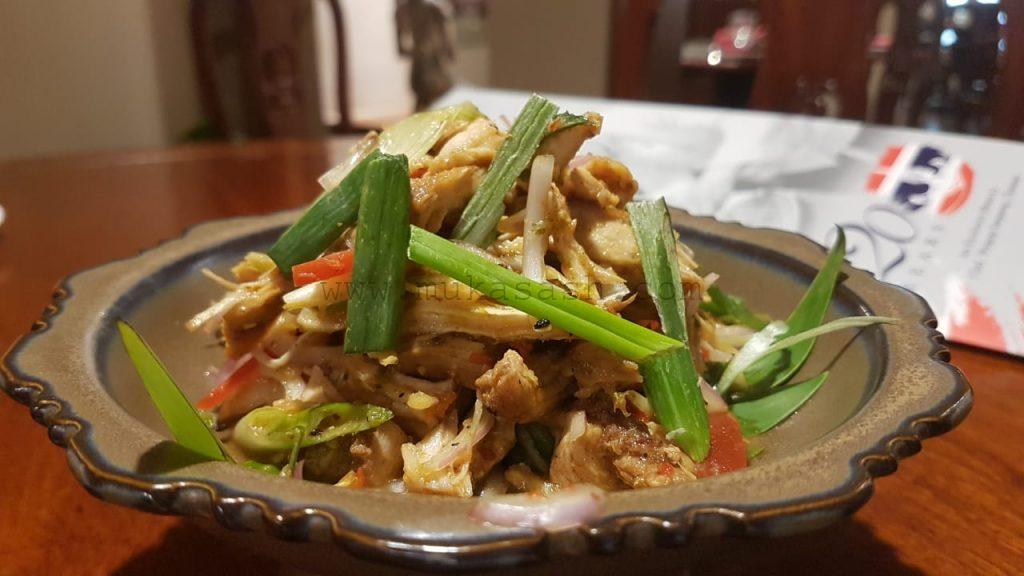 Tom Jued Chicken Soup – Spicy clear soup with sweet potato, shallots, hot and sweet Basil leaves.
This one was an extremely flavorsome soup which we enjoyed till the last drop. It had a wonderful flavor of Basil leaves. Chicken was fresh without any smell that I dread in most soups, sweet potato was a good addition too.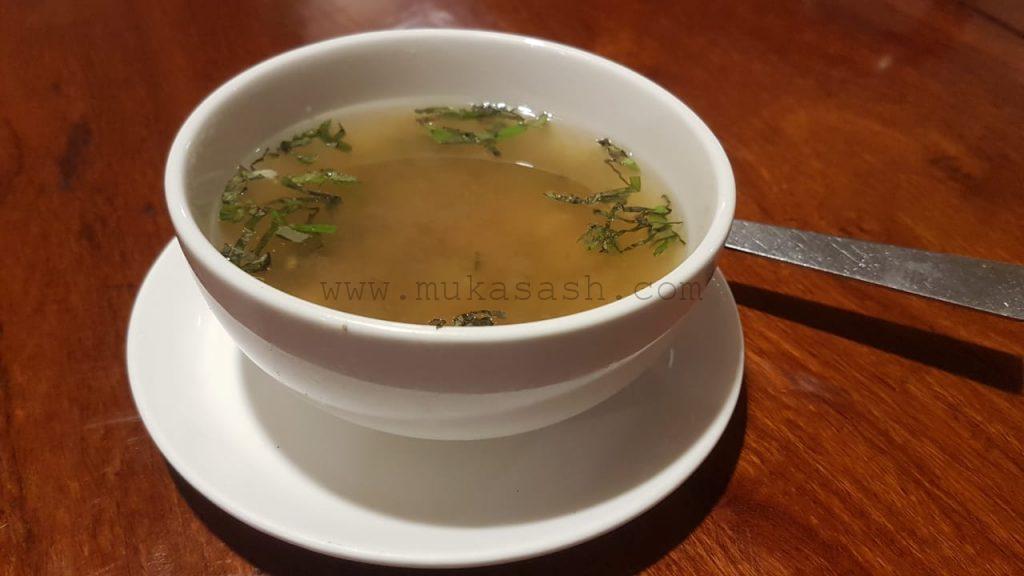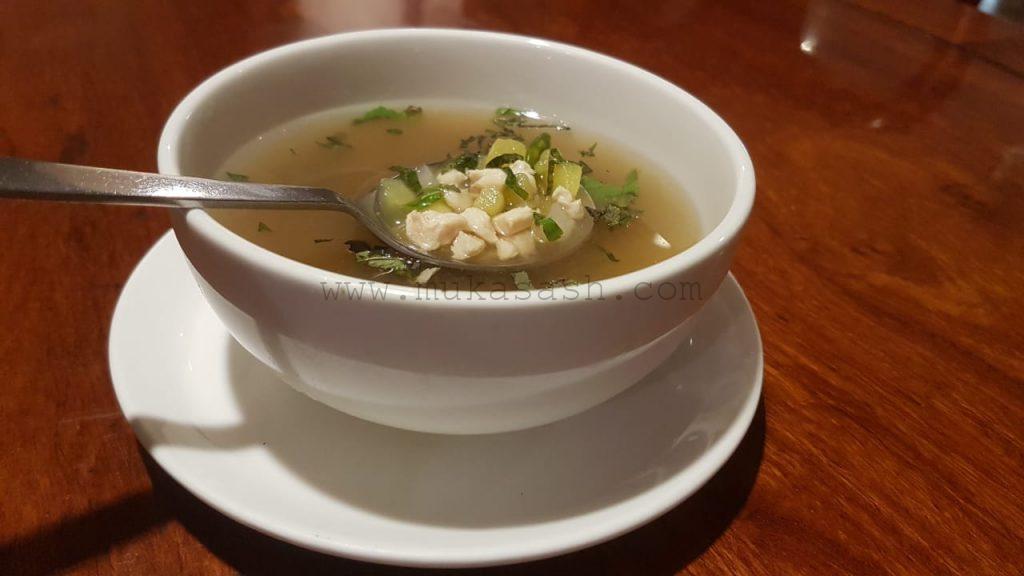 With that we moved to the main course.
We were served a small portion of wok-tossed Flat Noodles with Kale leaves. It tasted good.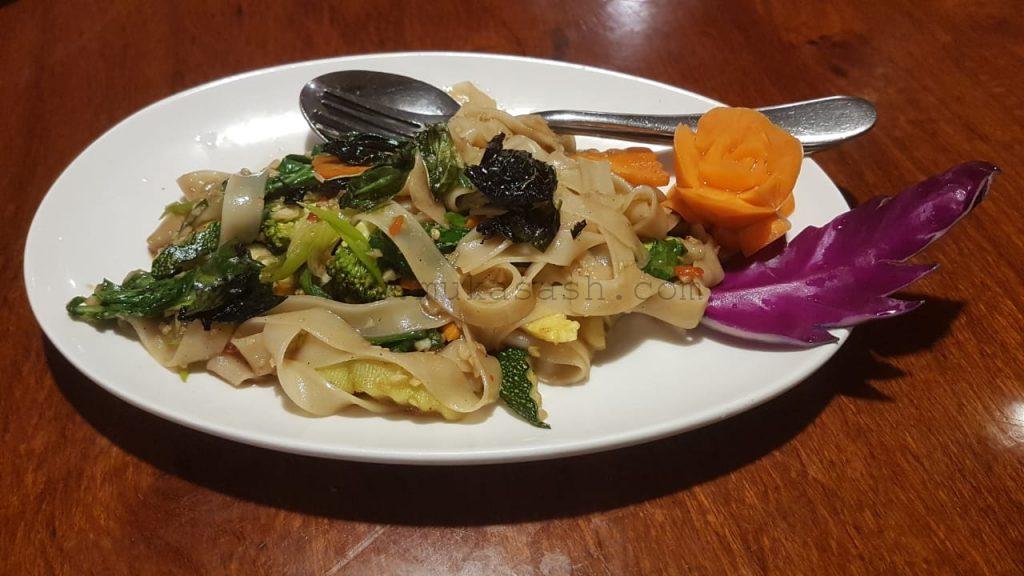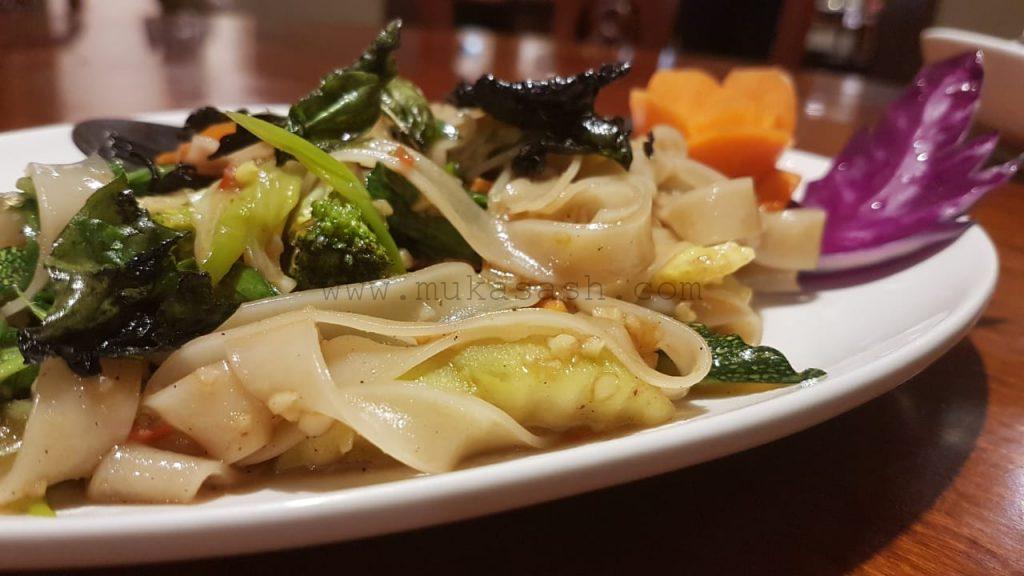 Thai Chicken Curry, one of Chef Waipop Saepeung's signature dishes, along with Jasmine Rice is what I loved, it was very yummy! Chicken was well cooked, the gravy was thicker than normal, absolutely tasty.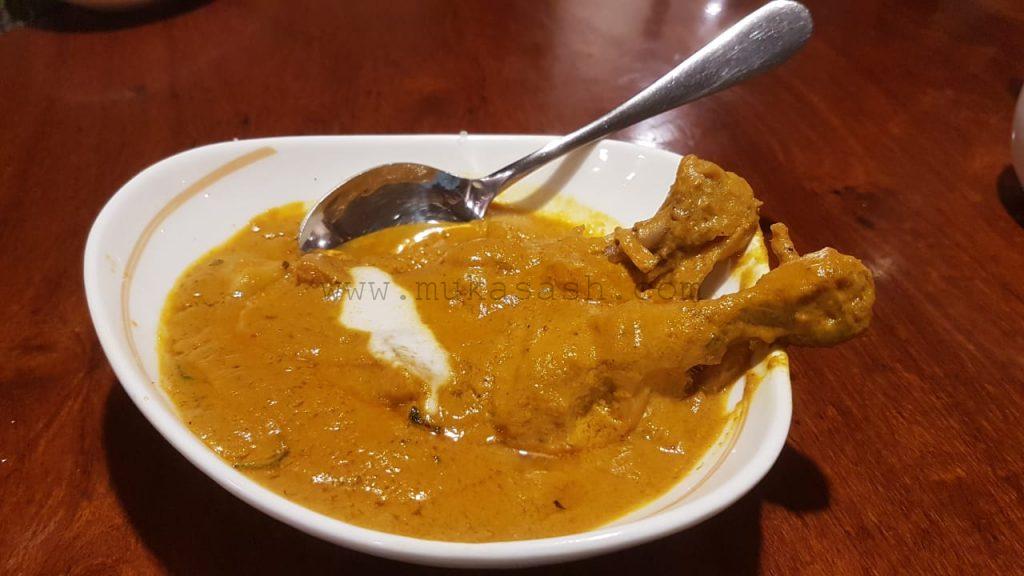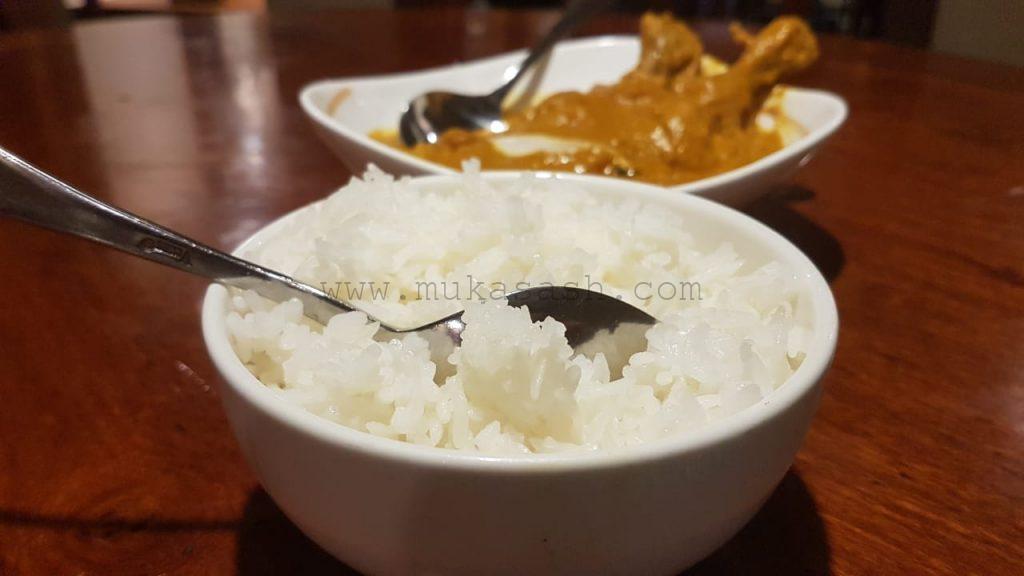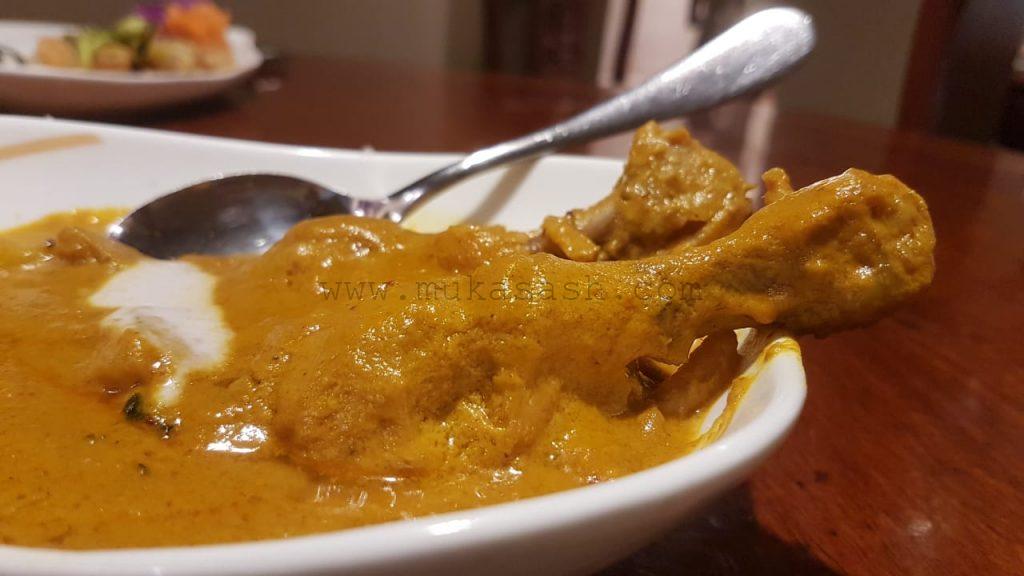 My friend had some restrictions to eating carbs, so he got a dish with prawns, broccoli and veggies. He loved it.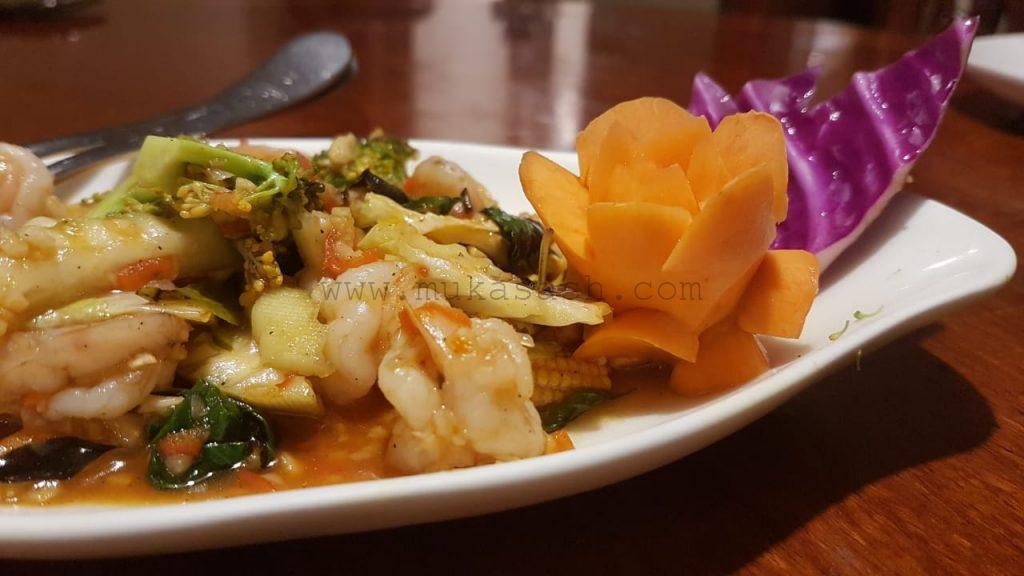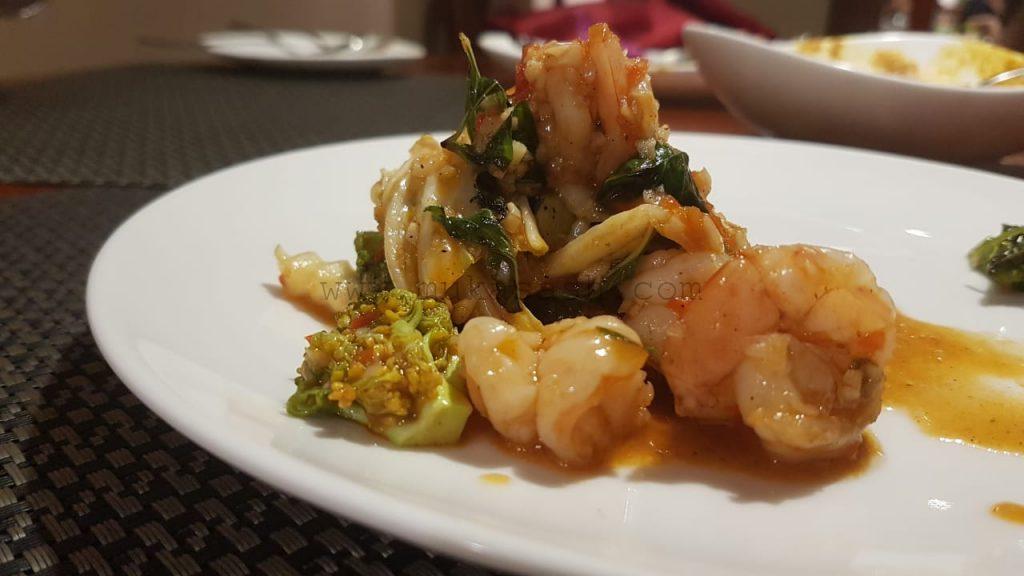 After an elaborate session with starters and mains, we were hoping the desserts weren't too heavy! It came exactly like how we wanted it !
Ta Ko Haew – Water Chestnut and coconut pudding
This was served in a small cup made of banana leaf. The pudding essentially had pandan and water chestnuts. It was topped with salted coconut cream which was yummy. It was not too sweet, tasted very nice.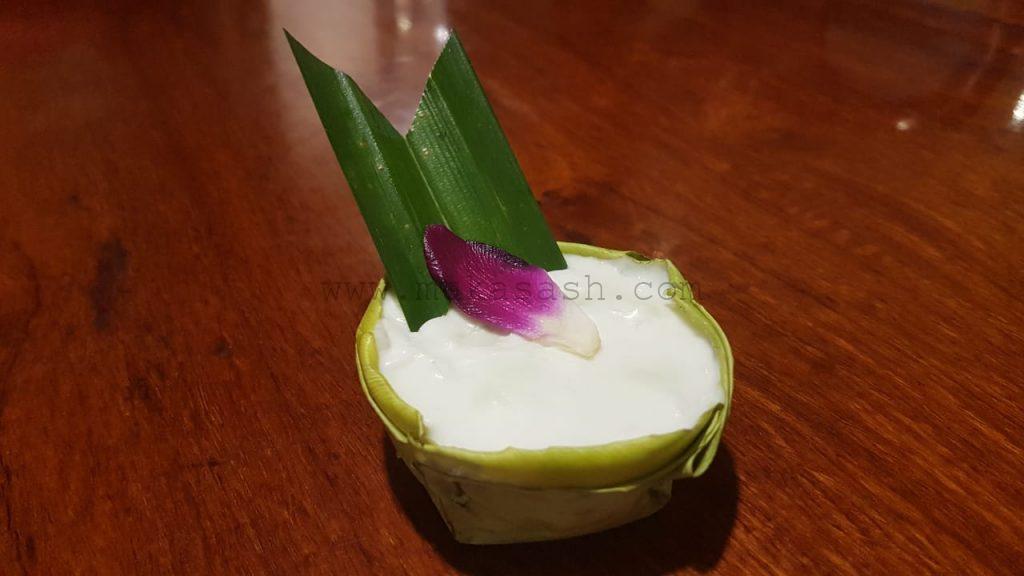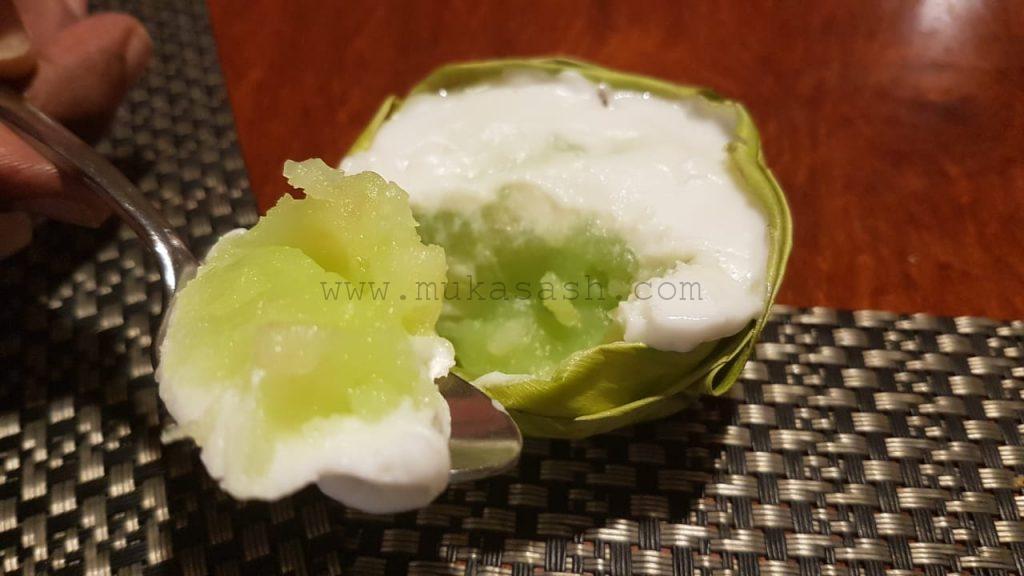 Ka Nom Moe Kaeng – Baked mung bean and coconut milk cake with golden onions.
Onions in a dessert was new for me! Was wondering how it was going to taste, it was very mild and nice. It was served with vanilla ice cream, it was yummy too!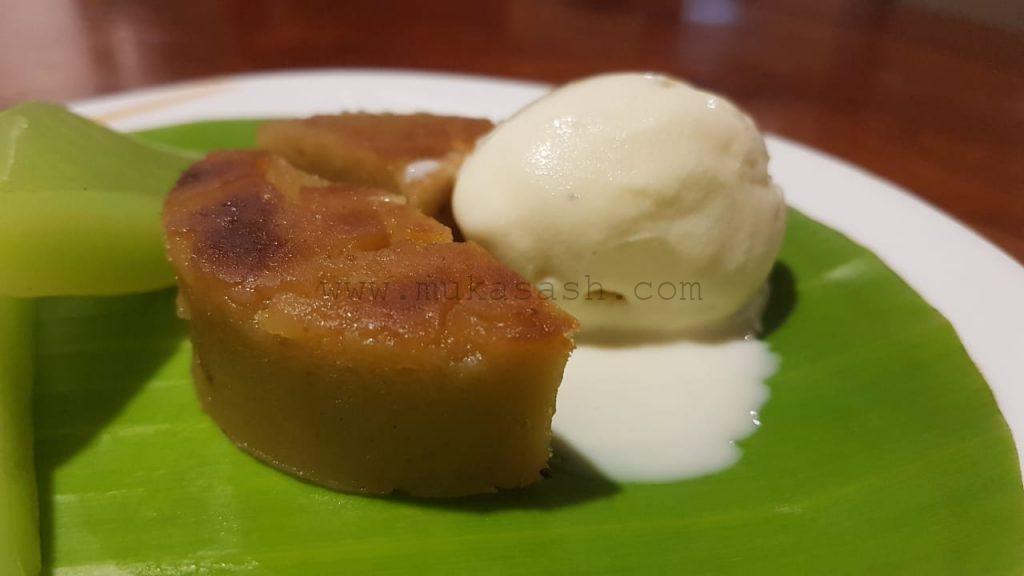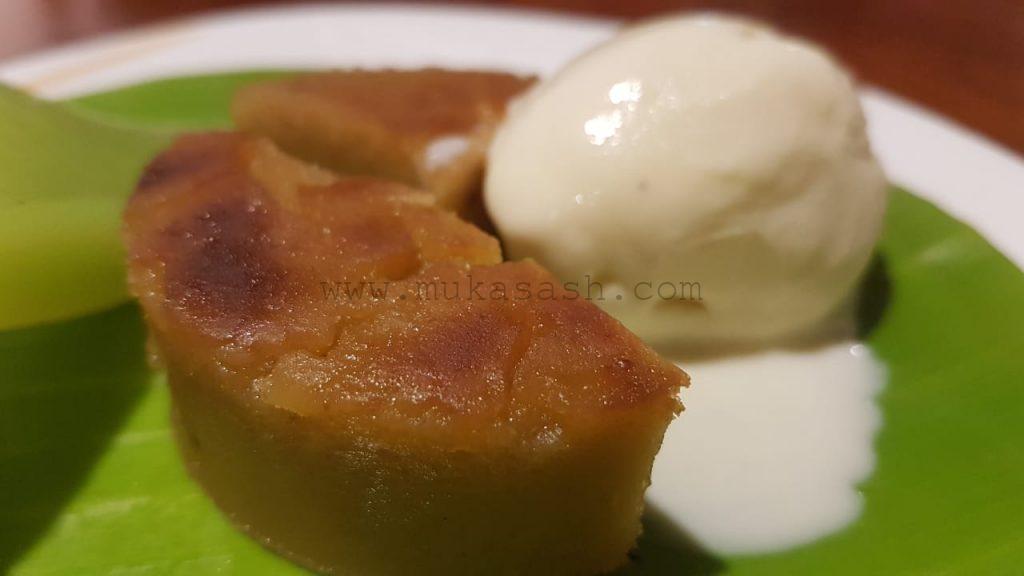 Finally, a Pandan and Jasmine jelly/cake. This was one of the very different desserts I've had. The mild flavor of the very familiar jasmine was wonderful in it. Loved it to the last bit.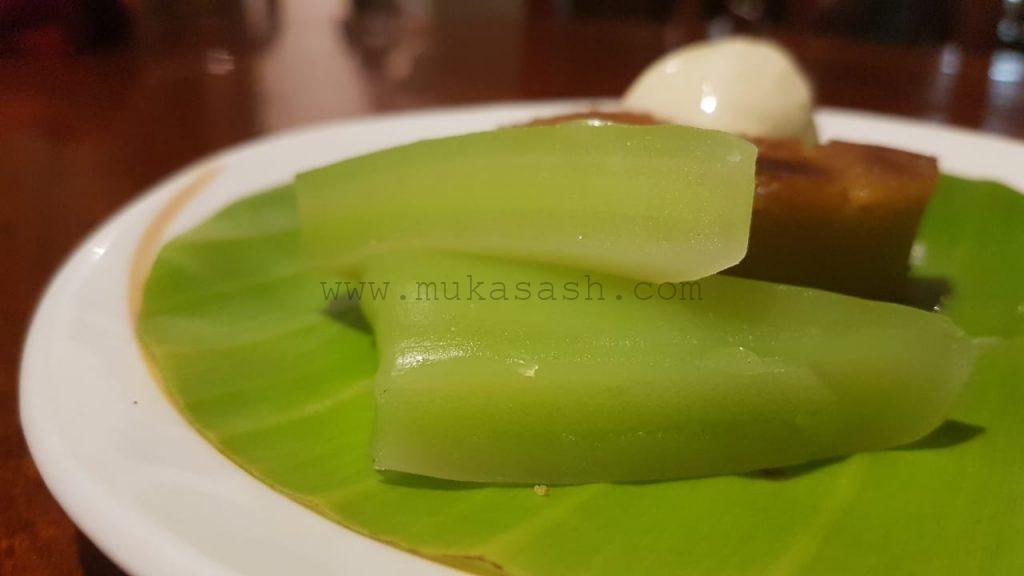 During the course of the meal, we were served Lemongrass Tea a couple of times, which was nice.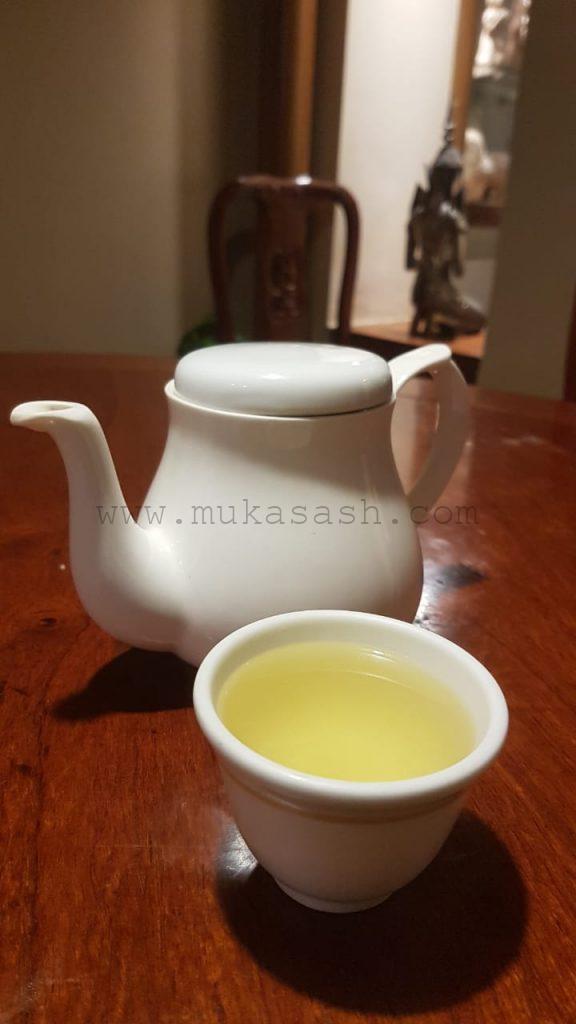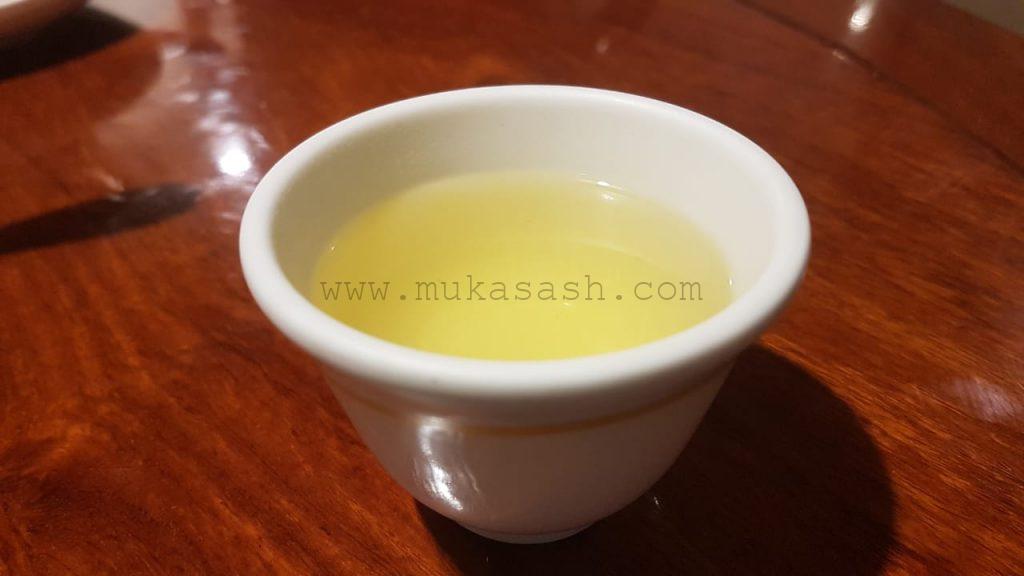 We were there for about an hour and a half. Throughout, the service was wonderful and courteous. The waitresses dressed in traditional Thai costumes add to the overall experience of dining in a very authentic Thai place. Quite as expected in a fine dining restaurant, the plates were changed after each course, water refilled without having to ask for it. It was a very good experience overall!
Once again, thanks for Chef V. Ramkumar for having us over and congratulations and best wishes to Benjarong!