The moment I saw a picture of Burmese Khow Suey from The Mayflower restaurant in one of the food groups, I had made up my mind to visit this place at the first possible opportunity. In fact, it took much longer than I expected. Also came to know that The MadChef aka Chef Koushik Shankar was the consulting Chef here and the brain behind this, I was all the more eager to try it.
Had some personal chores in T. Nagar with wifey and immediately clubbed it with a lunch at The Mayflower. The restaurant is located on Burkit Road. It is an independent bungalow, renovated into a restaurant. There's parking for a few cars inside the premises and a few on the road outside. We were quite early for lunch, around 12:45 PM, and it looked like we were the only ones in the restaurant. A few others were busy with some photo-shoot.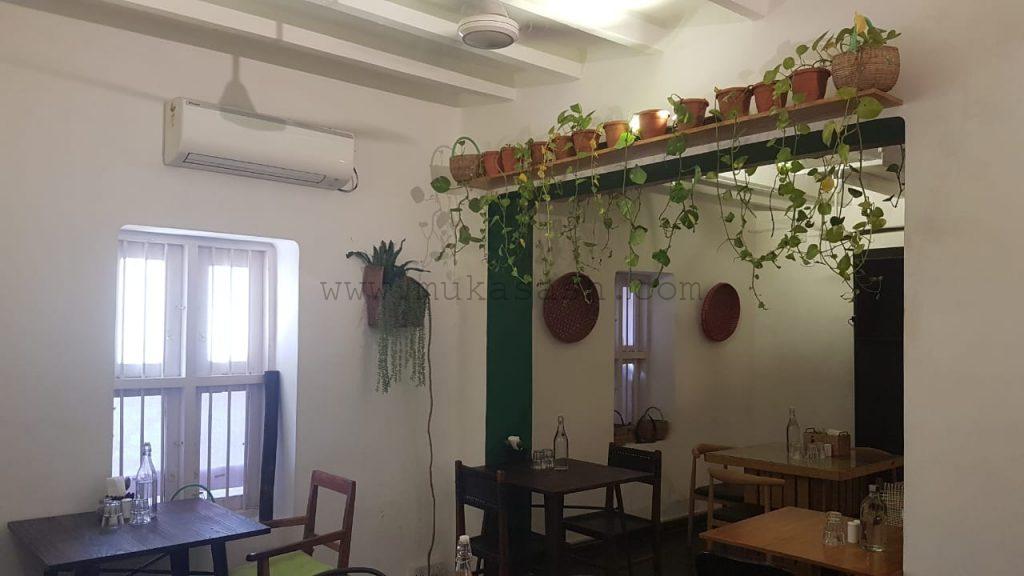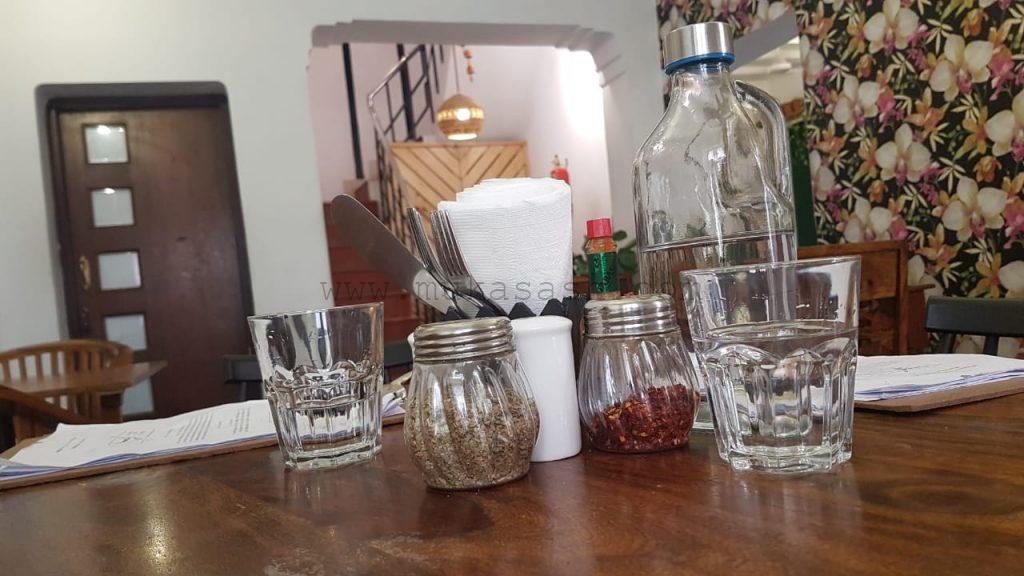 We settled down in one of the nice tables by a window, nice diffused light, good for clicking pictures. 🙂
We ordered a French Onion Chicken Soup to be served one by two. Loved it totally ! Just served at right temperature to relish it. It had lots of caramelized onions, melted cheese on top of a slice of bread, the chicken pieces in it seemed absolutely fresh. I was totally impressed as there was not a slightest smell from the chicken pieces which I usual dread in any soup.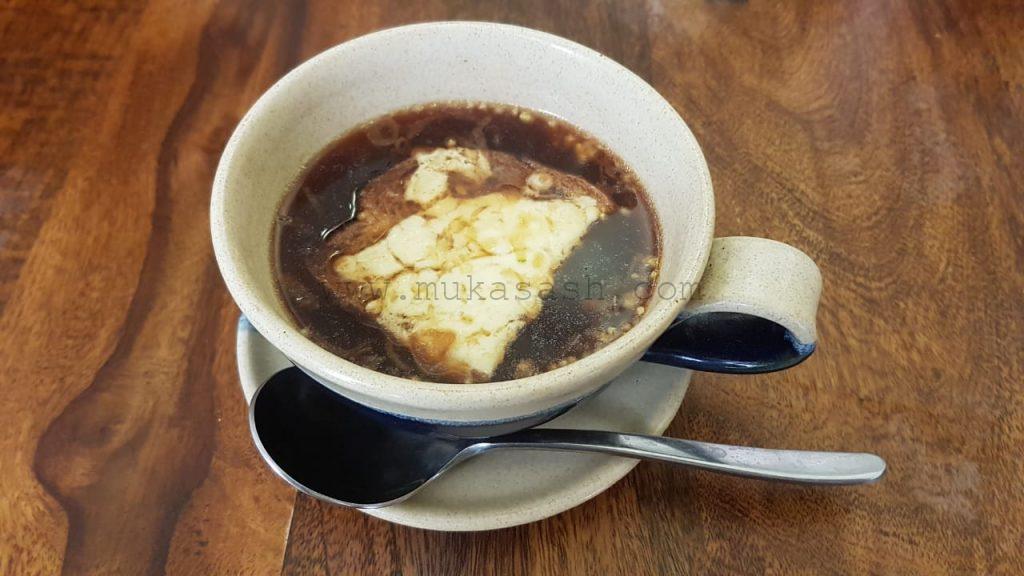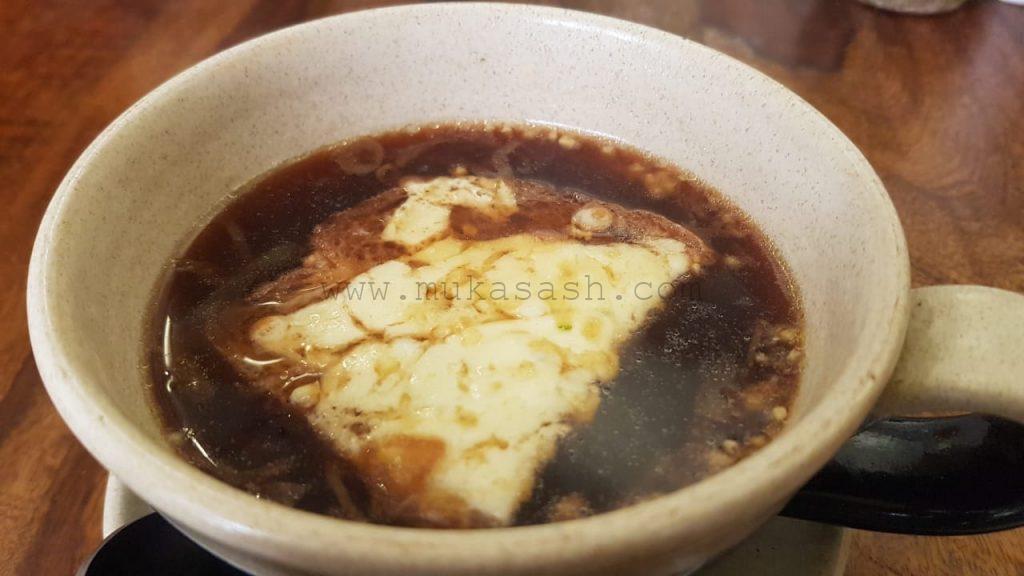 They didn't have dimsums, so we ordered a Chicken Satay instead for starters. Initially it looked like too little portion for the price, but then, the chicken was quite a big piece and tasted awesome. The peanut sauce served along with it was also very yummy! I would still think more pieces would be more satisfying than serving just two 🙂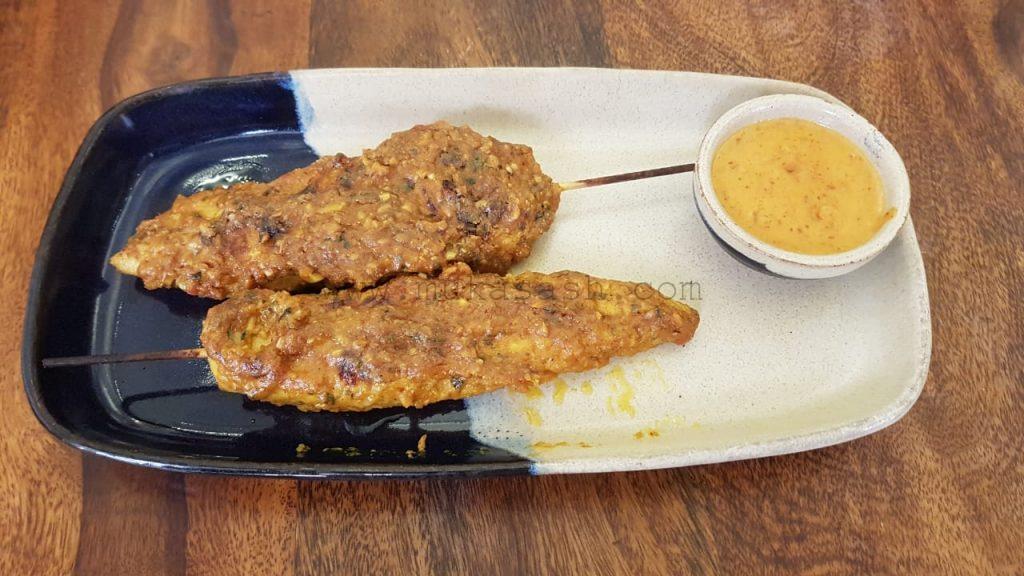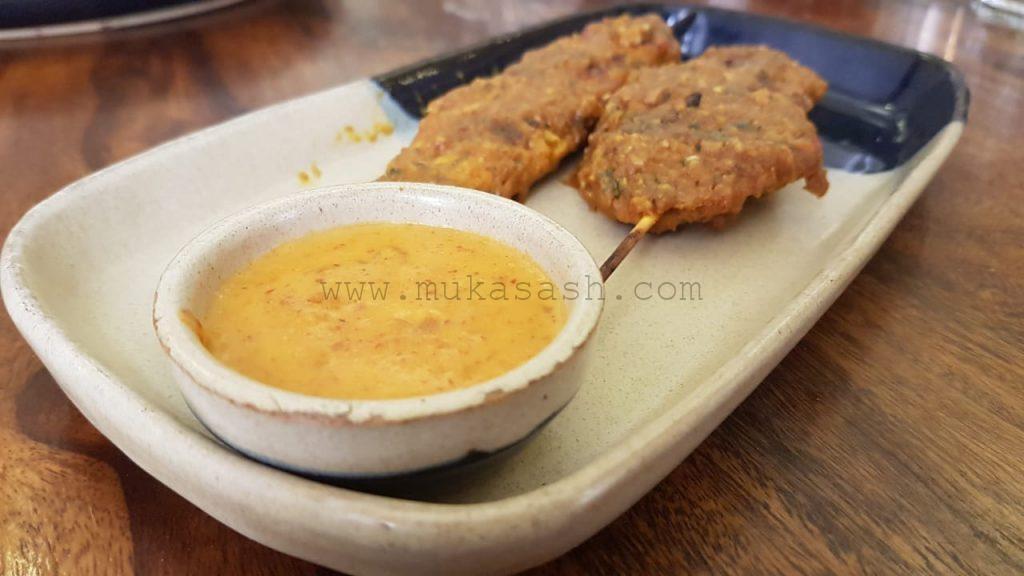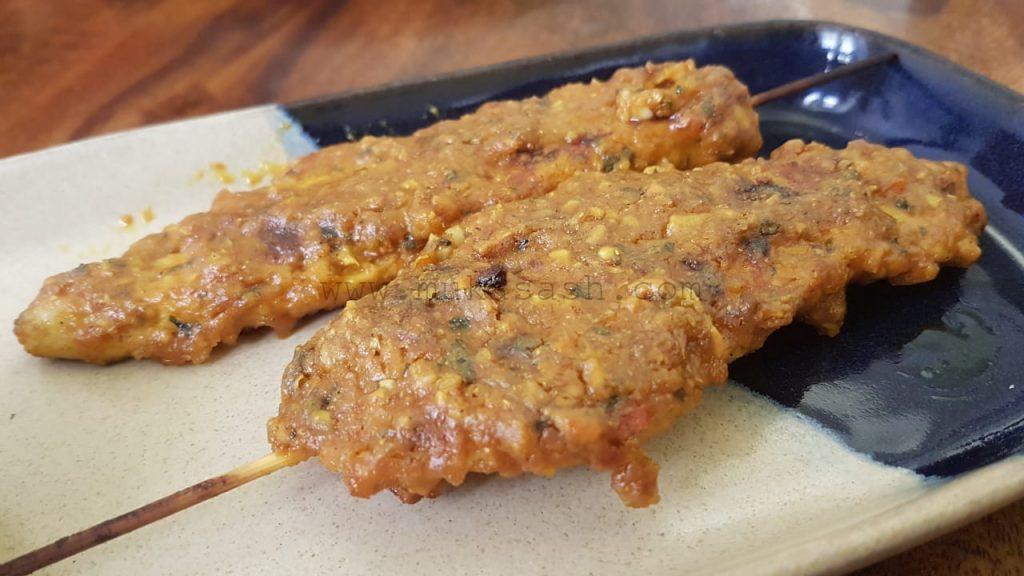 Next to arrive was the showstopper of the lunch – Burmese Khow Suey! A stunner in terms of presentation and taste! I was head over heels in love with this dish. The condiments were roasted garlic, Mint leaves, peanuts, chilli-infused oil, fried onions, chilli flakes and chopped spring onions. There was one bowl of greens which I didn't try. A dash of lemon juice after adding all these these, made it absolutely yummy! Chicken pieces were soft and fresh. The crispy noodles added a nice crunch to the soft noodles inside. The boiled egg was a nice addition to the dish too.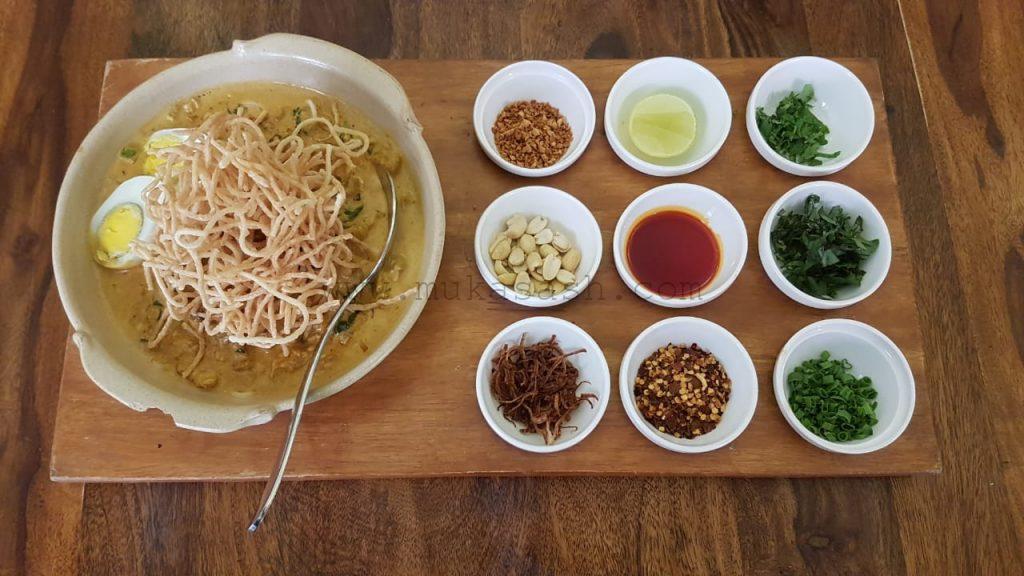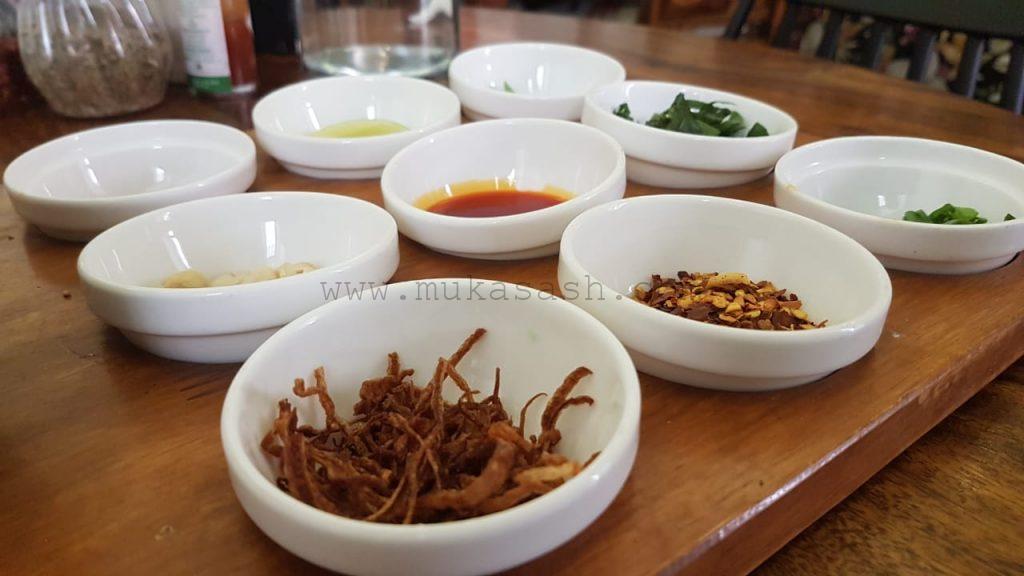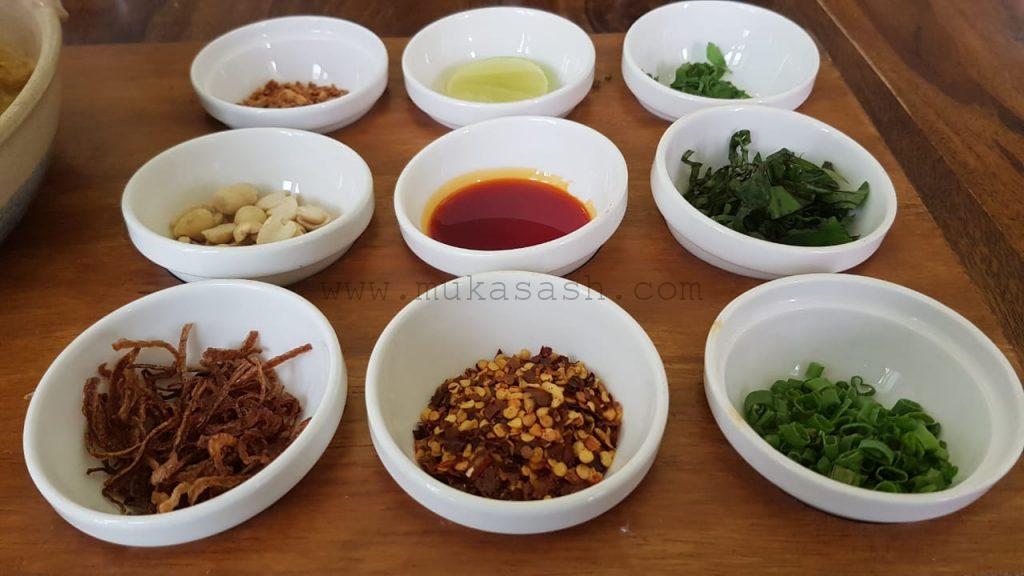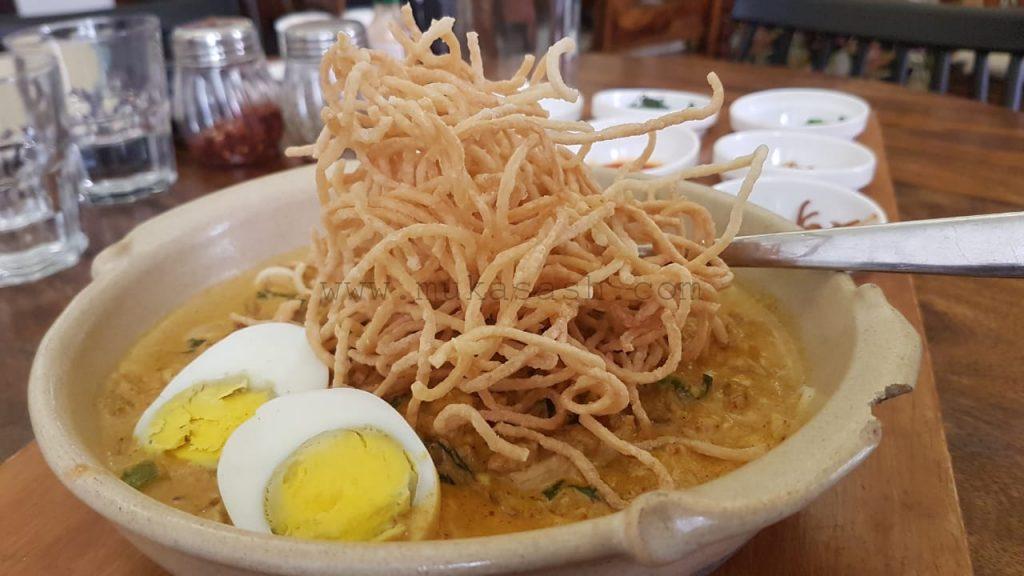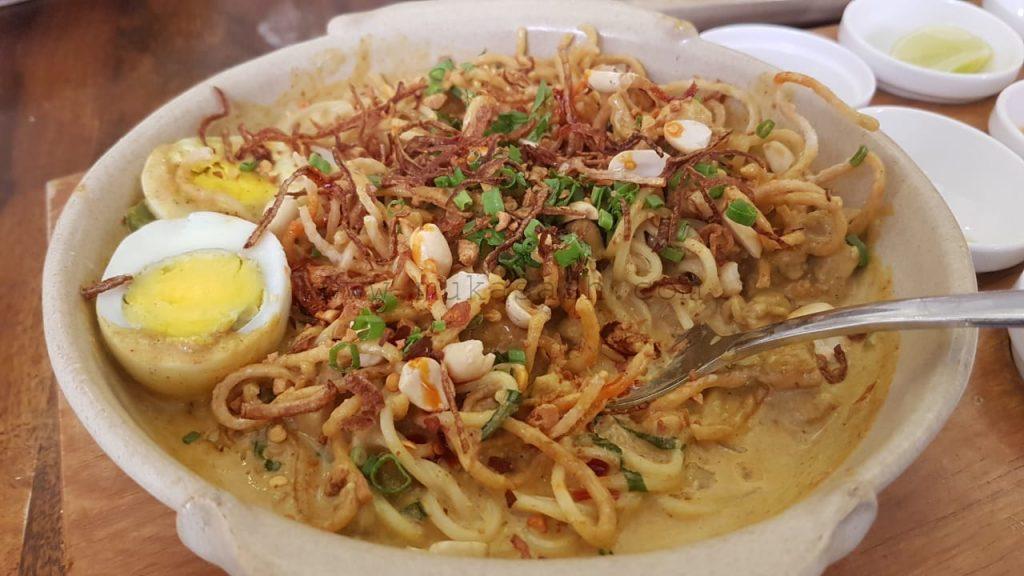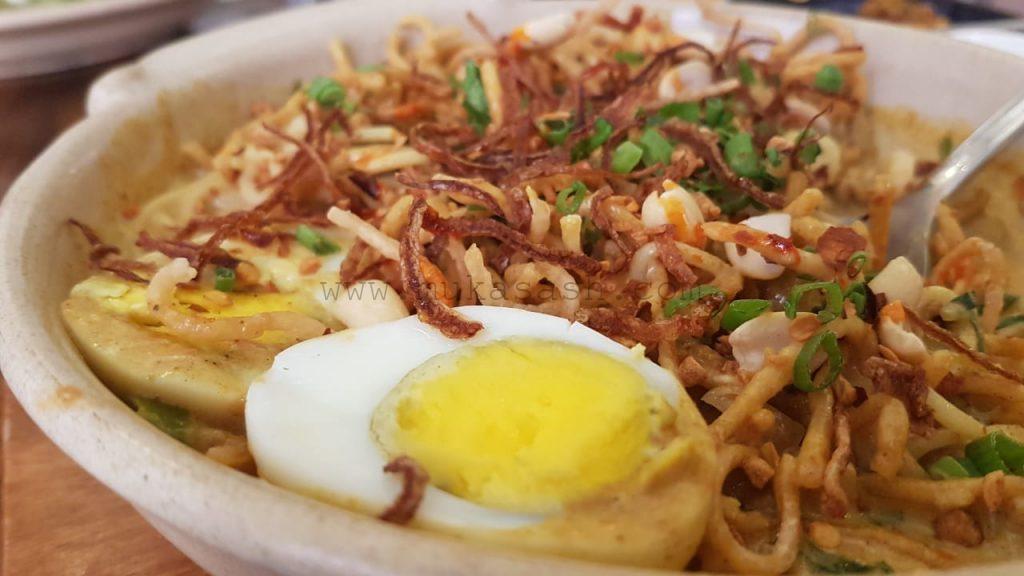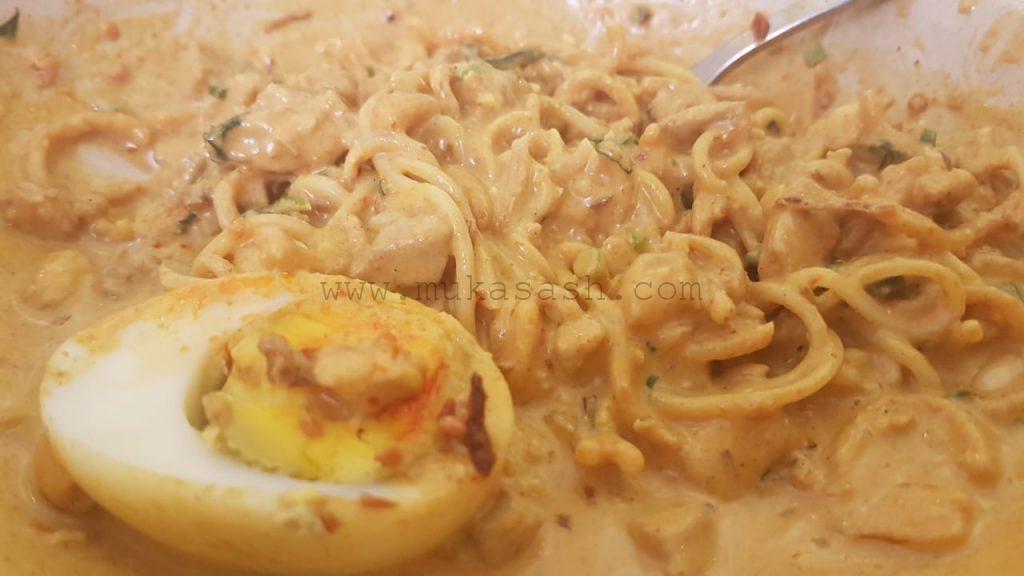 Thai Green Curry was wonderful too. It was a plated dish, served in a single plate. I tasted a little of it. It was wonderful. Again, chicken pieces were soft and super fresh.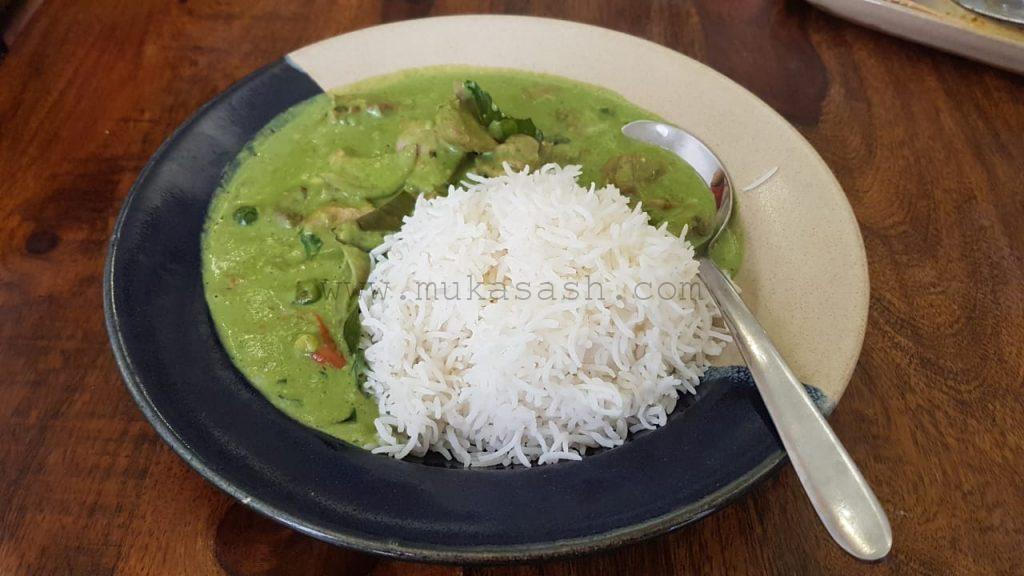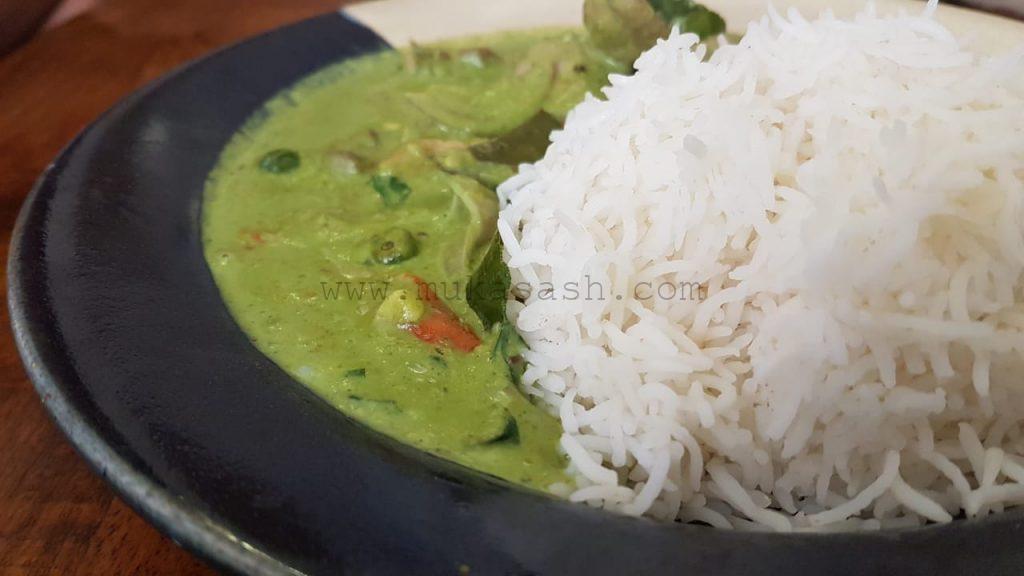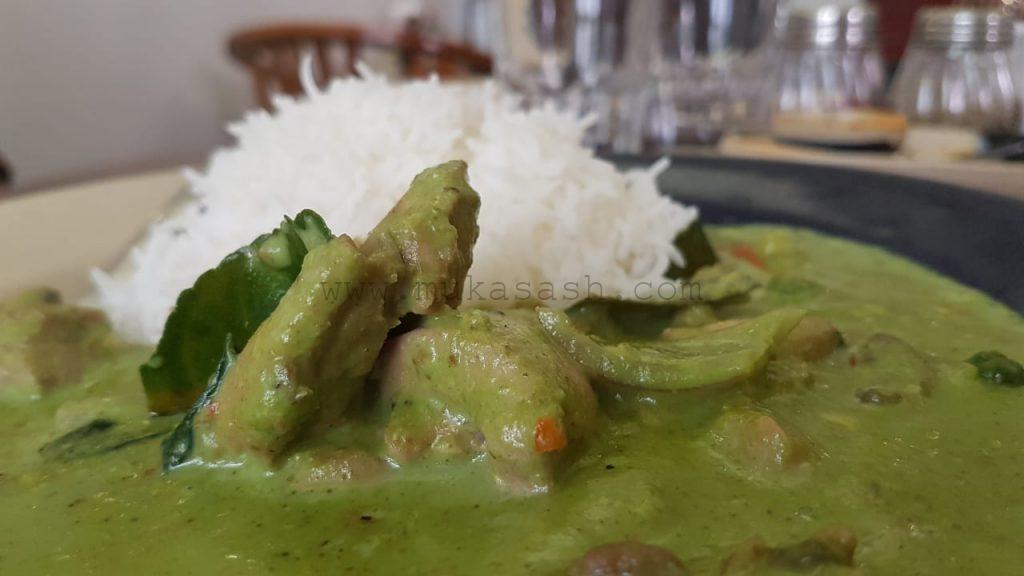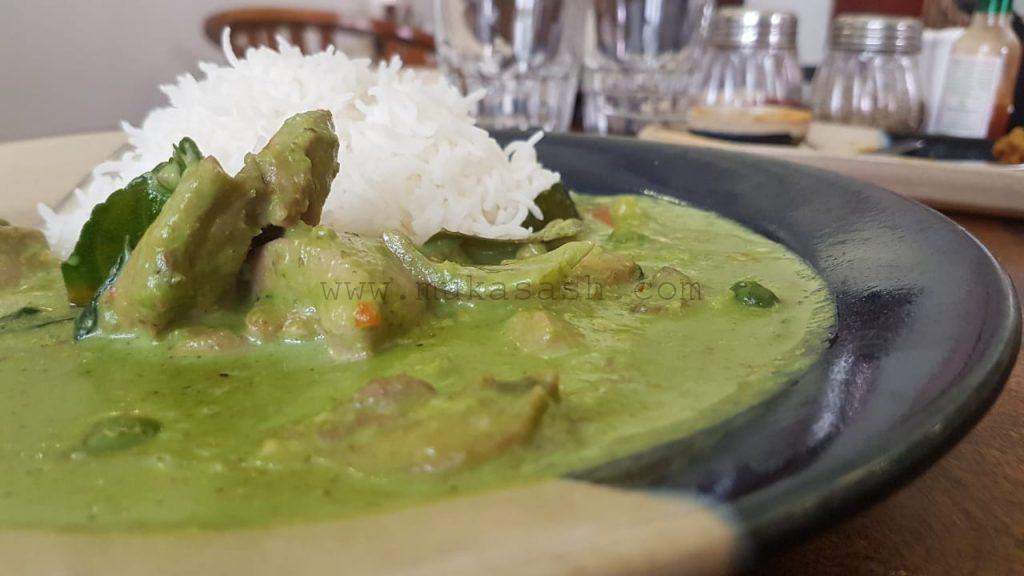 Beyond a point, wifey couldn't complete this, so we asked a little of it to be packed. We got that in a nice box with a lid, it didn't spill till we got back home.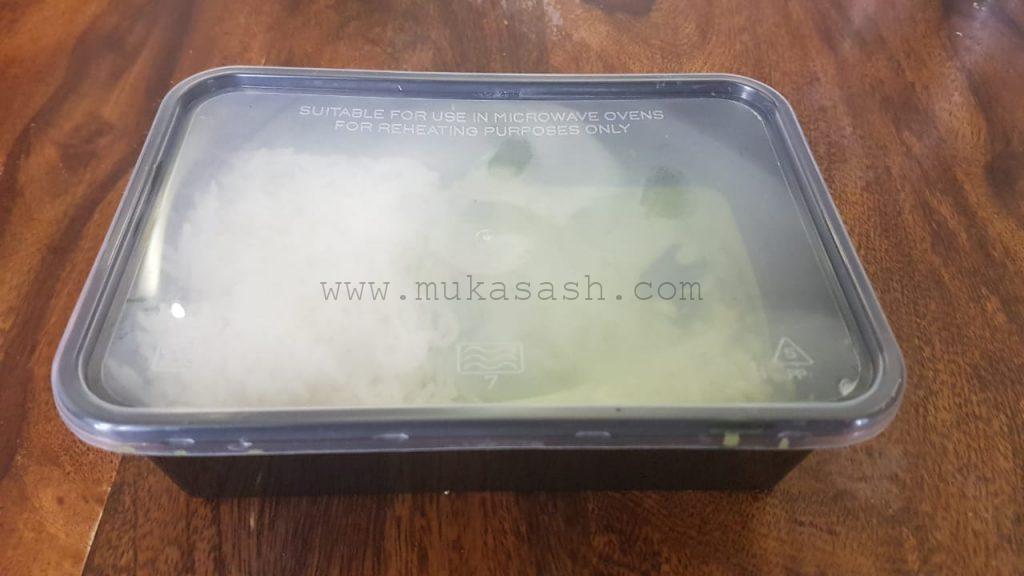 The only not-so-great part of the meal was the dessert. They didn't have coconut panna cotta, so decided to go with Death by Chocolate. It was plated well, presented well, but when I bit into it, it was chilled. Perhaps it was refrigerated, I thought. Since it tasted good with the ice cream, didn't complain. As we ate more of it, towards the center, it was actually frozen, not just refrigerated. Literally had to break it, than cut it. I didn't want to complain after having had more than half of the cake, but that's definitely not what I expected. A cake is meant to be served fresh, if not, i would expect to hear in advance if it is from the fridge or freezer. 259 bucks for a dessert could have been spent better!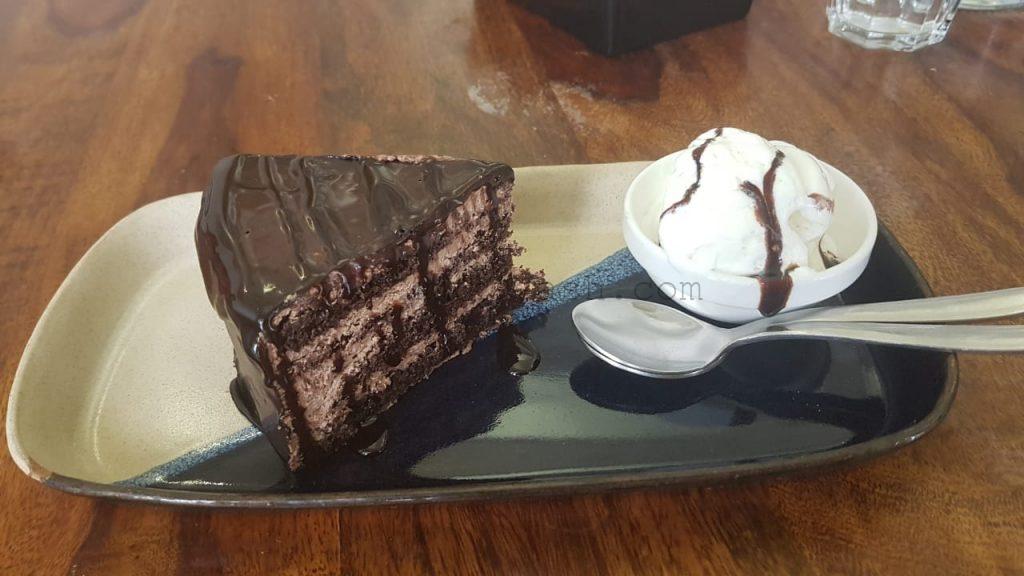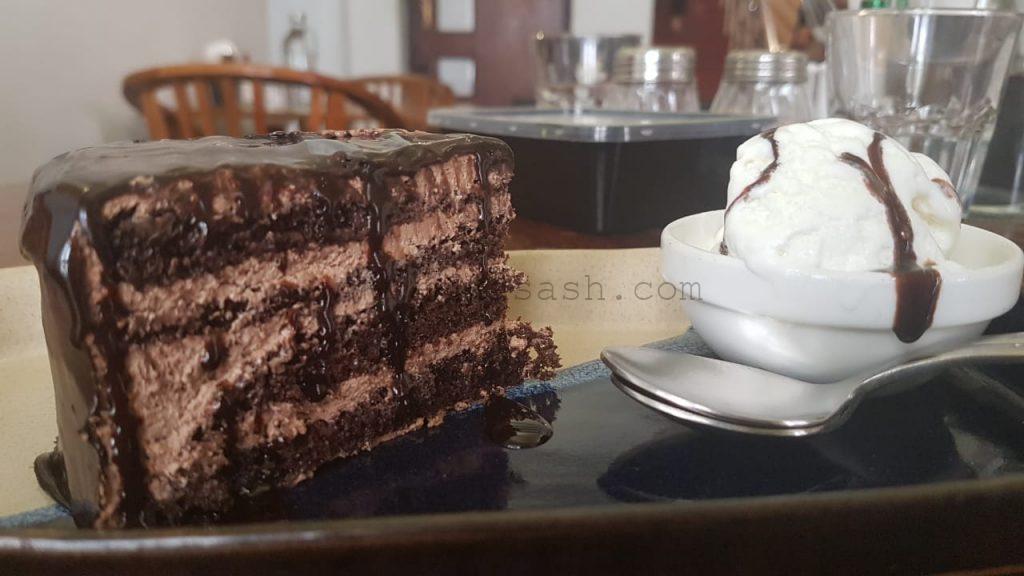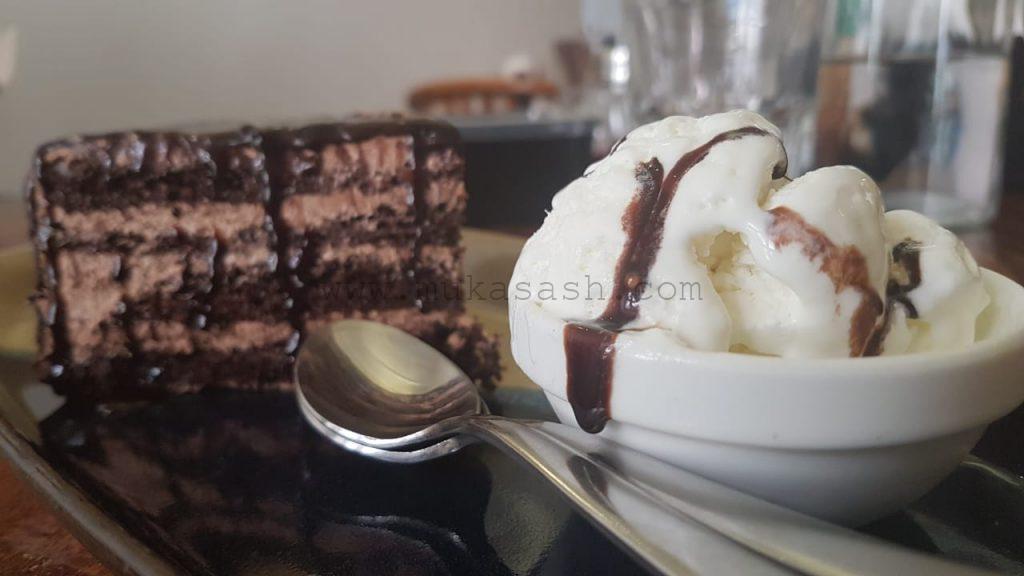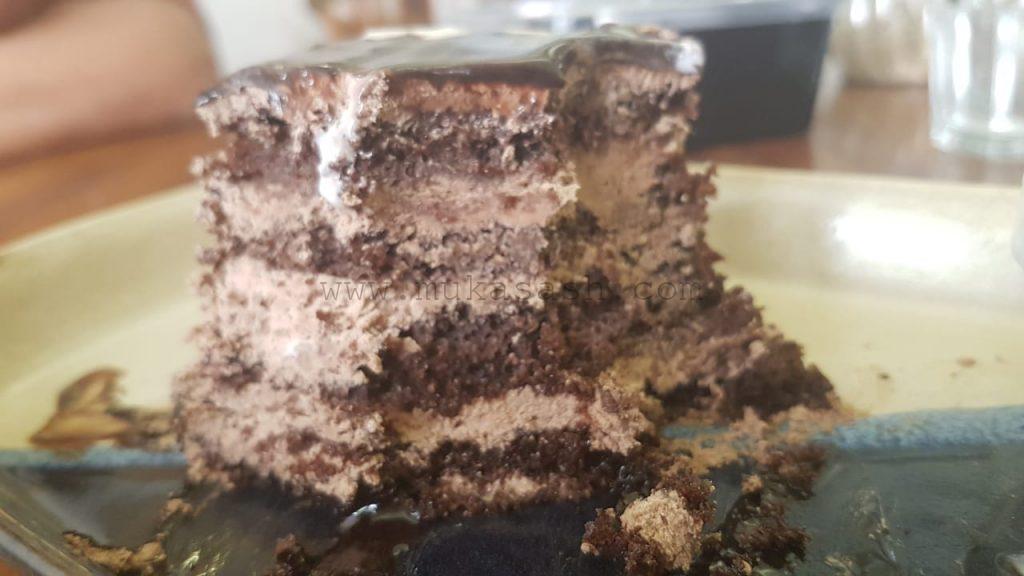 A few items were not available, dessert was a dampener. Other than that the food was extremely tasty and we relished everything that we ate. Service was courteous overall. A pleasant surprise – I saw a very familiar face and immediately recognized him as Mr. Madhu. About 12 or 13 years ago, during our Hexaware days, he used to be The Bar Manager at The Residency and we used to be regulars there. He moved to Black and White later on, and then to Spice Jar too. It was good to see him after so many years and say a Hello!
We paid a little over 1.3K and it was a wonderful lunch overall! I would have rated it 5 if not for the dessert mishap. I'd gladly recommend this place, and one thing you should definitely check out is Khow Suey, one of the best in Chennai !