Chidambara Vilas is a wonderful heritage hotel in Pudukkottai district, in a place called Kadiapatti, just off Thirumayam Fort. I was amazed just by the looks of the building! Since it was a bit too pricey, didn't opt to stay in the property and headed to Karaikudi instead. On our way back, decided to take family for lunch at this place, to check out the very famous Chettinadu cuisine.
Needless to say, the grandeur was fascinating. It is an old palatial house spanning to the length of an entire street, renovated into a Star hotel. Their website has all the info that you will need.
p.s: With the correct lighting, I'm sure the photo would have been much better. Had a bright overhead sunlight, couldn't get anything better than this pic.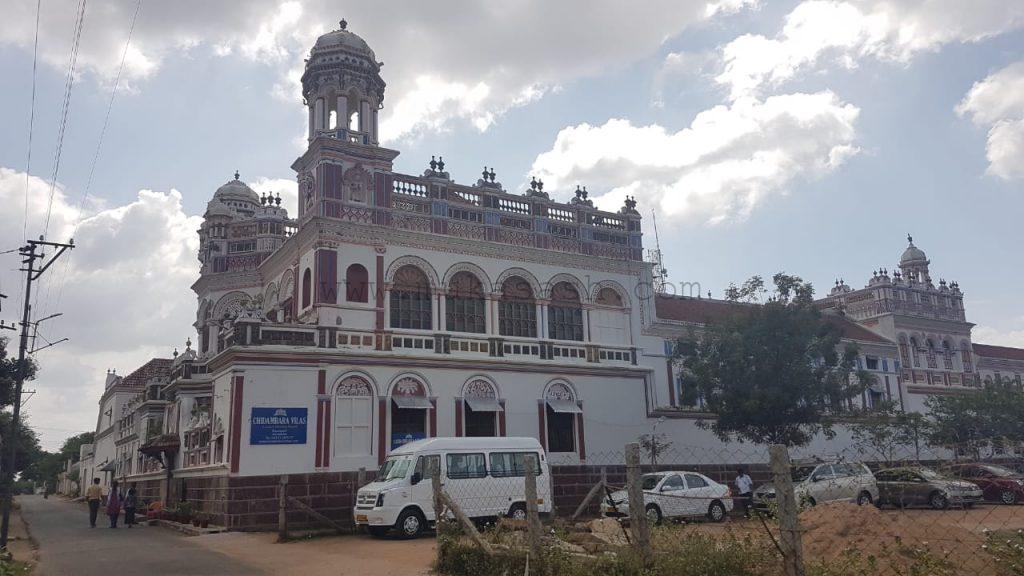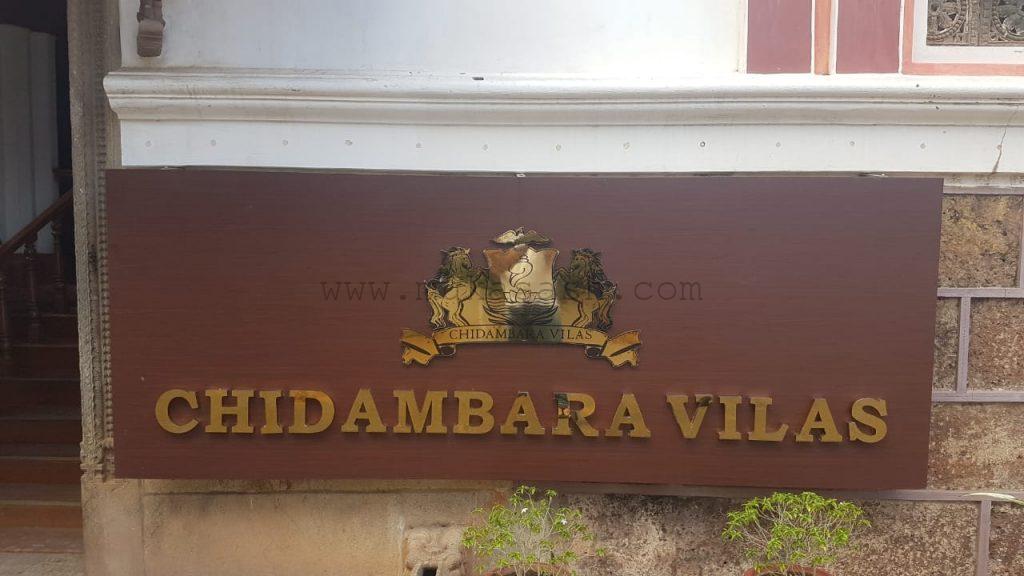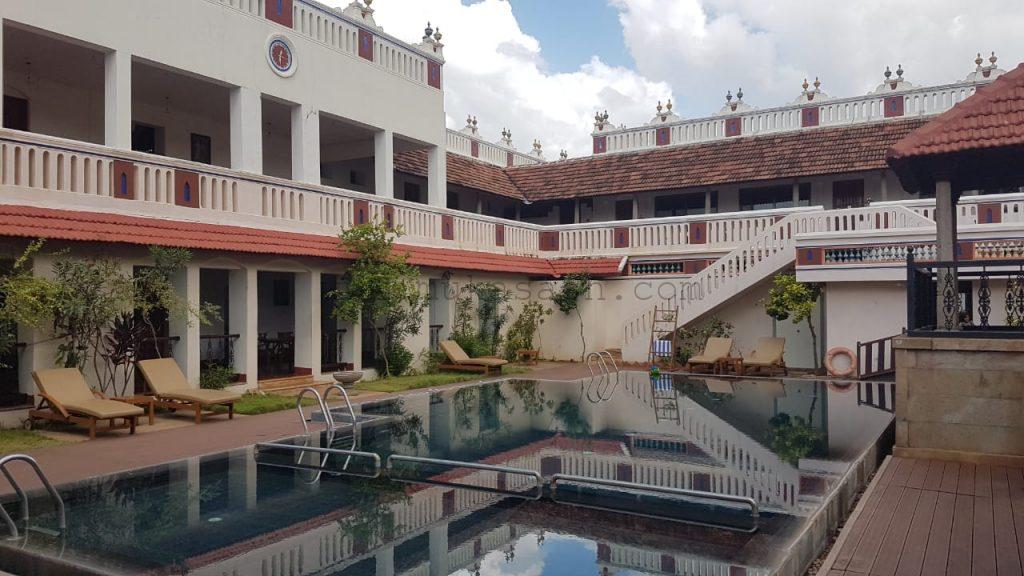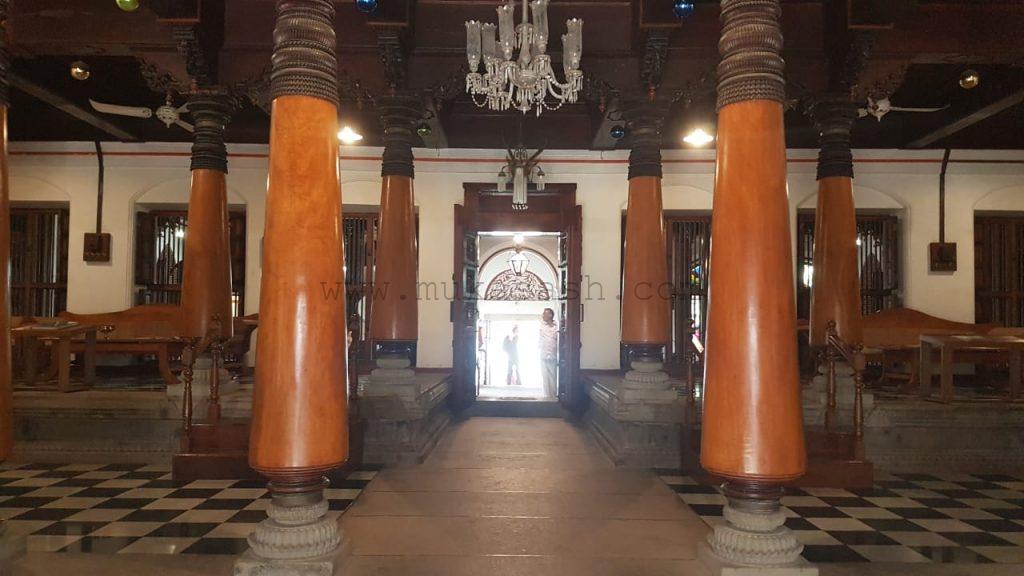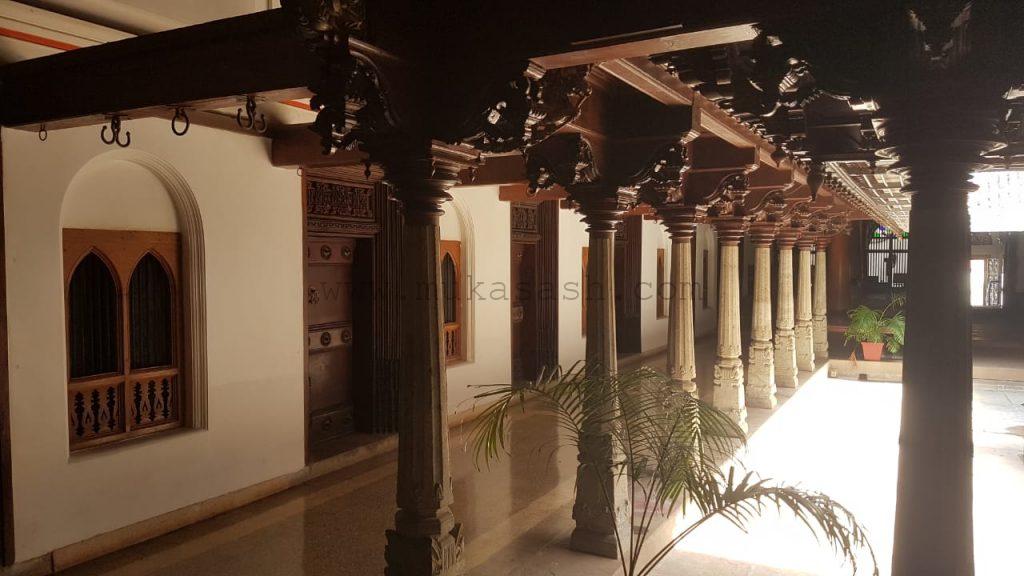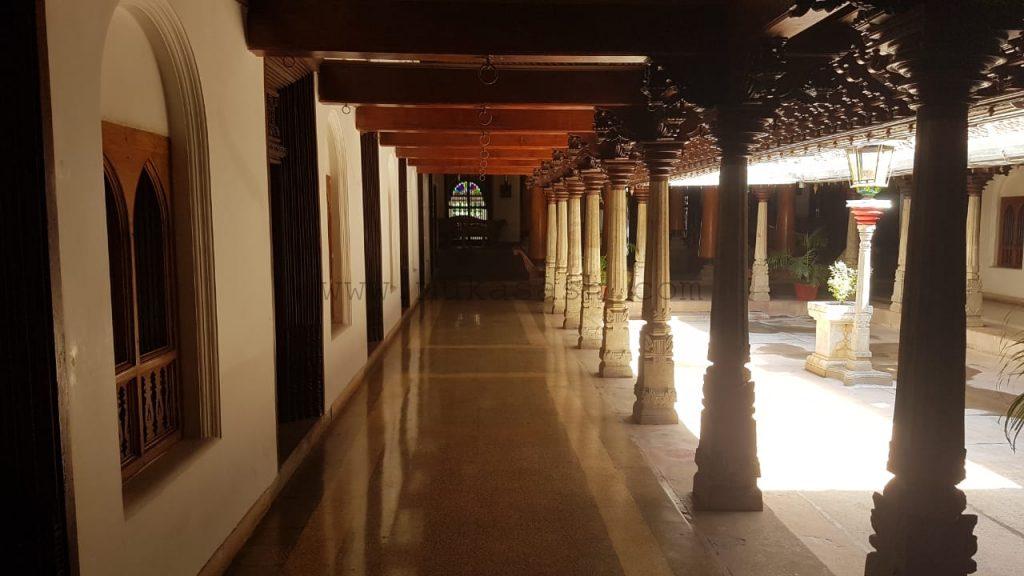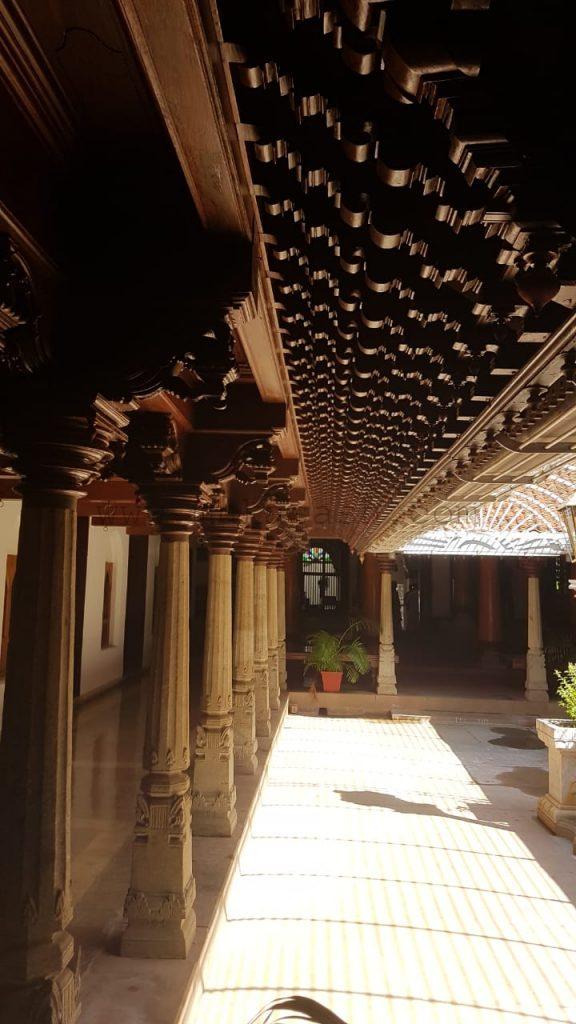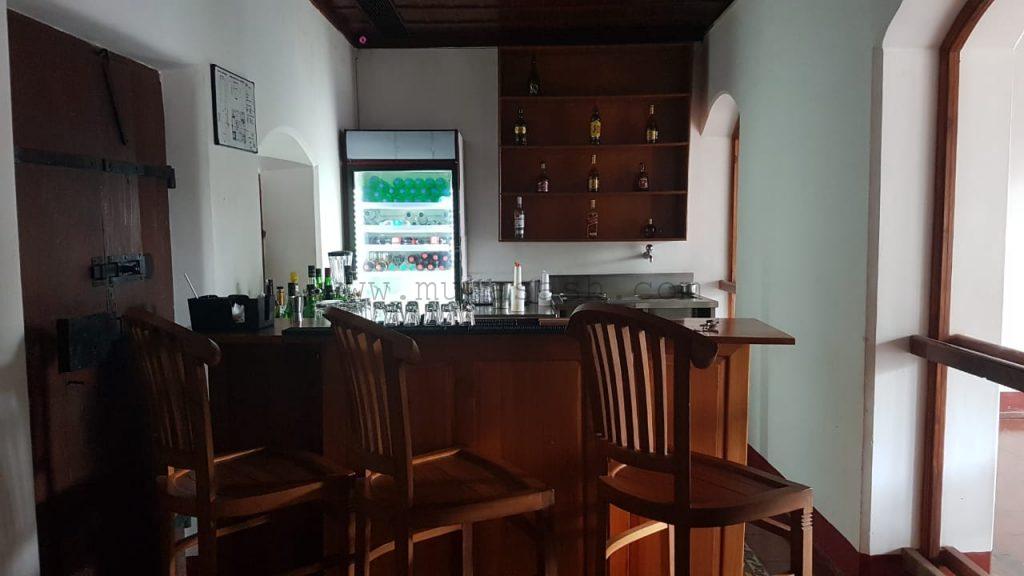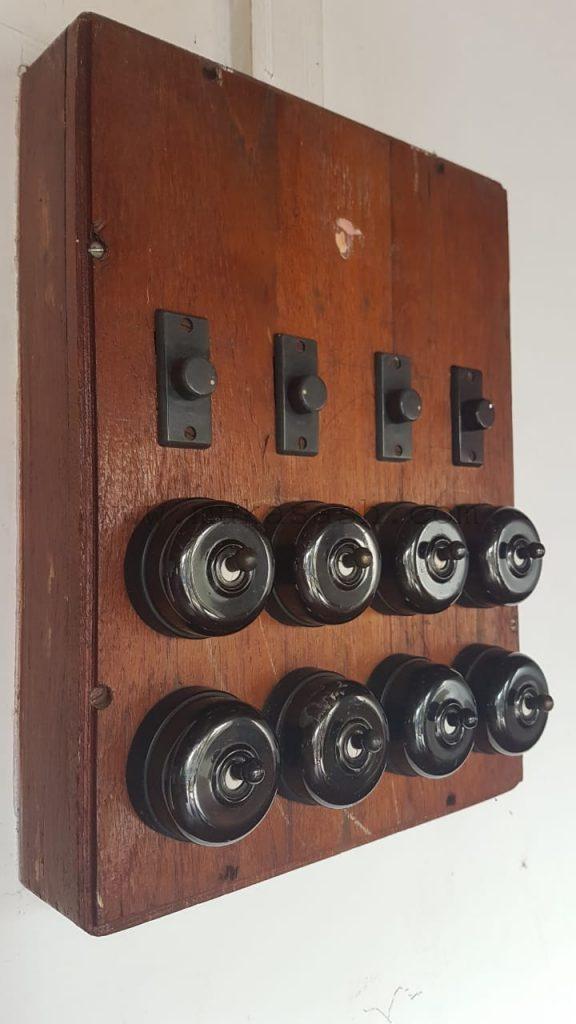 The hotel seemed very popular with foreigners, we saw quite a few of them there. We were asked to wait for ten minutes while they were getting the tables ready. That's when I understood it was a traditional Banana Leaf lunch served in a pandhi (as in a traditional wedding setup). While we were waiting, we walked around and looked at the place and clicked a few pics.
The previous batch seemed to have more people as quite a few of them walked out, but for our batch we were about 10 or 12. We were informed that the lunch was an elaborate vegetarian meal with three non-vegetarian dishes – Mutton Chukka, Fish Fry, and Chettinadu Chicken Gravy. Personally, I was a bit disappointed on two counts – One, I assumed it was going to be a la carte, Two, I wouldn't be able to taste two out of three non-veg dishes. (I don't eat Mutton and Fish by choice). Anyways, having come this far, there was no looking back.
They started to serve dishes one by one on the large plantain leaf. A very small quantity of soup was served in a fancy cup. The quantity was little by any standard, tasted good though. All the vegetarian dishes were very tasty, no complaints with any of them.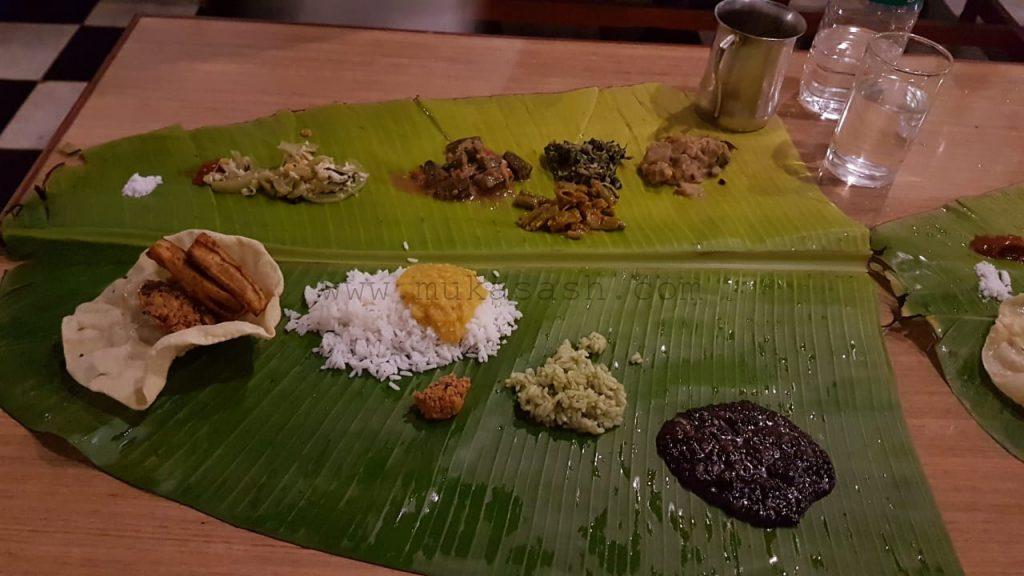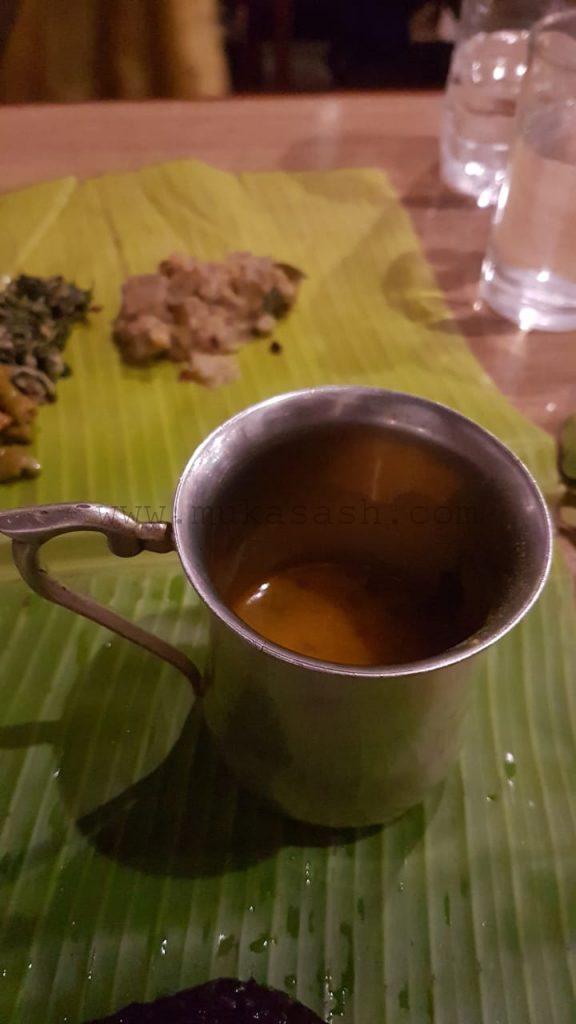 The star of the meal, without a doubt was the Kavini Arisi Payasam. Absolutely wonderful! We did ask for a second helping and they gladly obliged.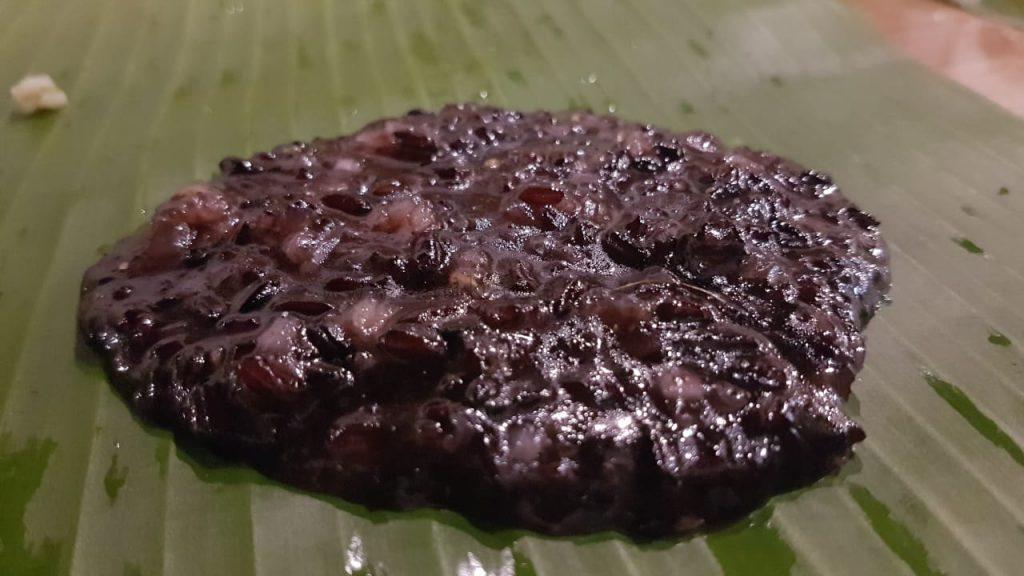 Family were good with all of the non-veg dishes, clicked pics from their plate. While they felt the Mutton Chukka was mind blowing, the fish fry was just good.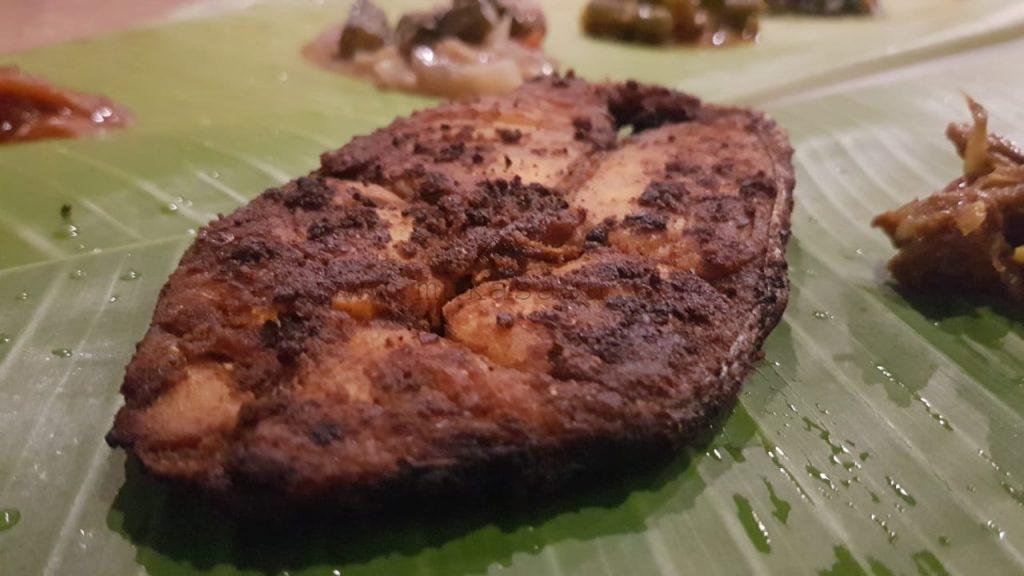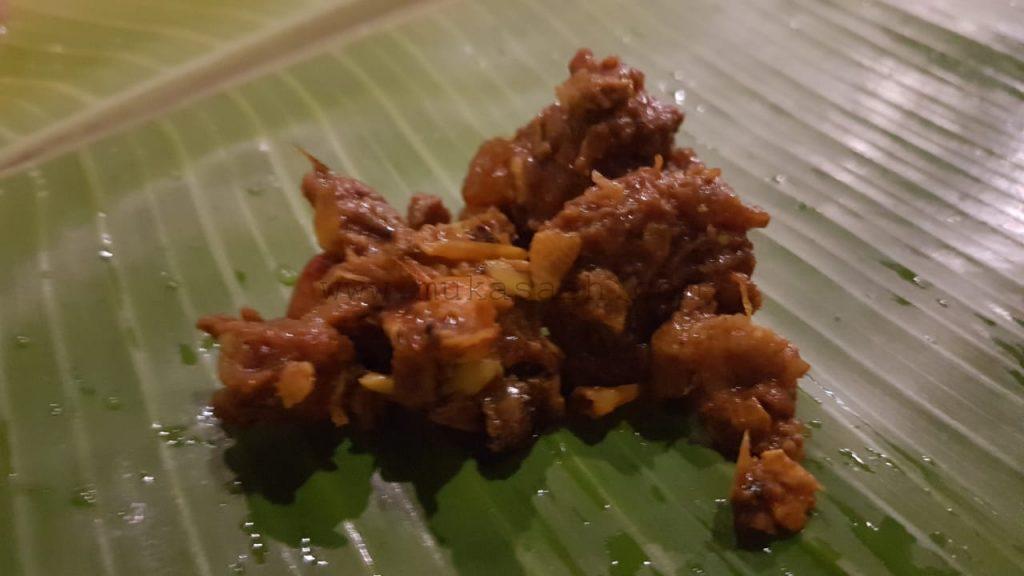 I tried the Chettinadu Chicken Gravy first! It was very tasty, but I felt not just this, but all of the dishes were heavily customized to the western palate. None of the dishes had the slightest heat from chillies. The aroma of masala was wonderful, but that little punch from the use of chillies was missing. Chicken pieces were soft, well-cooked and tasty.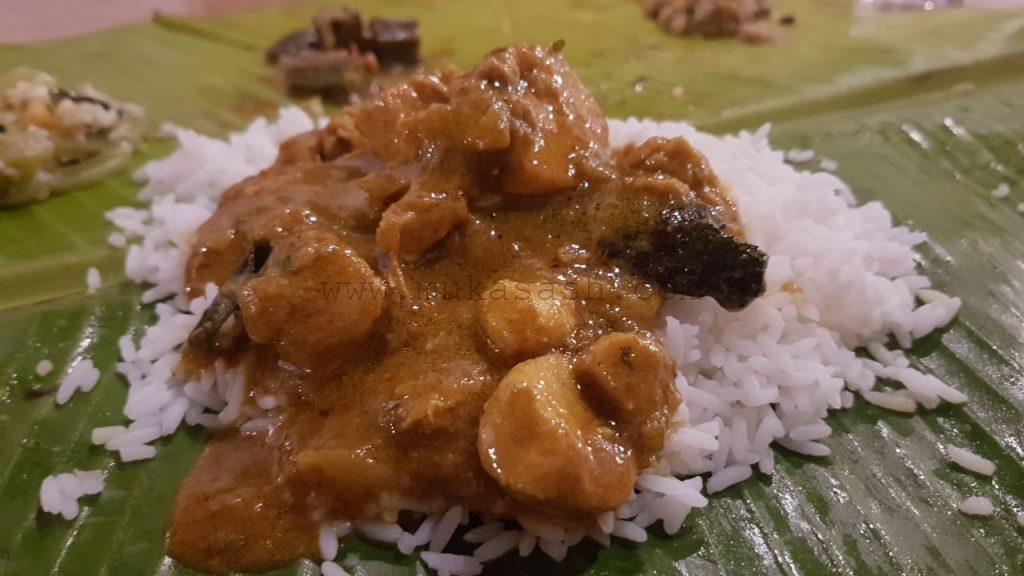 I informed them that I wouldn't be having Fish Fry and Mutton Chukka and they were kind enough to check if I wanted an egg omelette, I gladly agreed.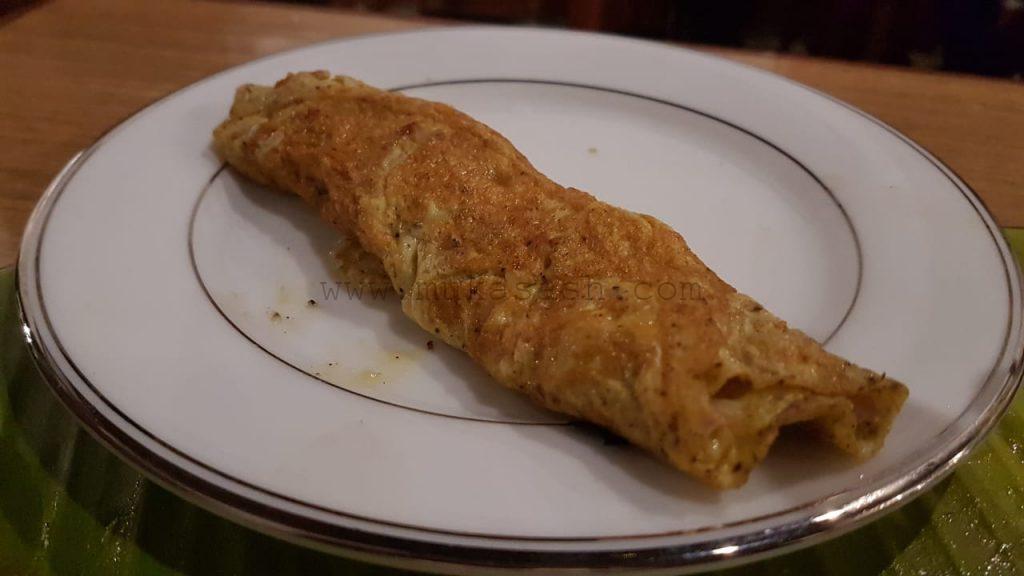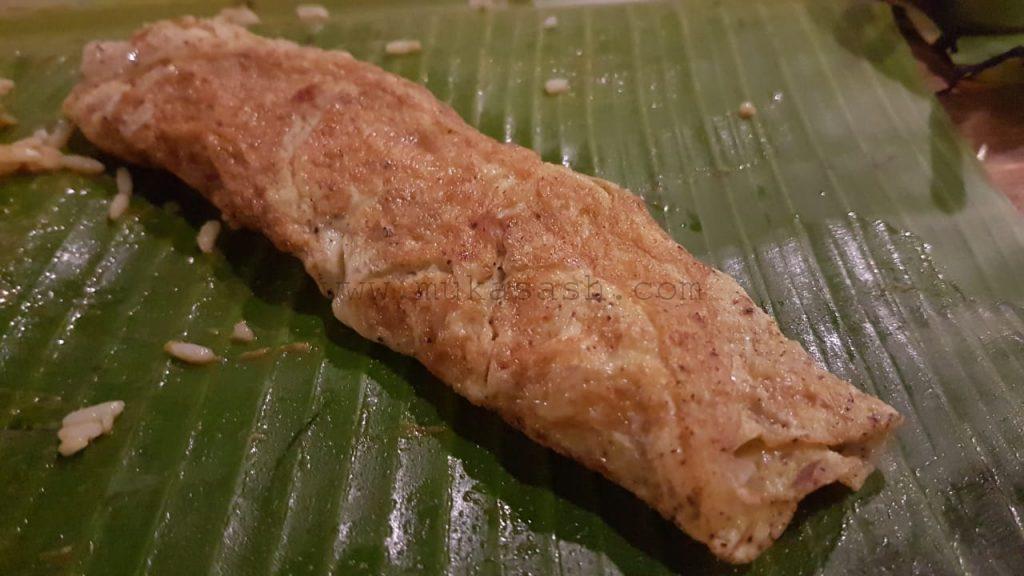 Next I tasted the Kaara Kozhambu, very tasty. The Sundakka vaththal was super yummy. Again, very mild for how it looked.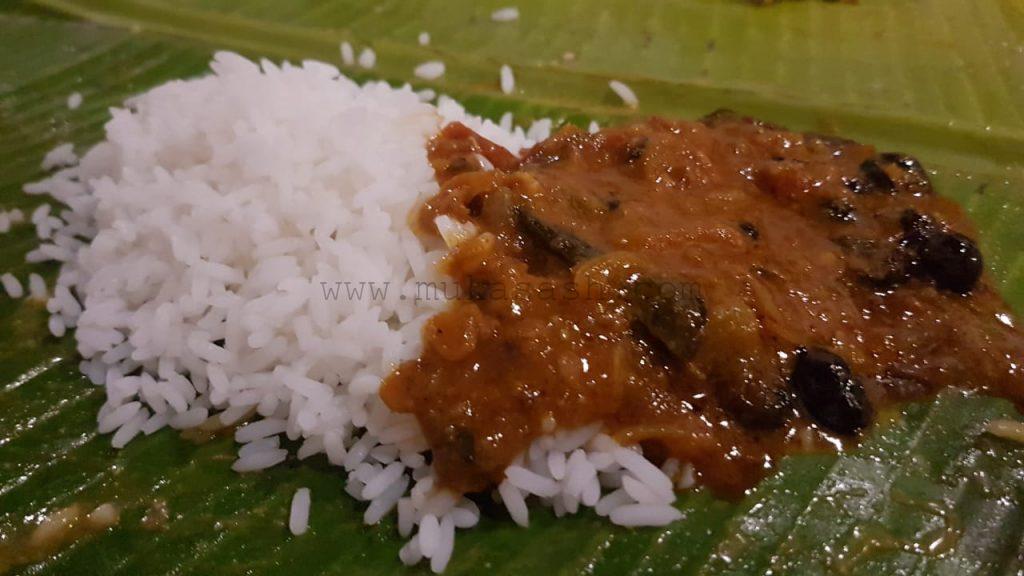 Finished with a little curd and rice.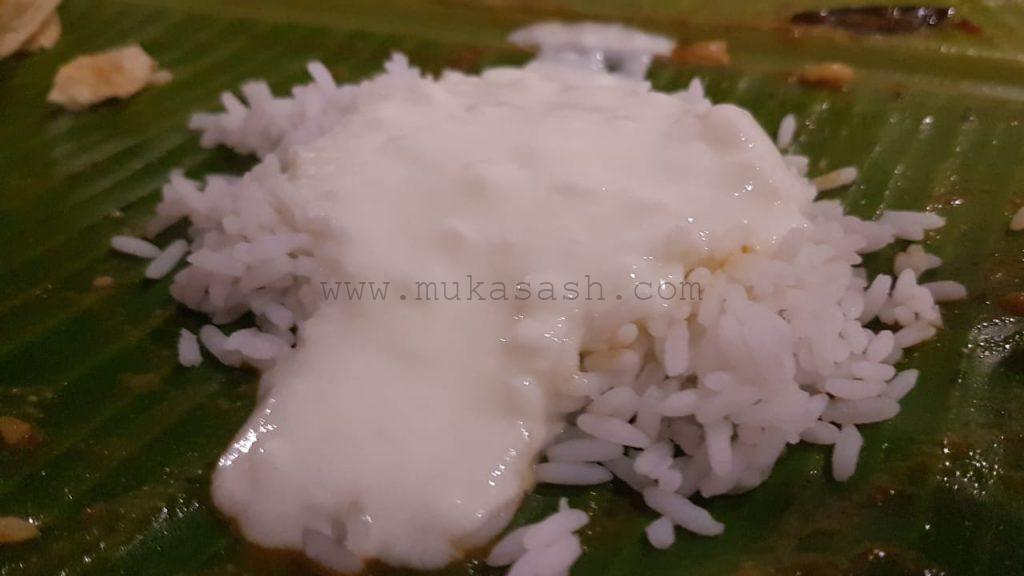 They did have a payasam, but that paled in comparison with the Kavini Arisi Paayasam, so it was just good.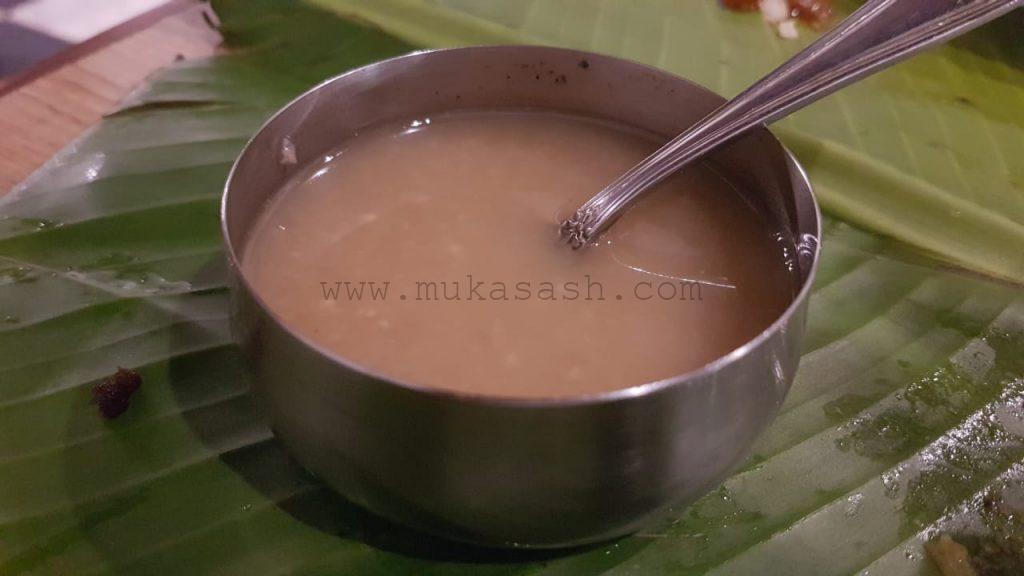 That's how our meal at Chidambara Vilas panned out. Overall, the food was tasty, service was very courteous. A meal was priced quite steeply at 850 bucks for an adult and 450 bucks for a child. We ended up paying close to 3.7K in all. Well, I'm not even complaining about how expensive it was, just mentioning it. I would have loved to try a few dishes of my choice had it been a la carte. Couldn't do so in this kind of a setup.
I'd say, if you're looking for a good overall experience in terms of ambience, service and food, then this is worth a try. If your focus is just on food, then you should be trying elsewhere. I'm still wondering if Chettinadu cuisine at their very own home ground is so reserved in using chillies in their food.