This restaurant has been on my to-do list for a really long time now. Somehow, a visit to this place just got postponed on one pretext or another. A classmate of mine had come down from the US, and was staying in Anna Nagar. A couple of other classmates and I decided to catch up with him over lunch, and that's how this visit to Kovai Alankar Vilas happened.
We reached the place around 14:30 hrs, and a prominent board with the day's special dishes welcomed us!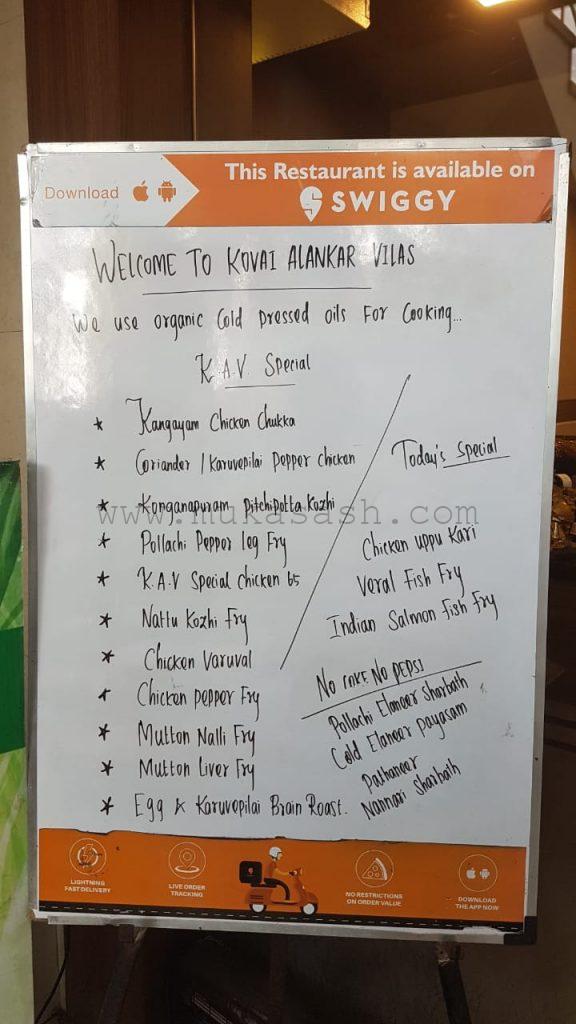 The place was quite busy and buzzing with activity at that time. Well, the interiors were pretty decent, but in my mind, I was thinking that this would be a more upscale restaurant. It was quite basic, but neat and clean, nothing worth complaining.
Since three of us were food-lovers, and one person was back in India after a long time and was more than willing to give it a shot at the non-veg delicacies, we knew that a plethora of non-vegetarian dishes were going to follow. 🙂
We started with three portions of Mutton soup and one portion of Kozhi Rasam. Kozhi rasam had a wonderful flavor, at the same time not very hot. I loved the soup and the chicken pieces in it. The portion size was small, so didn't have to divide it, just ordered one each.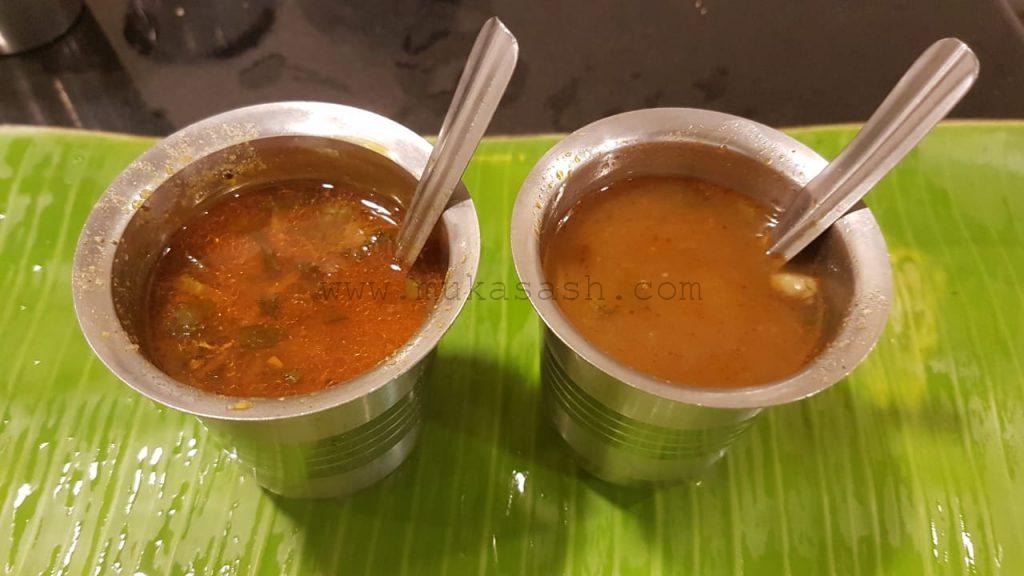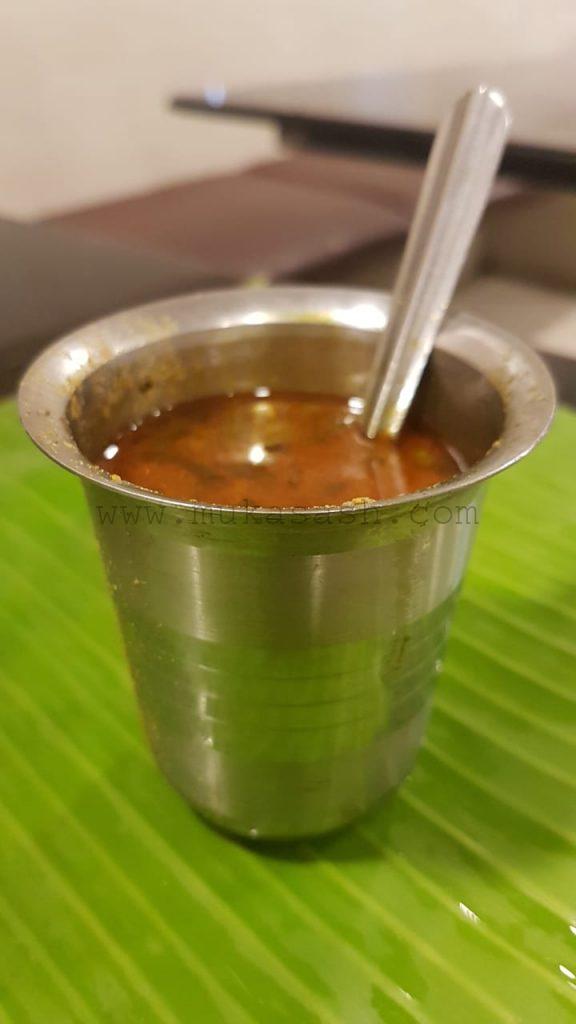 Generally I've seen restaurants having Mutton Kola Urundai in their menu, but not Chicken. Chicken Kola Urundai in the menu got me quite excited. We ordered four each of Mutton and Chicken. There was a slight difference in texture between them. Chicken Kola tasted awesome, and I was told Mutton was very tasty too, and looking at the cross-section, the minced meat was quite evident.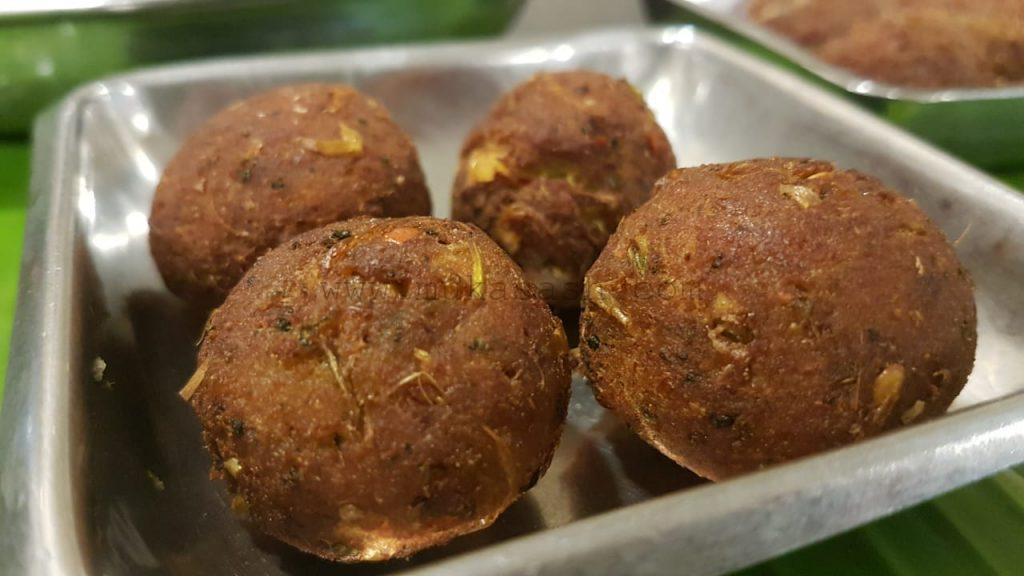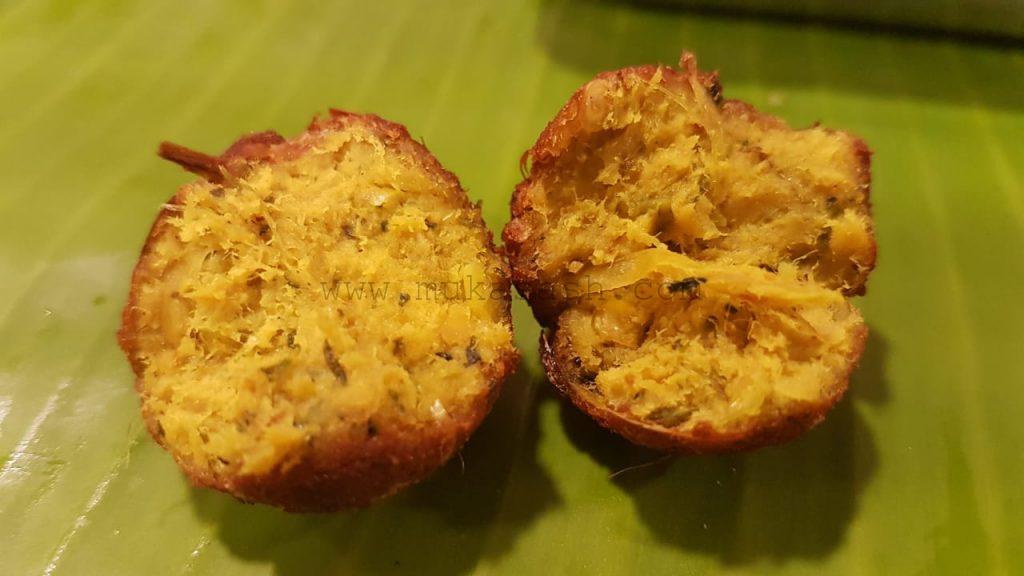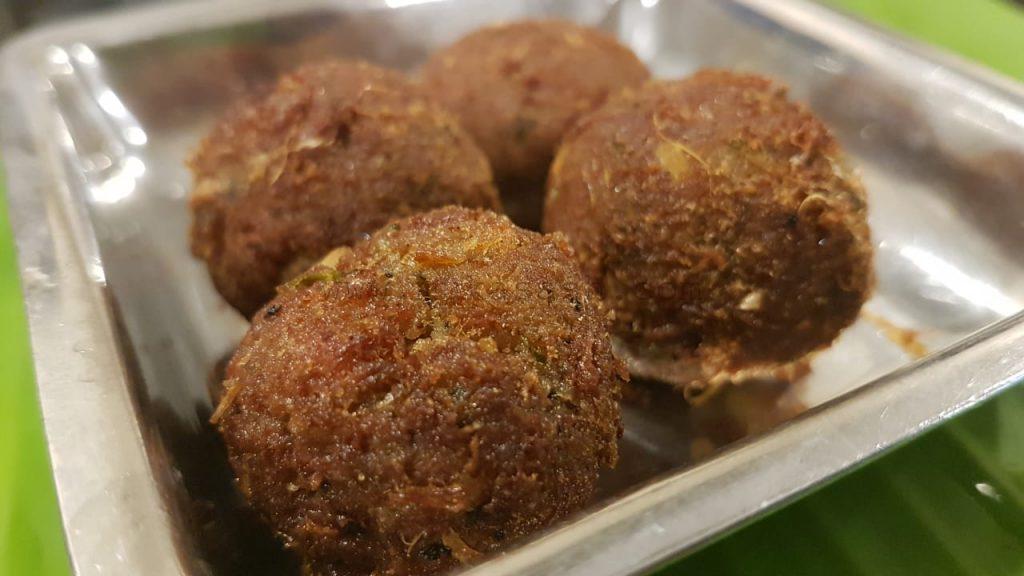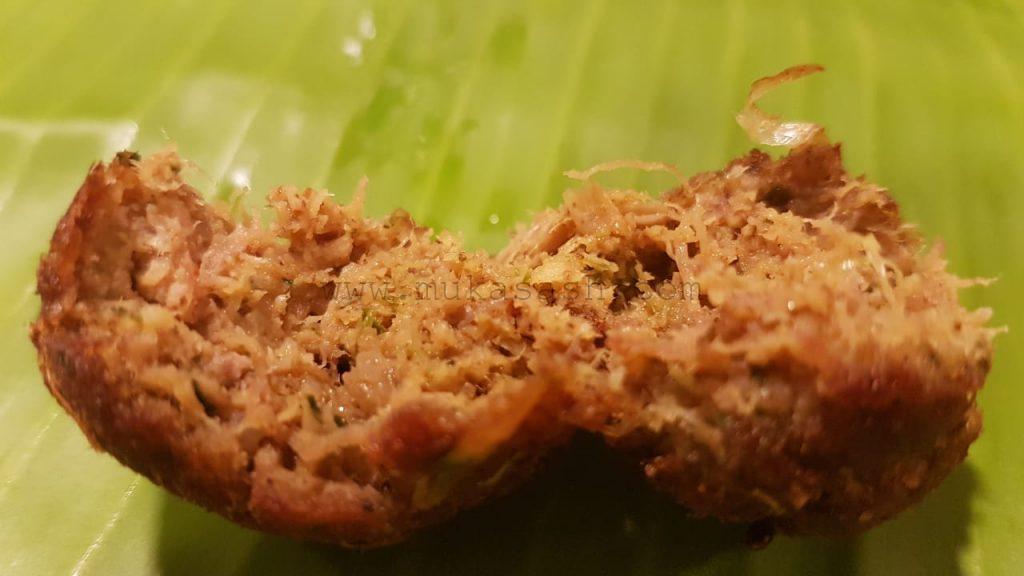 Friends ordered two fish starters, didn't quite get the names rite, Vanjiram, Kaala, Sankara, and Veraal were discussed, and two of them were ordered. Perhaps it was Sankara and Kaala, friends seemed to like it, and it disappeared in no time.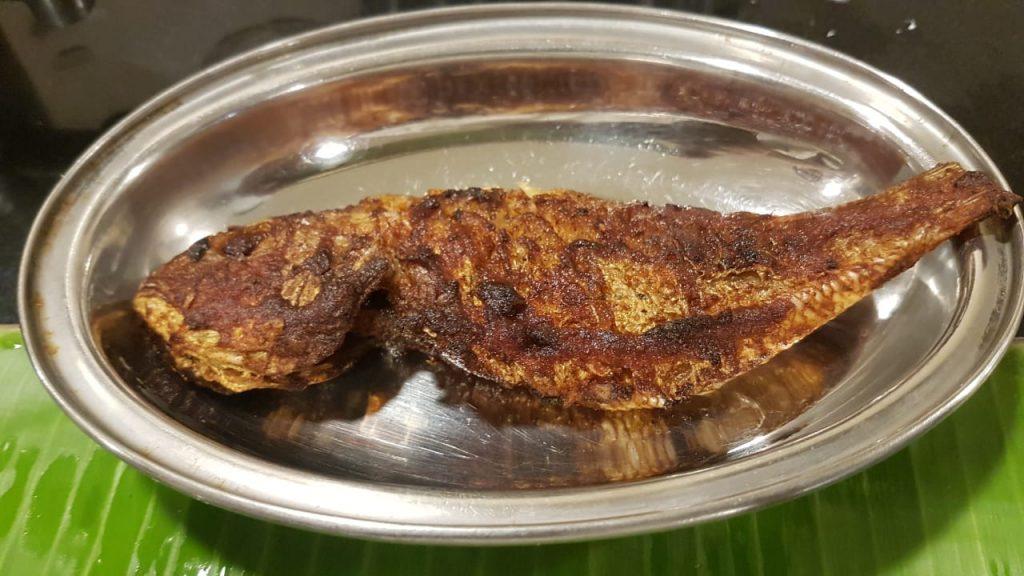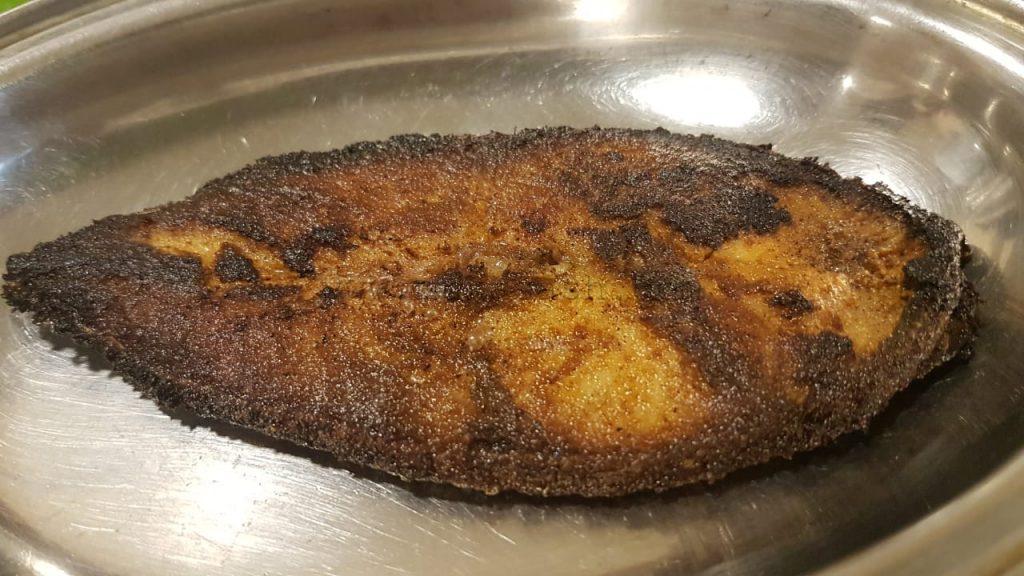 A friend's usual order of Brain Fry had a slight twist here, he ordered Egg Brain Fry instead. His feedback on this was positive.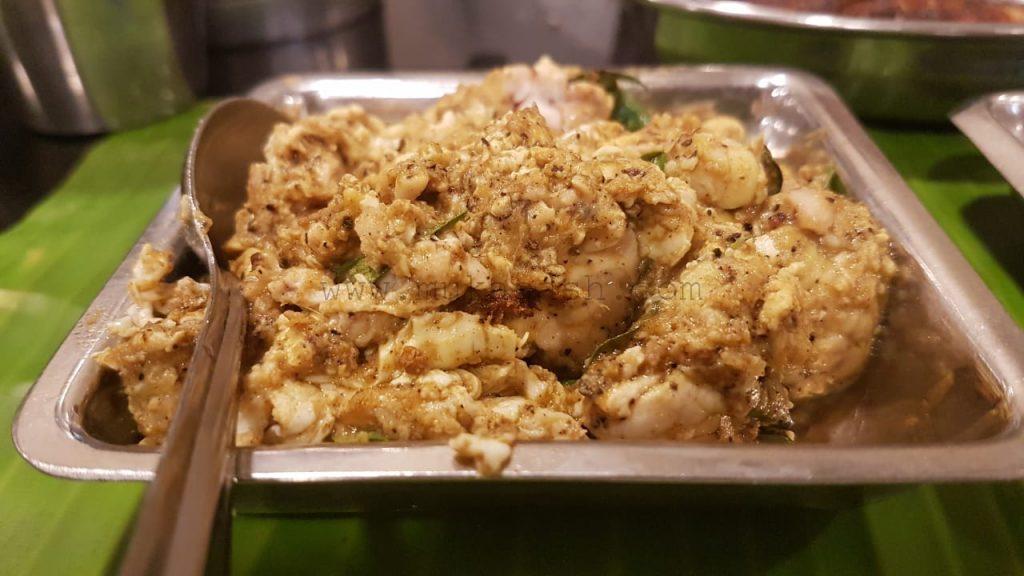 Kaangeyam Chicken Chukka was tasty, small boneless pieces of chicken with masala getting into it evenly, it tasted good. Personally I felt it could have been a little hotter, for that extra punch.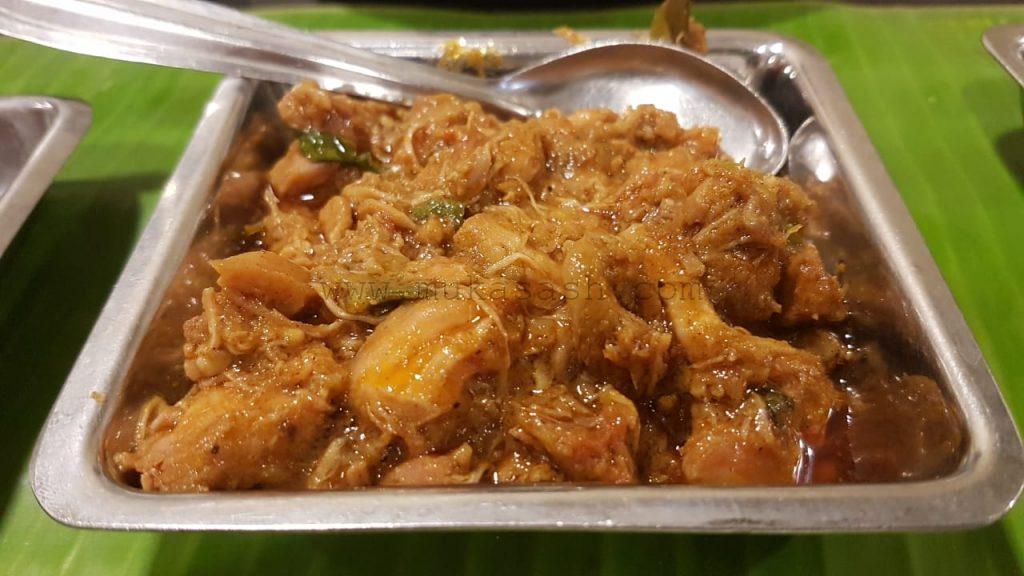 With this we decided to move to the mains. Our friend from the US wanted veg meals as he was eager to try sambhar, rasam, et all. He liked the podi, served like a ball along with rice and gingely oil. He seemed to like the rest of the dishes too.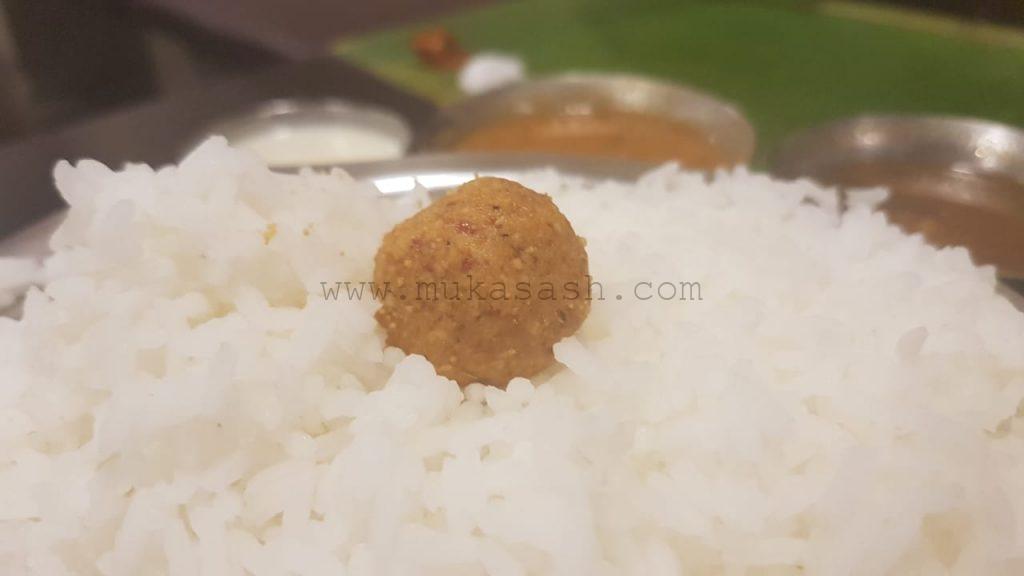 At quarter past three, they were out of Mutton Biryani, so we settled with Chicken Biryani. It was made with short-grained Seeragasambha rice and it was very flavorsome. The gravy served alongside was tasty, I gave the raita a miss.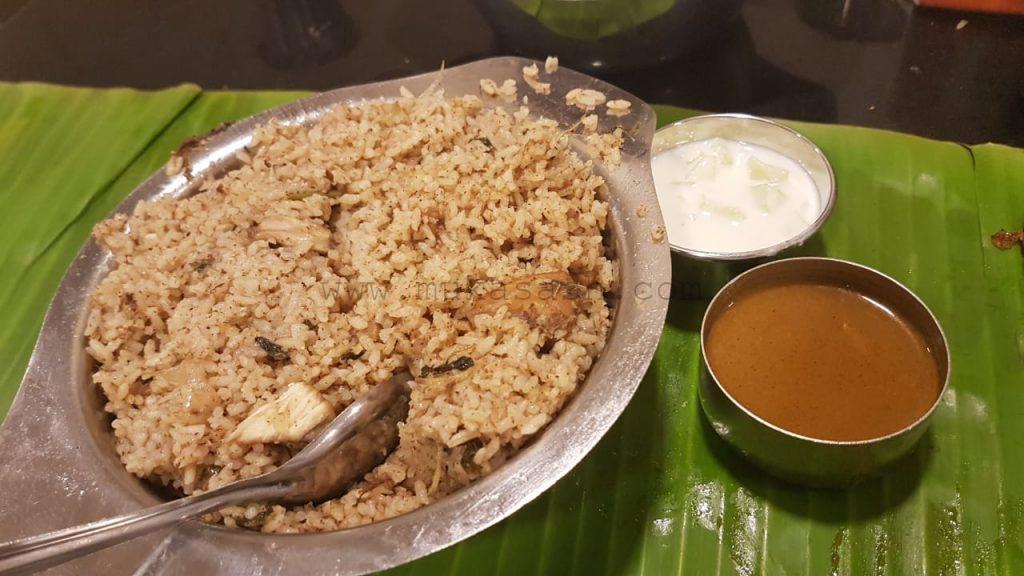 Egg Kothu Parotta was good, but I wouldn't say it was out of the world. I've had better stuff in other places. It was good, not extraordinary. Also I would have liked it a little less soggy.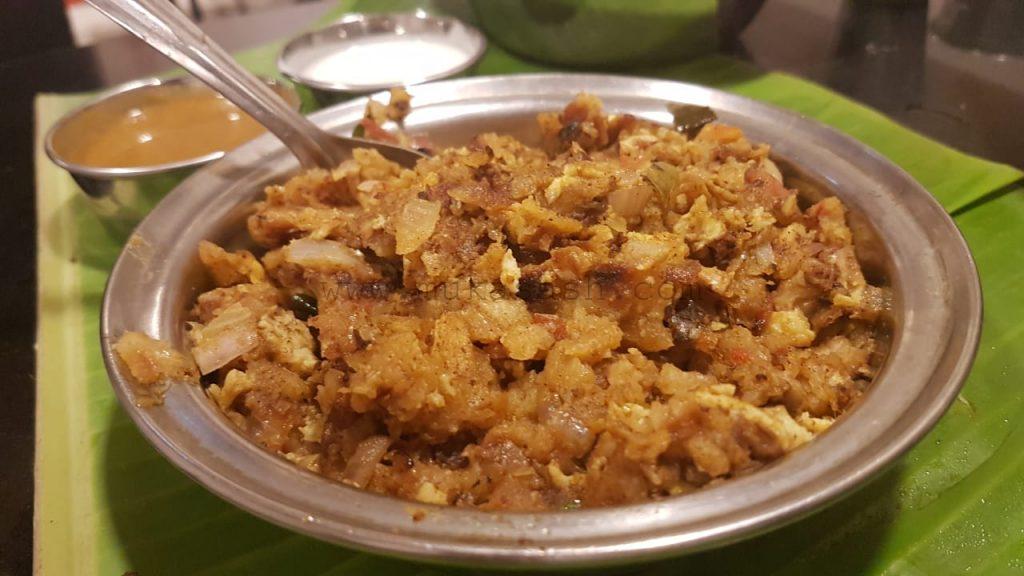 Just when we thought we'll end with the mains, friends deep-dived into Round-II of the starters. 🙂
Mutton Chukka, Mutton Nalli Fry and Chicken Uppukari was the next order.
I love to click anything protruding out of a bowl, to get that little 3D effect. Needless to say, I loved this picture of Mutton Nalli Fry. This kept our friends busy for sometime, until they sucked out the marrow and devoured the meat around the bone.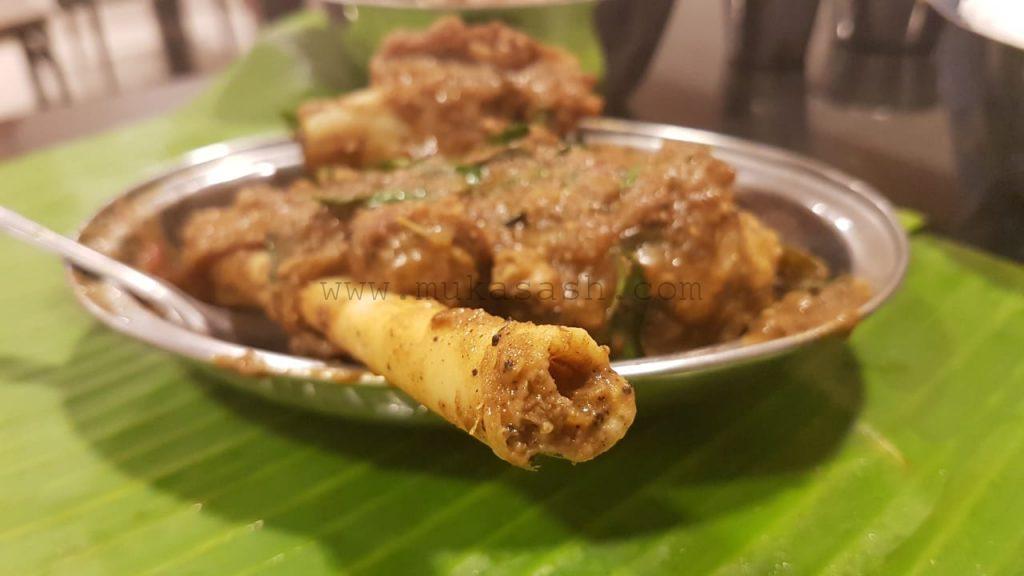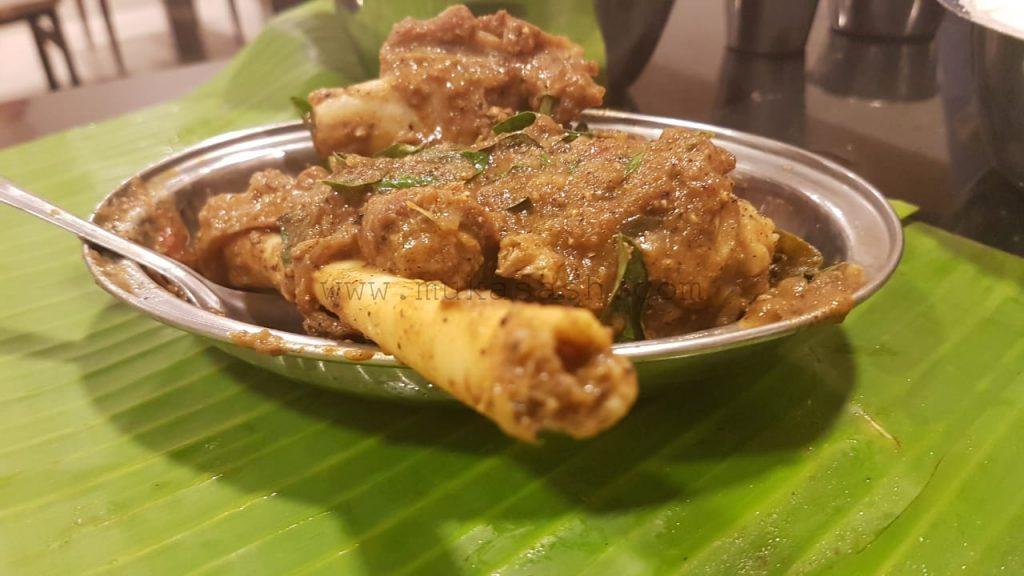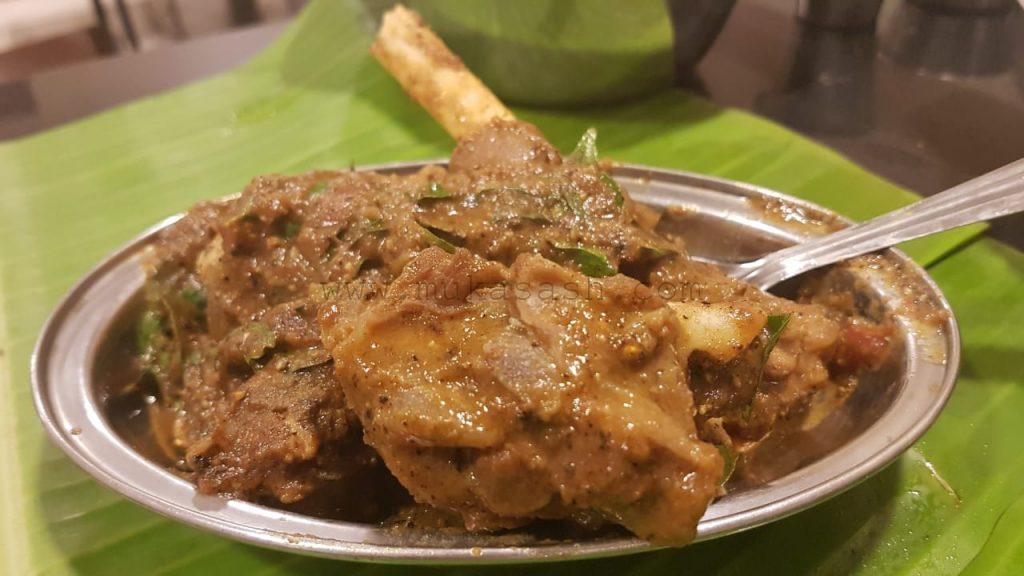 Mutton Chukka passed off quietly among the other three friends, and disappeared without much fanfare amidst the Nalli Fry that already stole the limelight.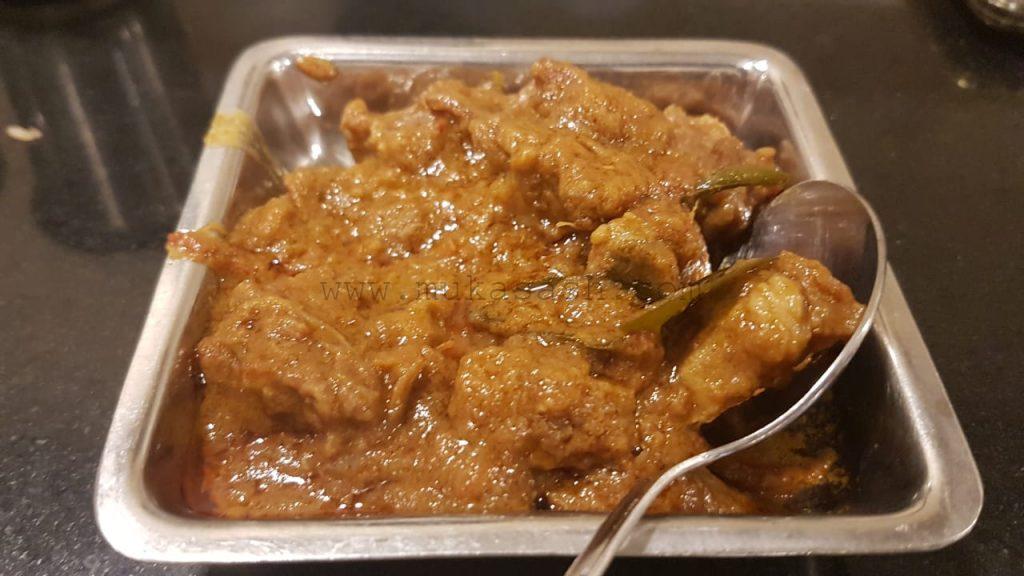 Chicken Uppukari was something new for me. It was the day's special and recommended by our waiter. Just got to know uppukari and uppukandam are not one and the same. So it was sort of an expectation mismatch. This dish was quite a dampener. It didn't make a slightest impression in taste. It only had red chilles and shallots and hardly any spices, and it was quite ordinary. I would certainly give it a miss next time.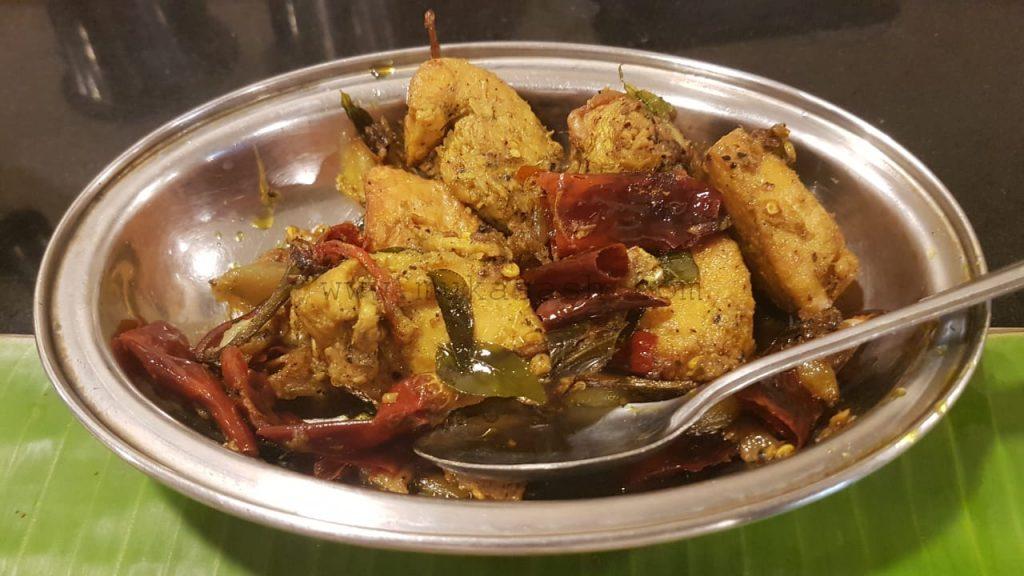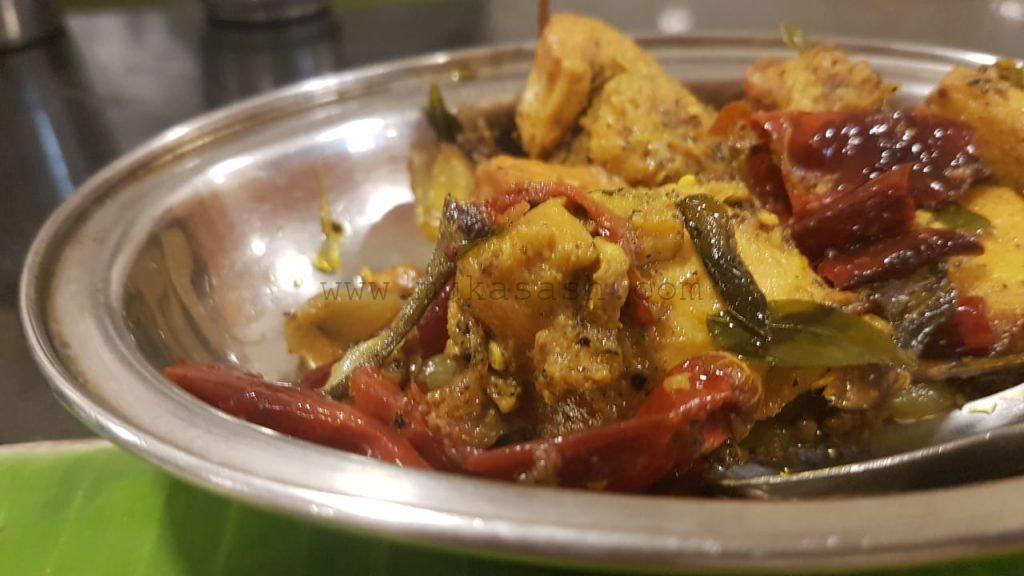 With that we definitely had to call it an end, but ordered Elaneer (Tender Coconut) Sarbath and Elaneer Paayasam to make it a sweet end to our meal.
Elaneer Paayasam was very yummy. It wasn't just another diluted sweet payasam with tender coconut bits like I have had it elsewhere, but a thick and tasty paayasam with a nice flavor of elaneer all throughout.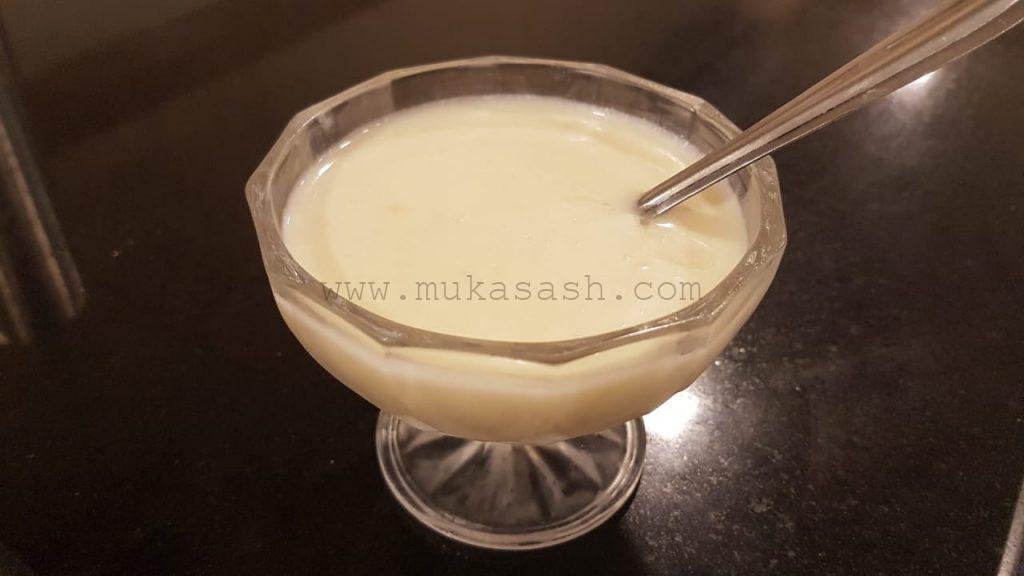 Friend liked the Elaneer Sarbath which he said, tasted very good too. I was too full to even try a sip of it.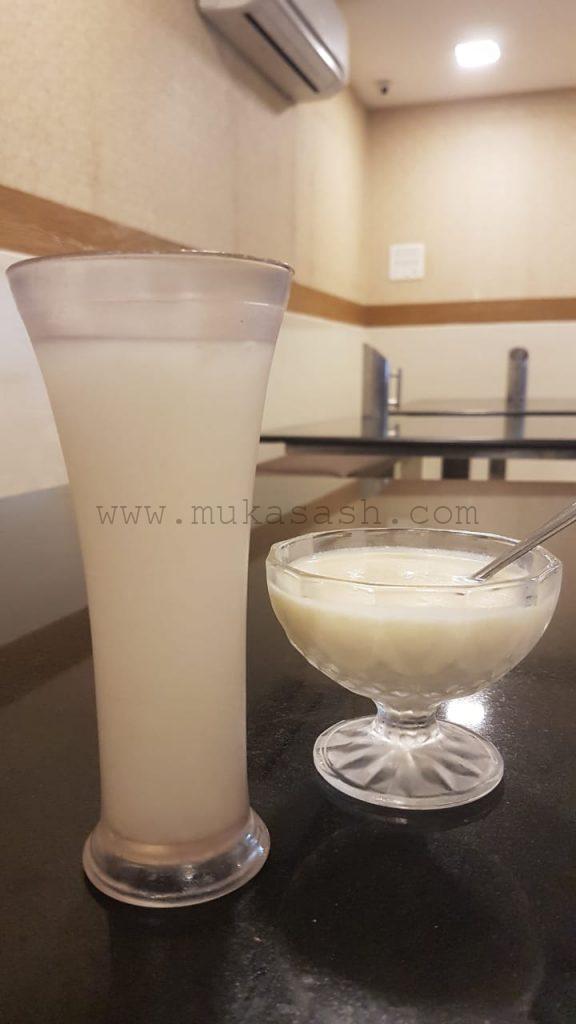 We were there almost until 4PM chatting away stories from school and having a wonderful time. Food was tasty overall and service was courteous throughout the time we were there.
Our friend footed the bill which was around 3K in all, and with wonderful food and even better company, we couldn't have asked for anything better!
I'd gladly recommend this place for tasty food if you're looking for a restaurant in and around Anna Nagar, if you're not too picky on the ambience.
Since Anna Nagar is not a place I frequent, I have missed out trying quite a few restaurants here. Some of them that I have already tried are Wok Monk, Chidambaram New Moorthy Cafe and Hotel Amsavalli Bhavan.