Jonah's Bistro, after a very long time! Phoenix Market City has become a bit too monotonous for us, we decided to go shopping to VR Mall in Anna Nagar instead. Obviously there was a plan to eat out and it did not take me too long to decide where!
Between 2014 and 2018, I have documented at least six of my outings to their various outlets here. Somehow did not visit a Jonah's outlet after that. Today, it was one of the most obvious choices and we decided to have lunch in VR Mall after 3-hours of non-stop walking.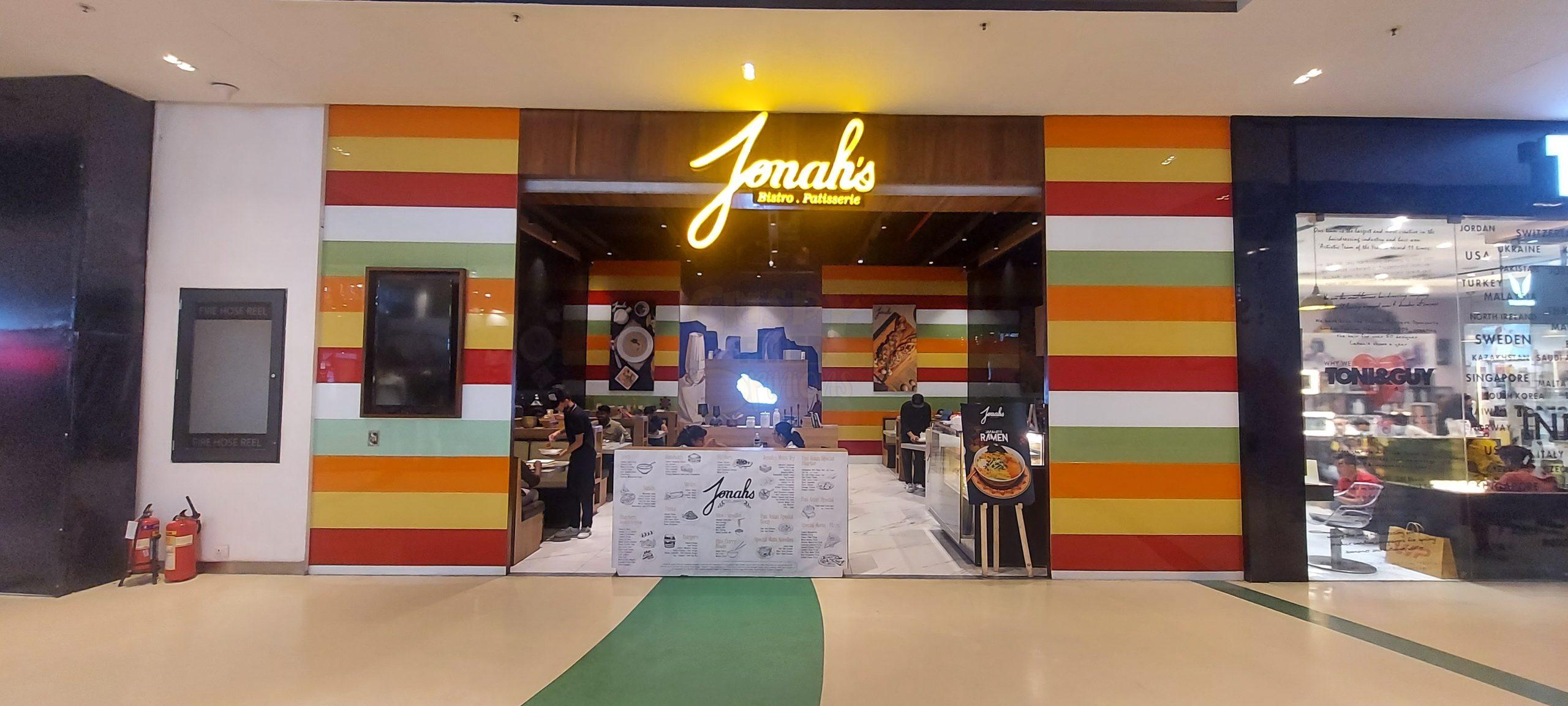 It was around 3PM and we were quite hungry. Thankfully, got a table immediately. Only a couple of them were free and the rest were taken. After browsing through the menu, we were ready to order.
Garlic Bread with Cheese and Tomato Bruschetta were the two starters we ordered. Garlic bread was quite as expected, a nice aroma of garlic and nicely-melted cheese topped on a flavorsome toast. Tomato Bruschetta was wonderful too. Fresh tomatoes, garlic, basil leaves and a drizzle of olive oil, on toast, absolutely tasty. Thankfully the main course came quite quickly, as the starters disappeared in a jiffy.
The first to come was wifey's Alfredo Chicken Pasta. Only penne was available, and wifey was okay with that when placing the order. If it was my daughter, she would have asked for spaghetti. 🙂 Perfectly 'Al dente', just rightly creamy, and the chicken, peas and mushrooms in it were enough to elevate the dish to the next level.
Panko Chicken Burger followed and it was my daughter's choice. She preferred the crispy Panko chicken as compared to a grilled chicken breast. It was served with Fries and shredded veggie salad on the side. She thoroughly enjoyed it. I managed to get a small bite of it, and it tasted yumm!
Fish and Chips, son's favorite was just how he liked it. Again, Fries, shredded veggie salad and tartar sauce (I think) as condiments on the side, it was good. They also seemed to comment that the fish was fresh and not even slightly smelly. This was definitely a winner!
Finally, my dish made it to the table – Grilled Chicken Steak with potato Mash, Cream and Onion sauce and butter sauteed veggies. Tasted fantastic, licked the plate clean, bit I still can't get over the shallots on my chicken steak the first time at Jonah's. The jus was just finger licking good. Perhaps I should have tried Crushed Pepper sauce instead of this, or at least the Mushroom Sauce. Anyways, that's for another time. Chicken was soft, well grilled and the cut itself was evenly thin and quite big in size. I actually relished this.
After we were done with out main course, we decided to sample their Tender Coconut Mousse, a dessert that is one of our usual orders at Gossip Bistro and has set a very high benchmark for this dessert. Wifey and kids loved it, and were as satisfied as they would be when they had it from Gossip Bistro.
Son and I had an Americano, and as I may have mentioned earlier, the moment I sip on black coffee in slightly upscale surroundings, it transports me back to my Norway days. 'Kaffe og Kake' was something I picked up in Norway, especially the 'Gulrotkake'! The brownie was an equally worthy substitute for a cake. It was just how you'd expect – soft, gooey, and totally yummy! Loved it !
With that we finished a rather elaborate meal which started off as a 'keep it short and light' kinda meal. 🙂 We paid 3.5K overall! Pricey, yes, but a family of four having a good upscale dining experience in a posh mall, and I certainly wouldn't complain! Personally for me, it is not a daily casual outing, but once in a while, and I wouldn't really mind. One of the places I'd gladly recommend, without a slightest thought!